Today, we will be discussing how you can disable tabs from File Explorer on Windows 11. Windows 11 2022 is a small overhaul and brought to Windows PCs a new File Explorer. The new File Explorer allows you to view folders and drive locations as Tabs, the same way we open browser tabs on the internet. If for some reason you want to disable Tabs in File Explorer, follow this tutorial.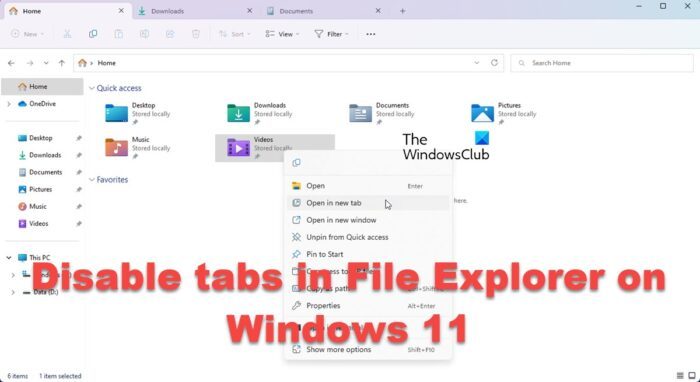 How to disable tabs in File Explorer on Windows 11?
For this tutorial, we will be using an open-source tool on GitHub called ViveTool, since there are no dedicated settings offered by Microsoft to disable Explorer tabs. ViveTool is a command-line-based utility that is often used to get a preview of experimental features on Windows. Here's how you can use it to get rid of the tabbed File Explorer.
Open the ViveTool app's official page on Github.com
Download ViveTool latest version
Extract it in File Explorer to get the ViVeTool.exe file. Double-tap on it to install it
Since the app is from an unrecognized publisher, Windows confirms if you want to run this app. Click on 'Run anyway' to proceed
Now, search for the Command Prompt and click to run it as administrator
Copy the location/path where you have saved the extracted ViveTool app file and enter it using the Command Prompt. Type 'cd' followed by the File Explorer path. For example:
cd C:\Users\<username>\Downloads\ViVeTool-v0.3.2
Copy and paste the following commands one after the other and run them
vivetool /disable /id:37634385
vivetool /disable /id:36354489
Once they've run successfully, close the Command Prompt window and restart your computer.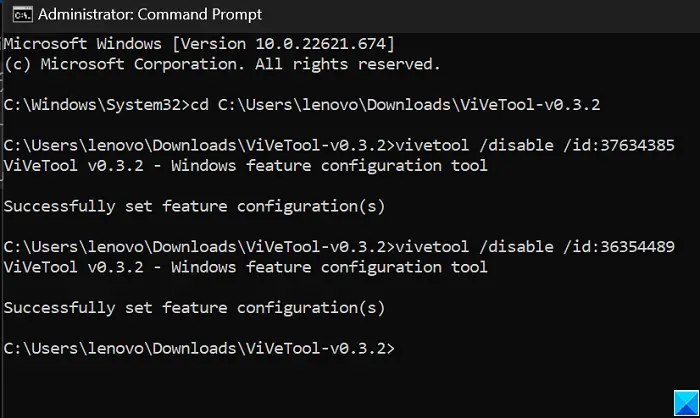 After the PC has booted up, you should see that the tabs on your File Explorer have been disabled. If these settings changes don't sit right with you and you want to go back to how the File Explorer looked, you can just run the same commands as mentioned after step 7, and replace '/disable' with '/enable'.
Read: File Explorer not highlighting selected files and folders
Does Windows 11 Explorer have tabs?
With the new 22H2 version update rolled out to Windows 11 PCs globally, we saw modifications to the Taskbar, File Explorer and several other areas. Very notable was the addition of Tabs to the File Explorer window. These tabs are meant to help users organize files properly and switch among folders with ease. These tabs are the equivalent of browser tabs for your File Explorer. With them, you can easily open multiple folders and switch between them as you do with accounts on a browser.
How do I control tabs in Windows 11?
The newly introduced File Explorer tabs are a way to improve the overall experience of using File Explorer. Since they're the equivalent of browser tabs for File Explorer, the process of rearranging File Explorer tabs is the same as it is with browser tabs. All you have to do is right-click on the tabs at the top and drag them to the side you want to place them in.
We hope that you find this helpful.