Windows File Explorer is one of the best things about Windows 11/10 due to the fact it allows the user to gain access to several aspects of the operating system with just a few clicks of the mouse. The most impressive thing about Windows Explorer is the ability for users to improve it even further. In this article, we explain how to copy path a file or a folder in Windows 11/10/8/7 via Explorer UI or using freeware Path Copy Copy.
Many a time we are required to upload documents to social media sites or any other sites which forces us to go through numerous folders till we find the desired file. Finding a path to upload a file or a folder in file explorer can be time-consuming. In most cases, it can be quite tedious to traverse to the location of the root directory of a file system. It is indeed tiresome to manually copy the path regularly from the address bar in order to paste it to the desired location.
Copy path of file or folder in Windows 11/10
Fortunately, there is a provision to easily copy the full path of a file or folder to the clipboard. All thanks to the Windows which is constantly updated with new features that make our life much simpler. In the earlier version of Windows, there is an option called copy path in the file context menu that would let you copy the path of a file or a folder to paste it to your clipboard. In Windows 11/10, the copy path button is moved to the Home tab ribbon area in the file explorer.
Open Windows File Explorer and traverse to file location whose path you want to copy. Select the file or folder you prefer to copy.
On the Home tab ribbon, click on Copy path button to copy the path of the selected file or folder.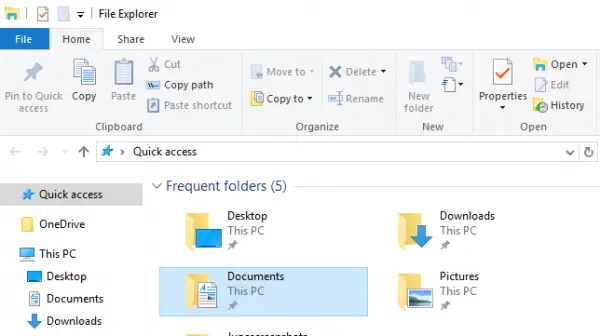 Now paste the path to the desired location or to a clipboard.
Many of us have been improving the feature with third-party software for years, so since we know how well these things can work if done properly, we chose to download and test an app known as Path Copy Copy.
You might be wondering what Path Copy Copy is all about and if it's worth your time. Here's the thing, this tool is designed to allow users to copy the path of any file or folder, and this can be done in several formats. The addon is integrated into the file context menu. It also allows you to customize the settings according to your preferences. You can configure the software settings to various copy formats like copying the short name, long name, long path, short path, Unix path, Internet path etc. Additionally, you can configure the settings to encode whitespace, display submenu, display icon next to the submenu and many others.
TIP: In Windows 11 2202 and later, to copy a file path, select an item and press CTRL+Shift+C.
Path Copy Copy for Windows PC
You can use Path Copy Copy to copy file & folder paths.
Easily Copy Paths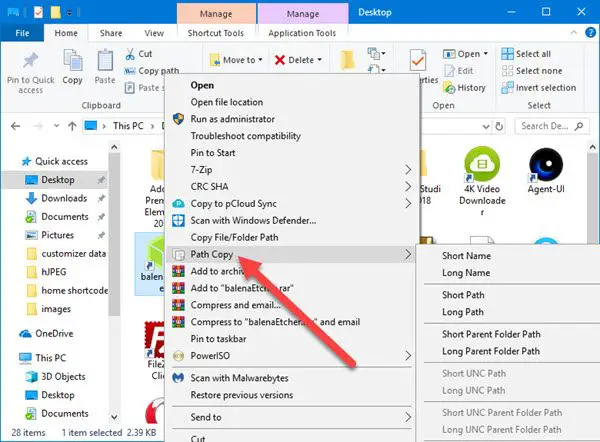 When it comes down to copying paths, this task is quite easy and we're going to explain how. You see, the user should simply fire up Windows Explorer, locate the file or folder they're interested in, then press the right-click button.
You should now see the contextual menu with all its many options. The next step, then, is to look for Path Copy and hover the mouse pointer over it. From there, users will see a new list of options from the sub-menu, which is where all the magic happens.
Select any of the available options to have a copied path, then press CTRL + V to paste the copied items in a Word document or wherever else.
Settings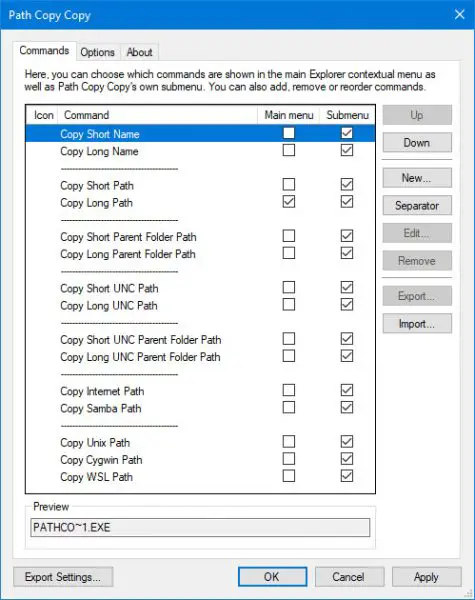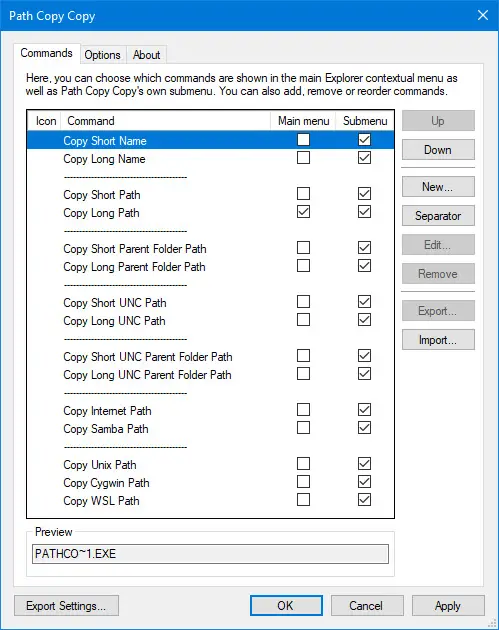 The Commands area gives the option to remove certain elements from the contextual menu. Not only that but if you want to gain easy access to some of the most Path Copy Copy options, the ability is there to place them in the main menu.
Right now, all features are available via the sub-menu, which is a good thing because it doesn't allow for the cluttering up of the main menu.
In terms of the Options tab, this is where folks can decide if they want the sub-menu or everything in one place. We suggest never unchecking this feature because things will become cluttered and difficult to get under control, even if you're a power user.
Additionally, a click of the mouse can add quotes around copied paths with relative ease. Furthermore, if you're interested in copying multiple paths on the same line, just tick the box that says "Copy multiple paths on the same line."
Here's the list of all the copy formats supported:
Copy Short Name
Copy Long Name
Copy Short Path
Copy Long Path
Copy Short Parent Folder Path
Copy Long Parent Folder Path
Copy Short UNC Path
Copy Long UNC Path
Copy Short UNC Parent Folder Path
Copy Long UNC Parent Folder Path
Copy Internet Path
Copy Unix Path
Copy Cygwin Path
Personally, I'm not the one to regular copy paths, therefore, Path Copy Copy is not for me. However, if you're the opposite of who I am, then chances are you'll find this tool immensely useful for a long time to come. You can download Path Copy Copy from GitHub.