In this post, you will see how to capture audio from video. You can add MP4, MOV, MPEG, FLV, WMV, AVI, or some other format video and extract audio from that file. When you have the audio, you can create a ringtone or use audio for other purposes. The options covered in this post are really good to have an audio version of a video file.
Extract Audio from Video
This post covers some free services and software that allow you to extract audio from a video file. They are:
Online Audio Converter
Online Converter
Audacity
Any Audio Converter.
Each option supports multiple video formats. Also, you will be able to set audio quality for the output. Let's check them.
1] Online Audio Converter
This Online Audio Converter service lets you extract audio from video files in batch. It supports 300+ video formats and it can provide output in MP3, OGG, M4A, AMR, WAV, and other audio formats. It has some other interesting features that make it a good audio extractor service. You can set audio quality (192 kbps, 320 kbps, 128 kbps, etc.), audio channels, reverse audio, add fade in and fade out effect, etc. It doesn't mention the video size limit so you can try to capture audio from large video files.
Open the homepage of this audio converter using this link. On that page, you can add multiple video files from your Dropbox account, Google Drive, or PC. An online video can also be converted by adding the video URL. When the video files are added, set the output audio format. You can also use its Advanced settings feature to set bitrate, channels, audio quality, etc. The feature to add track info is also there to set audio title, genre, year, artist name, etc., but it is available only when you have added a single video file.
When everything is set, use Convert button. Finally, you will get the extracted audio that you can download to desktop, Google Drive, and Dropbox.
2] Online Converter
Online Converter is one of the popular file converter services. It has so many conversion tools like eBook converter, image, document, video, audio, unit converter, etc. You need to use its video to MP3 tool under the video converter page to capture audio from video. It supports only one video file and MP3 as an audio format but it gives a good output.
Open its video to MP3 page using this link. You can add an online video or upload a video (up to 200 MB) from the desktop. MOV, M4V, FLV, WMV, MPEG, XVID, 3GP, RMVB, MP4, and other video formats are supported. After that, you can either set audio quality using the drop-down menu or keep the default audio quality. Click on Convert button and then you can get the audio file.
3] Audacity
Audacity is a very popular cross-platform and open source audio software. It has features like edit audio, remove background noise, record audio, etc. To capture audio from video, you can either use the Record button visible on its interface to manually record the video playing on PC or simply export audio from the input video. Recording audio from video manually is time-consuming, so you can choose the second option. It lets you save audio in MP3, OGG, MP2, FLAC, or other audio formats.
On its interface, add a video file. After that, you have the choice if you want to extract the whole audio or extract audio from the selected part of the video. To capture audio from a specific part, you can drag the mouse cursor on audio waves visible on its interface. This will mark the start and end parts for the output. Additionally, you can use the Effects menu to add fade in and out effect, change pitch, speed of audio, add echo, and more.
When you have done everything, use Export Audio or Export Selected Audio option under the File menu. Finally, in Save As window, you can select audio quality and audio format to fetch audio from video.
You also need to install FFmpeg (if not already) so that you can import any video format file on Audacity to extract audio from that video.
TIP: Take a look at Avidemux too.
4] Any Audio Converter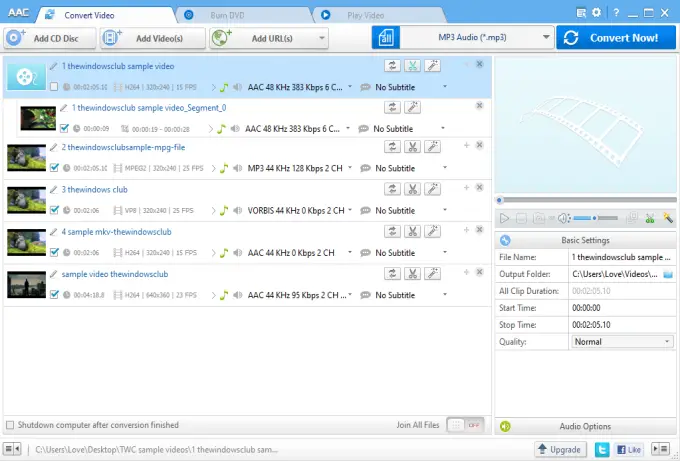 Any Audio Converter is a multipurpose software and it is available free for personal use only. It comes with DVD creator, online video downloader, capture audio from CD, and other features. You can use its Convert Video tab to fetch audio from video. There are two interesting features that I like. First is you can add multiple video files and then create a single audio file. Another feature is you can capture a specific part of a video by selecting start and endpoints and save the selection as an audio file.
To extract audio from video files, add RMVB, FLAC, AVI, MPEG, MOV, MP4, or other format videos supported by it. For each video file, it provides Clip this item option. Using that option, you can extract a specific part from the video and extract that part as an audio file. If you want to convert the entire video, then simply ignore this option.
When options are set, use the drop-down menu to set the output audio format. AAC, MP3, AIFF, WAV, WMA, and other audio formats are available. Choose any audio format, set the output folder, and use Convert Now button. It will save audio files in the output folder. Here is its download link.
So, these are the free services and software that are helpful to capture audio from video. While all give good output, Audacity has some advanced features that you might want to try first.