Converting one audio file from one file format to another is super easy, and that is due to the many options we have. Many operating systems tend to come with at least one tool designed for converting audio, but they are usually not fully featured. Users will then choose to download audio converter software from the web, install them on their computer, and proceed to get the job done. However, if you're an amateur computer user, you may not have to download a single software to convert your favorite audio tracks.
You see, these days, it's not too hard to find online-based tools that do a good enough job when compared to their native counterparts. With that in mind, we are going to talk about five online services for converting audio.
Free Online Audio Converters
The following services are not gimmicks, and from our point of view, they are the future as the cloud continues down the path of making current operating systems and apps obsolete.
Online Audio Converter
FileZigZag
Zamzar
Wondershare Online Uniconverter.
Let us take a look at these free audio converter tools.
1] Online Audio Converter
If you are the type of person who loves to work with music, then chances are, you may find a lot to love with Online Audio Converter. Before going in, be warned that this tool only supports seven formats so far, and they are MP3, WAV, M4A, FLAC, OGG, MP2, and AMR.
In terms of quality, the user can choose from 64KBPS, 128KBPS, 192KBPS, and 320KBPS. Additionally, folks can decide if they want the output music to have stereo or mono. The option is also there to allow Fade In, Fade Out, Voice Removal, and much more.
Take advantage of Online Audio Converter from the official website.
2] FileZigZag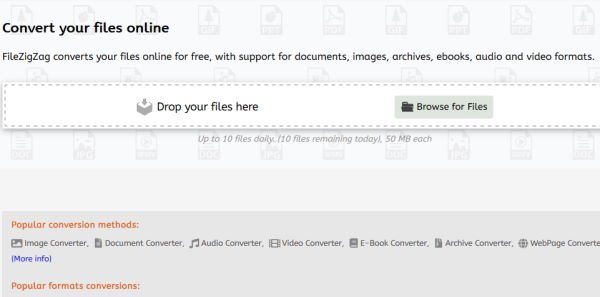 We love this one because it is a multipurpose service that not only convert audios, but documents, pictures, and videos. Not only that, but folks can use it to add files to archives such as ZIP and 7Z. Its no doubt a powerful tool, and as such, we have to recommend it.
When it comes down to the number of audio formats supported, FileZigZag can handle 29 formats, and they are  3GA, ACC, AC3, AIF, AIFF, AIFC, AMR, AU, CAF, FLAC, M4A, M4R, M4P, MID, MIDI, MMF, MP2, MP3, MPGA, OGA, OGG, OMA, OPUS, QCP, RA, RAM, WAV, and WMA.
For those who are unregistered, the file limit is capped at 100MB, but registering increases the size to 180MB. If you want more, then you will be required to pay a fee for 24-hours, and that's it.
Convert your audio via FileZigZag from the official website.
3] Zamzar
This is another quality tool on the list and it's very similar to the previous one due to its multipurpose nature. It can convert video, documents, pictures, and videos, so you will always find some form of use for it.
What makes Zamzar stands out, however, is the support it has for around 1,200 file formats. No other online tool that we know of can match this number, therefore, we can't recommend it enough.
At the time of writing, the size limit of any file you are willing to convert is maxed out at 150MB. If you want more, well, pay up.
Go to the official website of Zamzar to convert your audio.
4] Wondershare Online Uniconverter
There's a reason why we like Wondershare Online Uniconverter, because not only is it similar to others on this list, but it also has a desktop application for Windows 10. However, we're not going to discuss the desktop app, but rather the web version.
When it comes down to supported file formats, Wondershare has a lot to offer. It supports WMA, MP3, WAV, RA, RM, RAM, FLAC, MP4, AU, AIF, AIFC, OGG, WV, 3GA, SHN, VQF, TTA, QCP, DTS, GSM, W64, ACT, OMA, ADX, CAF, SPX, VOC, and RBS.
Unfortunately, the service is lacking quite a few advanced features found in the other tools on the list, but that's fine.
Visit Wondershare via the official website to convert all of your audio.
Which free tool do you use?