Sticky Notes in Windows is a useful tool that supports touch and type options. Its latest version brings many UI enhancements and ability to sync your notes across devices. One such ability is to export Sticky Notes to Outlook.com. In this guide, we will show you how to export your Sticky notes to Outlook.com.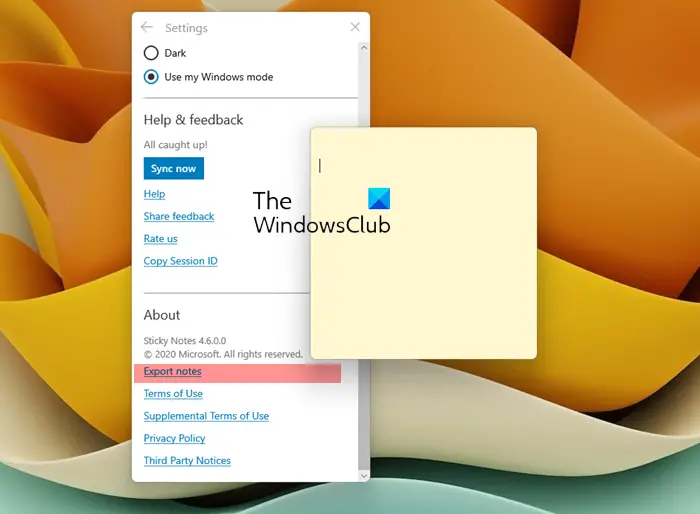 Export Sticky Notes to Outlook.com
Sticky Notes in Windows features both writing and drawing options. Using the right set of instructions given below, you can export the handwritten or typed notes to Outlook.com. Here's a way!
Launch Sticky Notes app. When prompted, sign-in to access the app. If you haven't already signed into the app, click the 'Menu' (visible as 3 dots) in the upper right of a note and select 'All Notes'.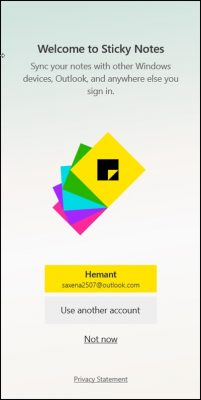 Thereafter, in the panel that opens, click the 'Settings' (cog wheel) and choose the Sign In option.
Once you sign in, you will notice 'Export Notes' option visible as a link on the Settings page. Click it!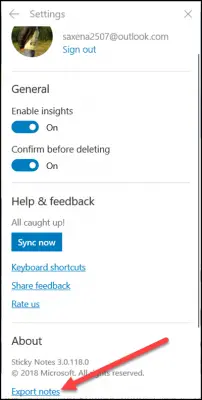 This will automatically save notes to your Outlook account. It is not essential to have Microsoft Outlook installed on your Desktop.
Now, visit Outlook.com and sign in with the same account you used for Sticky Notes. There, select Settings menu and from the list of options displayed, choose 'View all Outlook settings'.
Next, expand the 'General' setting to find 'Privacy and data' option and click on it.
You can perform one of the following actions:
Export mailbox
Delete history
Export your search history to a .csv file
We would like to export mailbox so, select the first option as shown in the screenshot below.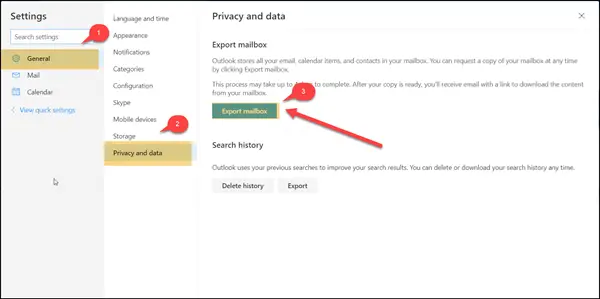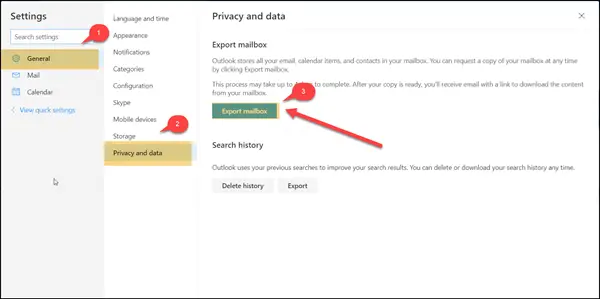 This process may take up to 48 hours. After a copy of your mailbox is ready, you'll receive an email with a link to download the content of your mailbox.
This feature is not available for Office 365 accounts using Outlook on the web.
Sticky Notes is an application that has been around for many years, but it has transformed into a more modern app lately.
Related read: How to attach Sticky Note to Outlook mail.