Microsoft Outlook is a popular email client used by millions of Windows users. Those, who use the Microsoft Office package, often use Outlook as well. People use Outlook because of email support and ease of use. You can use almost all types of IMAP-enabled accounts through Outlook 2021/2019/16/13. At the same time, Outlook comes with some awesome features. For example, you can set different rules. This is almost the same as Gmail's filter.
You can utilize rules to do various tasks faster and automatically. Suppose you want to see all emails from a particular person in a different folder or directory. At such a moment, you can set up a rule which Outlook will use to move that email to that predefined folder. Or, suppose you wish to move messages with specific words in the subject to a folder, move emails sent to a public group to a folder, flag messages from someone for follow-up, or move RSS items from a specific RSS feed to a folder or do anything like that. There is only one solution. That is – Rules in Microsoft Outlook.
Let's assume that you have set up some rules. Now, you want to change the PC or reinstall your Windows. If you install Outlook, you will not get those rules because Outlook saves rules locally. To solve this problem, here is a solution. You can easily export or import rules in Outlook. So, if you are using Outlook 2016 or 2013, you can follow these steps to export or import rules in Outlook.
Export or Import Rules in Outlook
Both of these things can be done without any third-party software. Outlook has the option by default.
Export Rules: First, open Outlook and click on Files to export rules from Outlook. Here you will get an option called Manage Rules & Alerts. Alternatively, you can also click on the Rules folder in the Home tab and select Manager Rules & Alerts.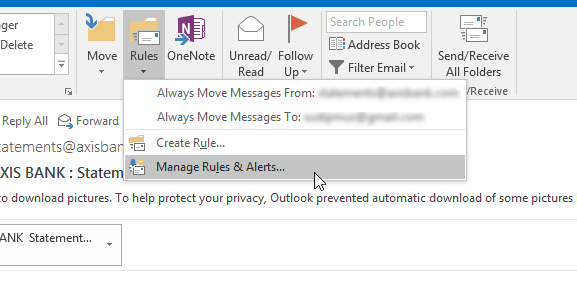 Here you will get a button called Options. Just click on that.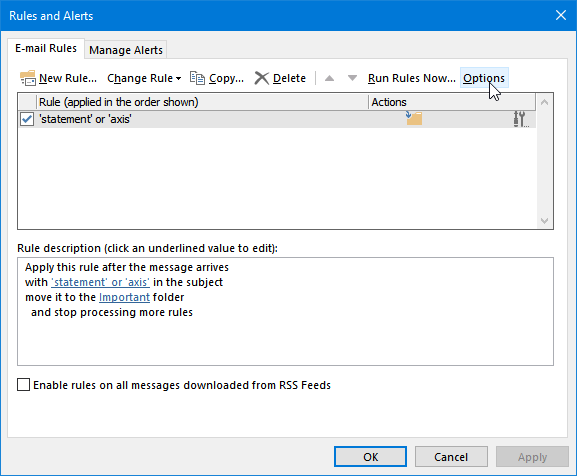 On the following screen, you can find two options, i.e., Export and Import.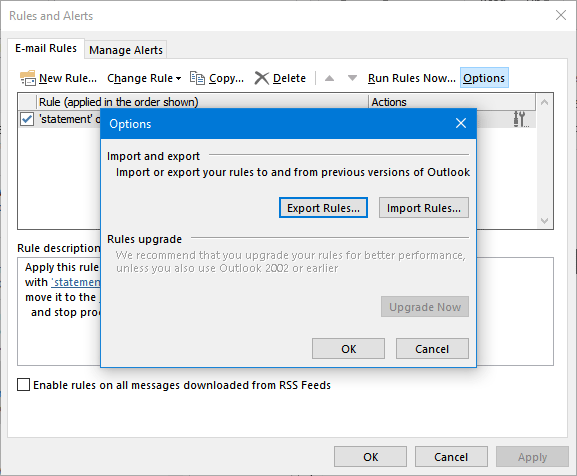 Click on Export to collect existing rules. Now select a location to save the exported file. You can transfer that file anywhere to import that later.
Import Rules: This is also an easy task. First, go to Manager Rules & Alert section and click on Options. On the next screen, choose Import. Now, you will have to select the exported file.
That's it! You are done!
I hope this little tutorial will help you a lot.
Can you create a distribution list in Outlook?
The latest version of Office includes a people icon on the Navigation bar. When you click it, it will reveal the My Contacts section. You can select the folder where you want to save the contact group. Next, select New Contact Group on the menu and give it a name. Finally, click Add Members and select people from the address book or contacts list. When you need to send an email to all of them, add the group by searching in the sender's list.
How many rules can Outlook handle?
There is a limit of 256 KB for all inbox rules in Outlook on the web (formerly known as Outlook Web App) and the Outlook desktop apps. Each rule you create will use up space in your mailbox. Several factors affect how much space a rule uses, such as the length of the name and the number of conditions applied. If you reach the 256 KB limit, you will be warned that you can't create any more rules or update a rule. There is no way to increase the space allocated to store Inbox rules in Exchange Online, but it is possible to decrease it to better suit your business needs.