This article focuses on the EXCEPTION_ON_INVALID_STACK stop error. If you see EXCEPTION_ON_INVALID_STACK (0x000001AA) Black Screen when you try to install Windows 11, then here are some suggestions to help you resolve the issue. Some users have also encountered this error as a Blue Screen when using their Windows 11 PC.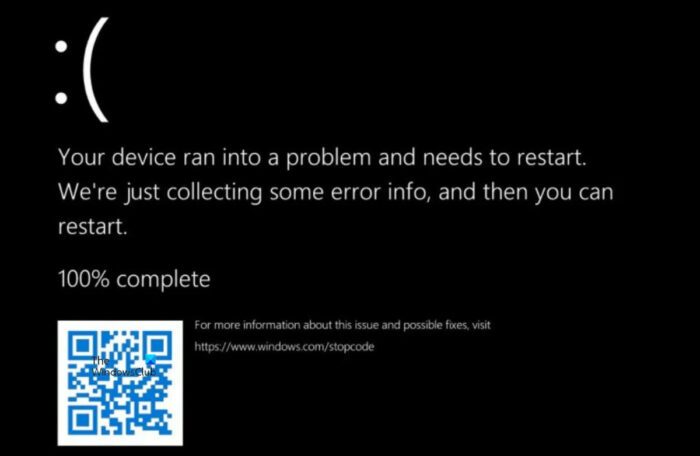 The BSOD (Black/ Blue Screen of Death) is an error screen displayed by the Windows OS when it encounters a fatal system error, causing the system to shut down or restart unexpectedly. Technically known as a Bug Check, a Kernel Error, or a Stop Error, the Black Screen often shares useful information such as the error code and error name that allows users and administrators to look into the scope of that specific error and fix it accordingly.
The EXCEPTION_ON_INVALID_STACK bug check has a value of 0x000001AA. This BugCheck indicates that exception dispatch crossed over into an invalid kernel stack. This might indicate that the kernel stack pointer has become corrupted during exception dispatch or unwind (e.g. due to stack corruption of a frame pointer), or that a driver is executing off of a stack that is not a legal kernel stack.
EXCEPTION_ON_INVALID_STACK screen on Windows 11
If you see EXCEPTION_ON_INVALID_STACK (0x000001AA) error on Windows 11, then depending on your case, you may try the following suggestions:
Check the Hardware Compatibility of your PC for Windows 11.
Reset RAM and try.
Use alternative methods to install Windows 11.
Run Online Blue Screen Troubleshooter.
Refer Windows Stop Errors Guide for more suggestions.
Let us see this in detail.
1] Check the Hardware Compatibility of your PC for Windows 11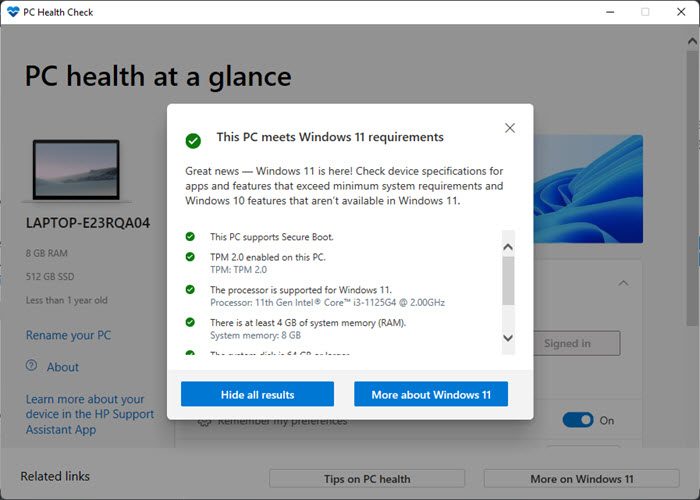 Start by checking if your system is eligible for an upgrade to the Windows 11 OS. Microsoft offers a PC Health Check tool to check whether your existing Windows 10 PC or Laptop meets the necessary system requirements to run Windows 11.
Click on the Search icon located in your taskbar area.
Type 'pc health check'.
Select PC Health Check from the list of results.
Click on the Check now button.
PC Health Check will run a comprehensive eligibility check and show This PC meets Windows 11 requirements if it finds your PC compatible.
If you don't see this message, then hardware incompatibility may be causing the EXCEPTION_ON_INVALID_STACK stop error. In that case, you may upgrade your PC or stay with your existing Windows 10 OS.
2] Reset RAM and try
Your RAM may also cause the Black Screen to appear. Try clearing the memory cache to free up RAM on your system. Restarting your Windows 11/ 10 PC is the easiest way to reset RAM. Use the traditional way to shut down Windows. Remove the power plug, wait for a minute and when you start Windows back, the RAM resets to a fresh state.
Read: How to force Hard or Full shutdown in Windows to reinitialize it
3] Use alternative methods to install Windows 11
Try an alternative method such as the Media Creation Tool, Windows 11 Installation Assistant, or Bootable Media to upgrade your system. The Media Creation Tool allows you to upgrade to Windows 11 or create an installation media (USB flash drive/ DVD/ ISO file) to perform a clean installation of Windows 11. Another way to force download and quickly install the Windows 11 upgrade is to use the Windows 11 Installation Assistant.
Also Read: Purple, Brown, Yellow, Orange, Red Screen of Death explained.
4] Run Online Blue/ Black Screen Troubleshooter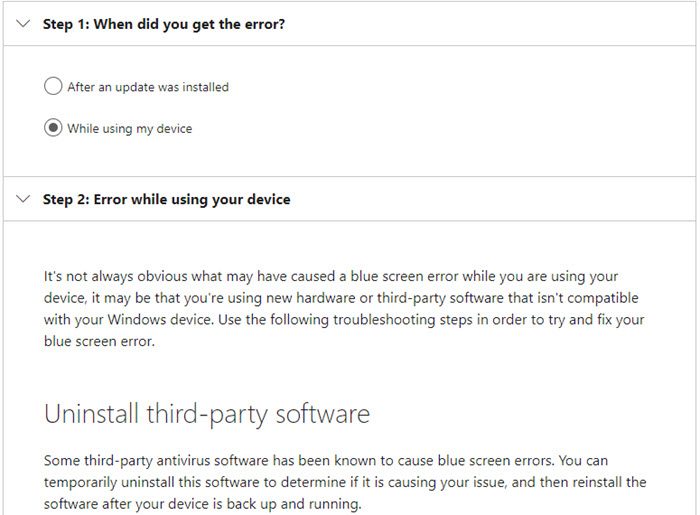 Microsoft offers an online troubleshooter to fix Blue Screen errors and Black Screen errors on Windows 11. The troubleshooter work like a wizard to help novice users fix the Blue/ Black screen errors. Run the troubleshooter and follow the detailed step-by-step instructions. By knowing exactly when you first encountered the error, the troubleshooter may help resolve the issue for you.
5] Refer Windows Stop Errors Guide for more suggestions.
Last but not the least, refer to the Windows Stop Errors Guide to understand and fix the kernel error. The guide offers comprehensive information on some of the most common Windows stop errors. It not only describes the error but also suggests possible fixes while highlighting the causes behind the error.
If nothing helps, you may need to analyze the Stop Error Dump files using WhoCrashed or some Crash Dump Analyzer software for further troubleshooting.
Does Blue Screen of Death fix itself?
It is quite usual for your Windows to reboot automatically in case it encounters a Blue Screen. By restarting your PC, Windows tries to protect the hardware and try and fix the issue on its own. Though sometimes, it fails to do so and you keep getting the Blue Screen repeatedly. In that case, you must note down the error code to further investigate and resolve the issue.
Can I turn off my PC during Blue screen?
The blue screen generates helpful dumps that are used to analyze the root cause of the issue. So it's better not to force shut down until after, say, a minute, the screen shows the error code. Once the error code is displayed, you can press and hold the power button for a few seconds to turn off your PC.
Read Next: Force Windows to display the Stop Error information on Blue Screen.