If iTunes is not working on your Windows 11/10 PC or on your macOS computer, and you're getting the error -42110 when purchasing or downloading media in iTunes on your device, then this post is intended to help you easily resolve the issue.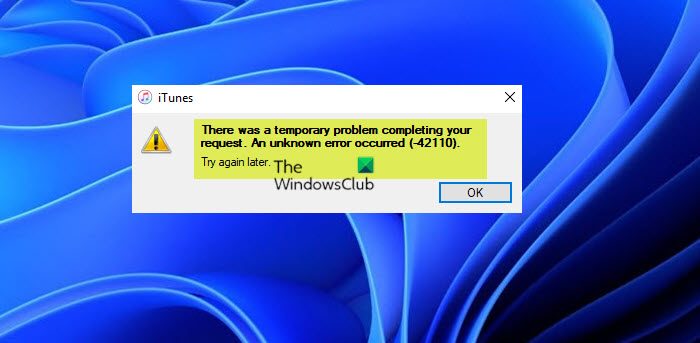 iTunes

There was a temporary problem completing your request. An unknown error occurred (-42110).
Tiy again later.
Error -42110 when purchasing or downloading media in iTunes
Since you are on this page, you probably have encountered the Error -42110 when purchasing or downloading media in iTunes on your Windows 11/10 PC, you can try our recommended solutions in the order presented below and see if your problem is resolved on your device.
Initial checklist
Remove the SC Info Folder
Update/Reinstall iTunes
Let's take a look at the description of the process involved concerning each of the listed solutions.
1] Initial checklist
Before you proceed with the solutions below, you can perform the following tasks, and after completion of each,  On the other hand, if the error started after a recent Windows update,
Check your payment options. You can start off troubleshooting Error -42110 when purchasing or downloading media in iTunes on your Windows 11/10 system, by first verifying your payment option is valid and has not expired; as well as has sufficient funds for the purchase.
Check Internet and Network connection. Online purchases, as well as media downloads, require a stable internet connection. So make sure at your end to fix possible internet and network problems that can cause connectivity issues. Also, make sure there's no service outage at Apple's end. In the event the outage is regional, you can try using a VPN. On the other hand, if a VPN is already in use, try disabling the software and see if that sorts out the network connection issue. For PC users, if your computer cannot connect to the Internet at all, you can use the Network Reset feature and see if that helps. In addition, you can run the inbuilt Internet Connections Troubleshooter for Windows 11/10.
Read: Fix iTunes Error Code 5105, Your request cannot be processed
2] Remove the SC Info Folder
The SC Info Folder contains the authorization information for your computer to access DRM-protected content, to facilitate data exchange between the Apple server and the end-user PC or Mac. If this folder is corrupted, you're likely to encounter the error in highlight. In order to access this Folder, you will first need to show hidden folders/files on your computer.
To remove the SC Info Folder on your Windows 11/10 PC, do the following:
Close iTunes and every associated instance.
Next, press Windows key + R to open Run dialog box.
In the Run dialog box type the environment variable below

 and press Enter to open up the ProgramData folder (hidden by default).
%ProgramData%
At the location, double-click on the Apple folder and then access the iTunes folder.
Inside the iTunes folder, right-click on the SC Info folder and choose Delete from the context menu.
Exit File Explorer.
Once done, restart your computer and launch iTunes to force the program to create a new SC Info folder. The issue should be resolved now; if not, try the next solution.
Read: iTunes has detected a problem with your audio configuration
3] Update/Reinstall iTunes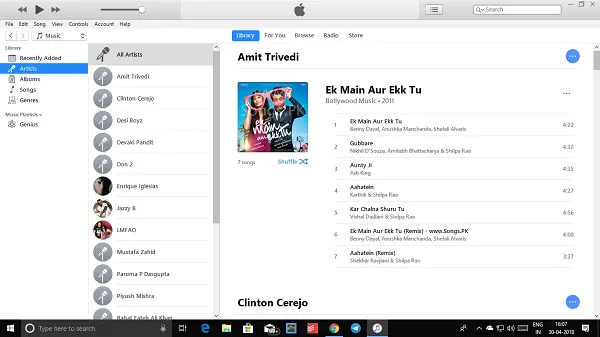 If iTunes is outdated, the issue you're currently facing can occur. In this case, to resolve the issue quickly, uninstall iTunes and then uninstall any application published by Apple Inc on your system. Once done head back to Apple official website to download and install the latest version of iTunes on your device.
In addition, check for updates and install any available bits on your Windows 11/10 device and see if the error reappears. If the error persists, you can try using iTunes app from Microsoft Store.
Hope this post helps you!
Related post: Fix Error Code 1671 for iTunes
Why does my iTunes say unable to purchase?
The issue could be due to poor internet connectivity. Sign out and then log into your iTunes account. Try this method if the message says that Credit card processing is temporarily unavailable. Go to Settings app > Tap on your name > Scroll down and choose to Sign Out. Wait for Apple to fix the issue.
Why are my in-app purchases not working?
If you haven't received an in-app item you bought, try closing and restarting the app or game you're using. Tap Apps or Manage applications (depending on your device, this may be different). Tap the app you used to make your in-app purchase.
Why won't my songs download from iTunes to iPhone?
To resolve this issue on your device, go into Settings > Music and turn off the iCloud Music Library. Restart your phone, and if it works after that then you can turn iCloud Music Library back on and it should still work.