iTunes is a must have utility software for the people who own an Apple product like iPhone, iPad or iPod. Some users of iTunes have been reporting encountering Error Code 1671 on Windows 11/10. This error mostly occurs when a user is updating or restoring software or any data onto their iPhone or iPad using iTunes. Although this process is expected to go through smoothly, this error is being encountered by some. It is caused due to an interruption between the software and the Apple Server.
The software update server could not be contacted. An unknown error occured (1671).

Error Code 1671 for iTunes on Windows 11/10
We will be checking out the following fixes to get rid of Error Code 1671 for iTunes on Windows 11/10:
Using the Host File.
Using Factory Reset.
Using DFU Mode.
Before you begin, make sure that you have the latest version of iTunes installed on your computer update your iOS device using any of the OTA (Over the Air) updates. Also temporarily disable your antivirus software. Basically, you have to make sure that iTunes can communicate with the Apple software-update servers.
1] Disable the Hosts File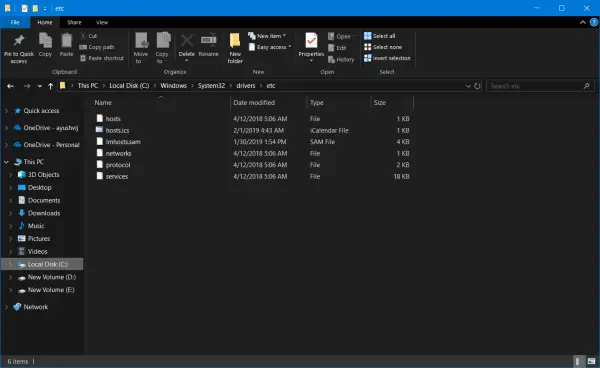 Open File Explorer and navigate to the following location:
C:\Windows\System32\drivers\etc
Move the file named hosts to your Desktop.
Now, try to update or restore your Apple device.
Once you are done, you can move it back the file to the etc folder.
2] Using Factory Reset
You can Factory reset your iPhone, iPad or iPod – and as you do that, connect that device to your computer with iTunes running.
Now, iTunes will give you a prompt to restore your iPhone, iPad or iPod.
You can follow the on-screen instructions and then restore your iOS device properly.
3] Using DFU (Device Firmware Update) Mode
This step is a bit complicated. Launch iTunes on your computer and connect your iPhone to it.
Then press the Power Button + Home Button together and hold them for 10 seconds.
Now, after you find the following message on iTunes on your computer, release the Power Button only,
"iTunes has detected an iPhone in recovery mode. You must restore this iPhone before it can be used with iTunes."
If your mobile device's screen is black, just leave the Home button too. If you do not find that black screen try following the steps mentioned in this method from the beginning.
Now, you can use iTunes to restore your device normally, and it will turn on with the default OOBE.
Hope something here helps you.