Microsoft acquired Wunderlist. At that time it was one of the most popular task-management apps. Soon enough, Microsoft announced that they would retire Wunderlist from both Google Play and Apple App Store. Wunderlist founder, Christian Reber made a counteroffer to buy Wunderlist from Microsoft. As expected Microsoft rebranded Wunderlist as Microsoft To-Do and it has ended up as my favorite task management app.
Microsoft To-Do on iPhone Tips and Tricks
Here are 9 of the best tips and tricks to boost your productivity on Microsoft To-Do on iOS:
My Day, My Way!
Tag an email as Task
Auto Suggestion is a time saver
Prioritize Tasks
Create Sub Task
SIRI Shortcuts comes to the Rescue
Swipe Left and Right
Collaborate by sharing lists
Customize your lists with Themes.
I have been using Microsoft To-Do on my iPhone since last year. Before this, I have used a bunch of task management apps, including Deux Deux and others. However, Microsoft To-Do has been most efficient when it comes to organizing my life and help prioritize. Furthermore, the user-interface is similar to Wanderlist, which is useful if you are migrating from Wanderlist. This article will help you with the best Microsoft To-Do features that will help you become more productive.
1. My Day, My Way!
Planning your day takes off the stress from the workday. Typically, it is always fruitful if you plan your next day a night before. This way, you will not waste time prioritizing and worrying about the current day's task.
My Day is a dashboard that displays all your tasks for the day. After midnight the tasks will disappear. Furthermore, you can also tag other tasks as My Day so that it appears on the dashboard. You can review the list daily and reassign incomplete tasks and review progress at the end of the day.
2. Tag an email as Task
Every day we receive emails that contain details to specific tasks. The best part about the Microsoft To-Do app is that you can tag an email and convert it into How-to. The only caveat is that you should be using Outlook Email. For instance, you can flag your credit card statement as a reminder, and it will appear on your To-Do list.
3. Auto Suggestion is a time saver
Microsoft To-Do on iOS offers a suggestions feature. Unlike the ones in other apps, this feature is handy. Not only does it suggest an easier way to keep reminders but will also remind you if something is amiss. For instance, if you type 'Cancel Hulu subscription on 22 September' then it will automatically set a reminder for that date.
4. Prioritize Tasks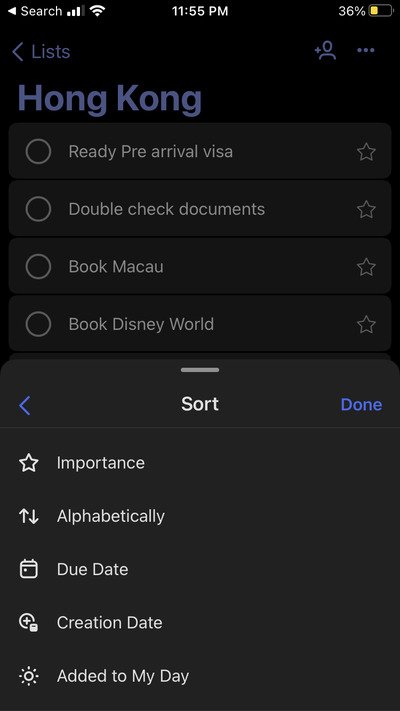 It is prevalent for undone tasks to be lost in a long list. The best way to tackle this issue is by organizing your tasks in a better way. Microsoft To-Do app offers a List Options menu that allows you to sort the tasks alphabetically, Due Date, Creating Date, Completion Date and when Added to My Day. All you need to do is tap on the top right corner and sort the tasks. Furthermore, you can manually reorder tasks by holding and dragging a task.
5. Create Sub Task
What if your task is complex? In this case, you can break down the task into sub-tasks. The task will not be marked as completed once you complete all the subtasks; this way, you can take one final look. Go to your Task and click on Add Step to insert a sub-task. We suggest manually ordering the sub-task in increasing order of importance.
6. SIRI Shortcuts comes to the Rescue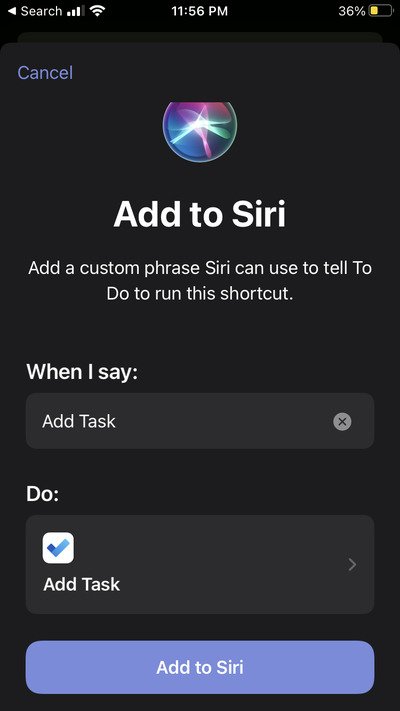 Ever since iOS introduced Siri Shortcuts, it has been easy to automate workflow on iPhones. Thankfully, Microsoft To-Do offers Siri Shortcuts integration. Head over to app settings> Siri Shortcuts and you can choose from the preset shortcuts. Once done, you can say 'Hey Siri, add a new task' and Siri will open the To-Do app new task menu. Simply, easy and effective.
7. Swipe Left and Right!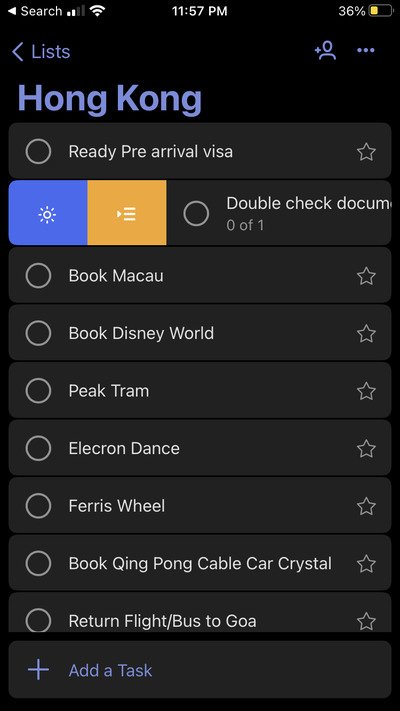 I love the ease with which I can manage my task. You can left swipe a task to add the task to 'My Day.' Moreover, you can right swipe to delete the task. This feature helps you organize tasks in an instant.
8. Collaborate by sharing lists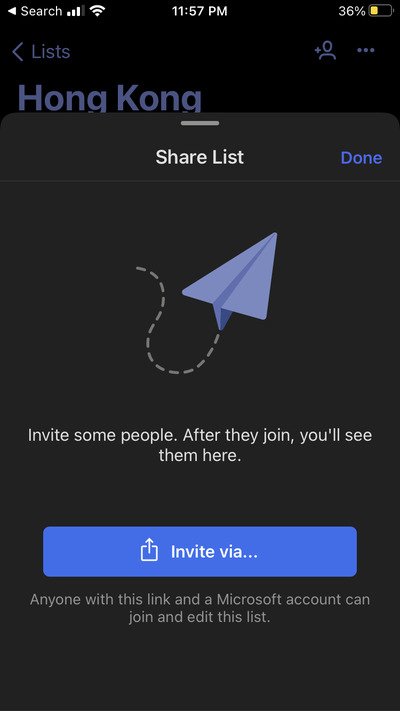 A majority of my list involves other people. For instance, a family member needs to be tagged in a list that concerns house decor. Or you can add your team members to keep track of project tasks.
Open the list and tap on Add Button at the top right corner. Now you can send invite via text, WhatsApp and other ways. Only prerequisite is that invitee should have a Microsoft Account.
9. Customize your lists with Themes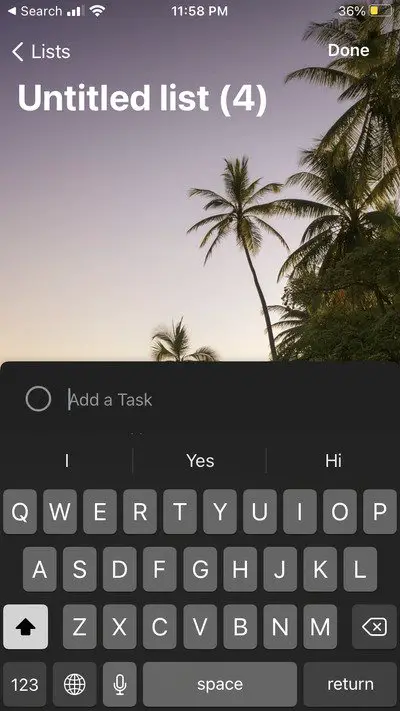 Are you tired of the bland background? The good news is that you can change Themes and color schemes for individual lists on Microsoft To-Do.
Furthermore, the app already supports iOS dark mode. Simply tap on the three dots at the top right corner and check the theme options. You can also choose colors to spruce up the appearance. The only thing missing is that you cant add images from the gallery and we hope Microsoft is listening!
I hope you find the post useful.