Microsoft has been bringing in new lock-screen user experiences and features with every iterative feature release of Windows 10. People have their own opinions about it. Some people tend to like it, and the others tend not to like it. For those, who do not like it, we have something to discuss. We will be talking about today on how to enable or disable the Console Mode sign-in for Windows 10. However, you will not be able to use your mouse pointer in this Console Mode login screen, and only your keyboard can be used even to navigate around different options.

Enable or Disable Console Mode Sign-in on Windows 10
Hit the WINKEY + R button combination to launch the Run utility, type in regedit and hit Enter. Once Registry Editor opens, navigate to the following key-
Computer\HKEY_LOCAL_MACHINE\SOFTWARE\Microsoft\Windows\CurrentVersion\Authentication\LogonUI\TestHooks
Now, check if you find a DWORD named as ConsoleMode.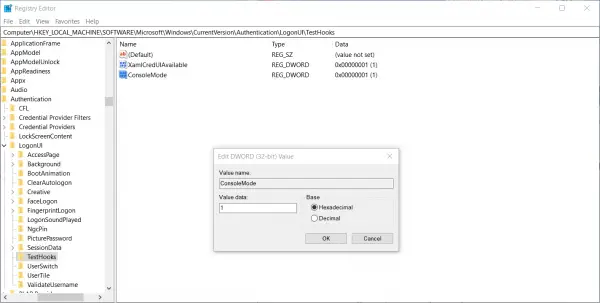 If you don't see it, just create one with the same name. Make sure that the base is selected to Hexadecimal.
Double-click on it and change its Value to 0 to disable it and, to 1 to enable it.
Reboot your computer for the changes to take effect.
How to use this Console Mode Login
To use the Console Mode Login screen or window, you can just use your keyboard. You can use the ESC button to navigate back to a menu, while you can use the Arrow Keys to navigate through the options which are mostly arranged vertically. Lastly, the Enter key can be used to select an option.
In this mode, signing in using the PINs and Passwords worked flawlessly, but due to hardware limitations, I did not get an opportunity to test Windows Hello log in. But I suspect it would not work as it was integrated with the new lock screen that came in with Windows 10.