Microsoft has been bringing in new lock-screen user experiences and features with every iterative feature release of Windows 10. People have their own opinions about it. Some people tend to like it, and others tend not to like it. For those, who do not like it, we have something to discuss. We will be talking about today how to enable or disable the Console Mode sign-in for Windows. However, you will not be able to use your mouse pointer in this Console Mode login screen, and only your keyboard can be used even to navigate around different options.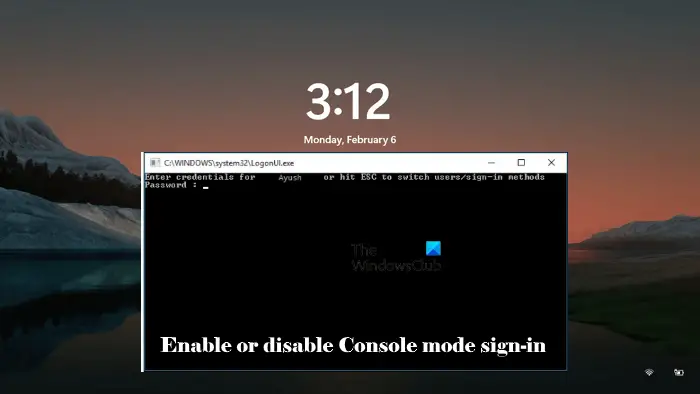 Enable or Disable Console Mode Sign-in on Windows
The process to enable or disable console mode sign-in on Windows 10 involves modification in the Registry Editor. Therefore, follow all the steps provided here carefully. Any mistake during the modification in Registry Editor can lead to serious errors in your system. Therefore, we recommend you create a System Restore Point and back up your Registry before proceeding. The System Restore Point will help you restore your computer to the previous working state when a problem occurs.

Hit the WINKEY + R button combination to launch the Run utility, type in regedit, and hit Enter. Once Registry Editor opens, navigate to the following key-
Computer\HKEY_LOCAL_MACHINE\SOFTWARE\Microsoft\Windows\CurrentVersion\Authentication\LogonUI\TestHooks
The easiest method to go to the above path is to copy and paste it into the address bar of the Registry Editor. After that, press Enter. Now, check if you find a DWORD named as ConsoleMode.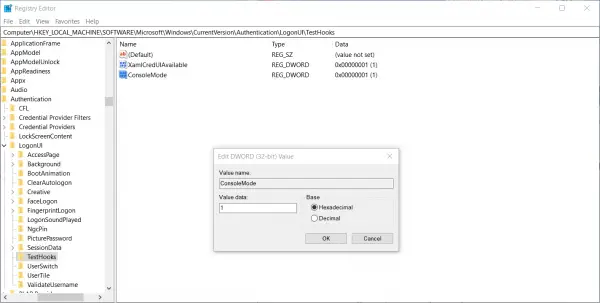 If you don't see it, just create one with the same name. Make sure that the base is selected to Hexadecimal.
Double-click on it and change its Value to 0 to disable it and, to 1 to enable it.
Reboot your computer for the changes to take effect.
How to use this Console Mode Login in Windows
To use the Console Mode Login screen or window, you can use your keyboard. You can use the ESC button to navigate back to a menu, while you can use the Arrow Keys to navigate through the options which are mostly arranged vertically. Lastly, the Enter key can be used to select an option.
In this mode, signing in using the PINs and Passwords worked flawlessly, but due to hardware limitations, I did not get an opportunity to test Windows Hello log in. But I suspect it would not work as it was integrated with the new lock screen that came in with Windows 10.
Why is the console mode sign-in not working?
The console mode sign-in was an experimental feature. It worked well in Windows 10 version 1607, build 14393 but it can be removed in later versions of Windows . Also, if you have Windows 11, you will not be able to use this feature. If this feature is not working on your system, check which version of Windows you are using. For this, open the Run command box and type winver, and click OK. If you have a Windows version later than that mentioned above, the console mode sign-in may not work on your system.
Can I disable Sign-in options in Windows 10?
Yes, you can disable sign-in options in Windows. To do so, you have to modify Windows Registry. Therefore, before you proceed, we recommend you create a System Restore Point and back up your Registry. After disabling the sign-in options through the registry, restart your computer. Now, when you open Windows Settings and go to the sign-in options page, you will find that all the sign-in options are greyed out. Any person cannot change the sign-in options on your computer until you revert the changes you made in Windows Registry.
I hope this helps.
Read next: The Sign-in method you're trying to use isn't allowed.