If you do not want to use your fingerprint to log into your computer, you can remove Windows Hello Fingerprint in Windows 11/10. It is possible to delete all the preset fingerprints so that you can sign in to your system with other different Sign-in options such as PIN, password, Windows Hello Face, etc.
If your computer has a fingerprint scanner, it is better to use it instead of a PIN or password. This practice helps you to log in securely in public places without revealing the password to an unknown person.
Although it is straightforward to set up and use Windows Hello Fingerprint and Face on a Windows 11/10 PC, there is a tiny drawback. If you register multiple fingerprints and you want to remove only one of them, you cannot do that. You have to remove all the fingerprints.
How to remove Fingerprint from Windows Hello in Windows 11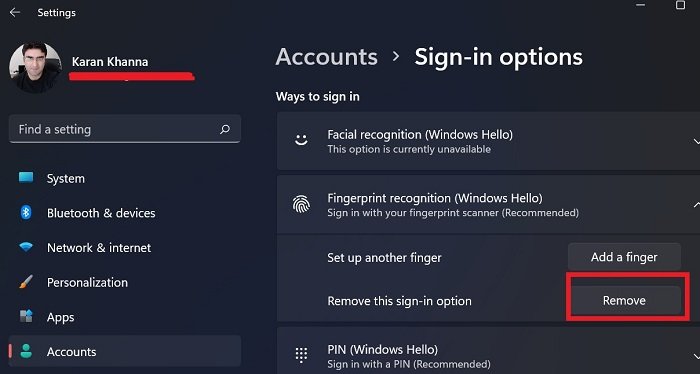 The procedure to remove Windows Hello fingerprint login is fairly simple.
Right-click on the Start button and select Settings.
In the Settings menu, go to the Accounts tab on the list on the left-hand side.
In the right-pane, click on Sign-in options.
In the Sign-in options window, expand the list for Fingerprint recognition (Windows Hello).
No matter how many finger have been set, you get only one option to Remove the fingerprint login system.
Please click on it to remove Fingerprint from Windows Hello in Windows 11.
How to remove Windows Hello Fingerprint in Windows 10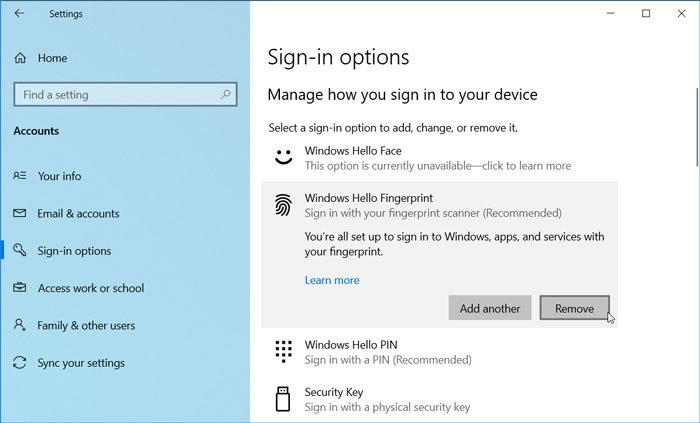 To remove Windows Hello Fingerprint in Windows 10, follow these steps-
Press Win+I to open Windows Settings.
Go to Accounts > Sign-in options.
Click on Windows Hello Fingerprint.
Click the Remove button.
Let's check out all these steps in detail.
You need to open the Windows Settings panel on your computer. Although there are many ways to do that, you can press Win+I buttons together to get it done.
After opening the Windows Settings panel, you can need to navigate to Accounts. Here you can find an option on your left-hand side called Sign-in options.
The Sign-in options page contains all the options that you have on your computer to sign into the system.
Click the Windows Hello Fingerprint option. After that, you will see a Remove button.
Click on it to remove all registered fingerprints from Windows 10.
Please note that you do not need to enter your PIN, etc, to verify yourself before removing the fingerprint.
Why can't I find the Fingerprint Recognition option in the Windows Hello menu?
The reason could be that you might not have a fingerprint reader connected to your system. Either an in-built or external fingerprint reader is required for the option to appear in the Windows Hello settings. However, in some cases, your system might not be able to read an external fingerprint reader. In this case, this issue could be with the USB/Bluetooth drivers or with the drivers of the fingerprint reader. For the fingerprint reader, you could download the drivers from the manufacturer's website. For the USB drivers, you could consider running the Intel Driver and Support assistant.
Why do I still have to set a PIN when I am using Fingerprint Recognition in Windows 11?
The reason is simple – The system may or may not read your fingerprint. Rather, every user faces this case some or the other time when his/her finger is not recognized. Should such a situation happen to you, you would be locked out unless you have the PIN set up.
I hope it helps.
Related read: How to Disable or Enable Biometrics Sign In on Windows joined to a Domain.