Adobe Reader, Adobe Flash, and all versions of Java together are responsible for around 66% of the vulnerabilities in Windows systems. Yet, many prefer to use it, for the functions it performs. In this post, we will see how to disable or enable Adobe Flash Player in Google Chrome, Firefox, Edge, Opera, Internet Explorer browsers on Windows 11/10/8/7.
Disable or Enable Adobe Flash Player in browser
First of all, ensure that you have indeed downloaded Adobe Flash and installed it properly on your Windows computer and updated it to its latest version. If you are using Internet Explorer on Windows 10/8, then Flash has been integrated, and its updates are offered automatically by Windows Update. Others should ensure that their Flash Player is always up-to-date, as Adobe frequently needs to release updates to patch vulnerabilities in it. Make sure that you have configured Adobe Flash Settings, just the way you want them to be.
Whenever you visit a website that has Flash elements, your browser will ask you if you want to playback Flash-based media via a prompt. You may select Yes or No then.
Turn on Adobe Flash Player in Microsoft Edge browser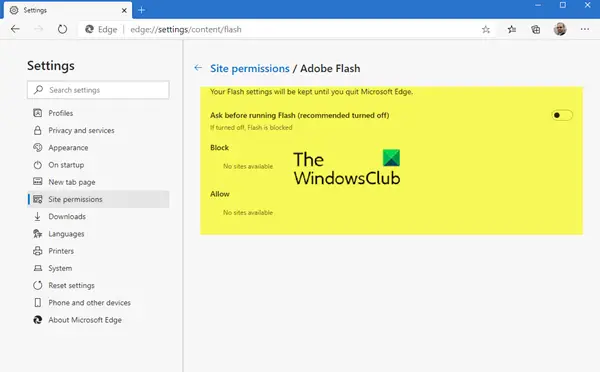 To disable or enable Flash Player, in Edge (Chromium), launch it, write edge://settings/content/flash in the address bar and hit Enter.
Here you can manage your Flash settings
Enable Flash Player in Chrome
Open your Google Chrome browser and open chrome://settings/content/flash from the address bar to control when Adobe Flash content is loaded.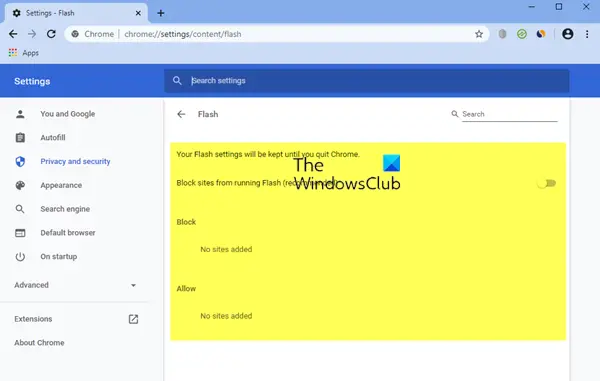 To check the Adobe Flash Player version installed type chrome://components.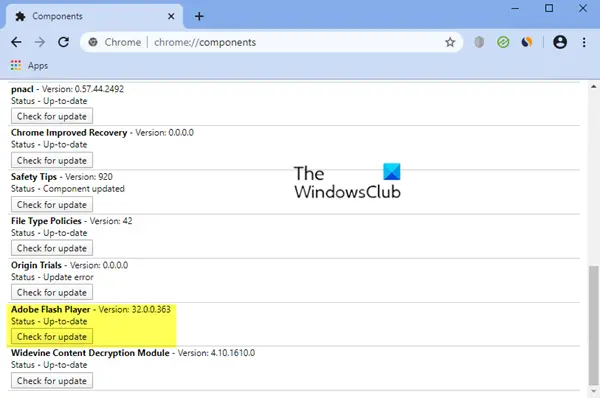 Enable Shockwave Flash in Firefox
From your Mozilla Firefox menu, select Add-ons.

Under Plugins, select Shockwave Flash. From the drop-down menu, select Ask to activate, Always activate or Never activate, as you desire.
Disable Adobe Flash in Opera
Open Opera Menu. Select Manage Extensions. Here you can click on the Enabled link and Disable the Flash Player. To Enable it, you may check under the Disabled link.
In Opera, if you have enabled the left Sidebar from Opera Menu, you will see the cube-shaped Extensions link. Click on it to open the Extensions page. Here you can see all the Extensions.
Read: How to make Flash work in Chrome, Edge, Firefox NOW.
Enable Shockwave Flash Object in Internet Explorer
To check if your Flash Player is enabled by Internet Explorer, from the top right corner open Settings > Manage Addons > Toolbars and Extensions.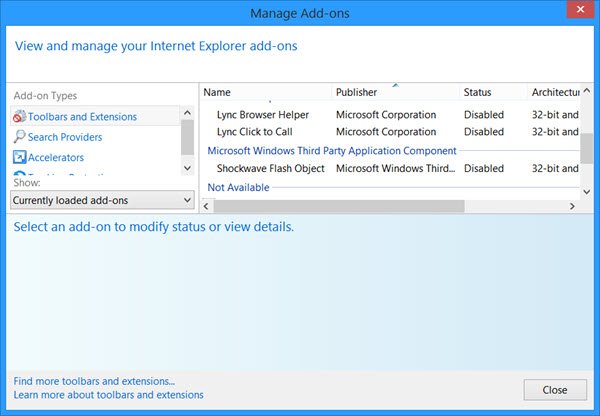 Here, ensure that Shockwave Flash Object is Enabled. Flash Player is also referred to as the Shockwave Flash Object.
Hope this post has helped.
This post will show you how to disable or uninstall Flash & Shockwave Player in Chrome, Edge & Firefox.
Check this post if your Flash Player is not working in Internet Explorer. See how you can activate Click to Play on all the major web browsers.