Many of us like to watch movies, videos, listen to music over the Internet in our favorite browsers. This is possible when your browser has the latest version of Adobe Flash Player installed. But sometimes even after having the latest version of Flash Player installed, you might find that Flash is not working in Internet Explorer, and you may not able to carry out operations that require flash. This means that quite possibly some Flash settings may have been disturbed. If these configurations go wrong, Flash might not work on your browsers.
Recently, we came around such an issue with Microsoft propriety browser, Internet Explorer 11. We found that Flash on our system worked perfectly with alternative browsers like Mozilla Firefox and Google Chrome, but it was not working with Internet Explorer. We tried to run the Flash test but Adobe's system was not able to detect what's going wrong. If you are facing this issue, you may try the following:
Flash not working in Internet Explorer 11
FIX 1
1. Open Internet Explorer 11 and then go to any website with flash content; such as YouTube. Press Windows Key + X keys or click the gear icon at the top right corner of the browser window. Click Compatibility View settings then.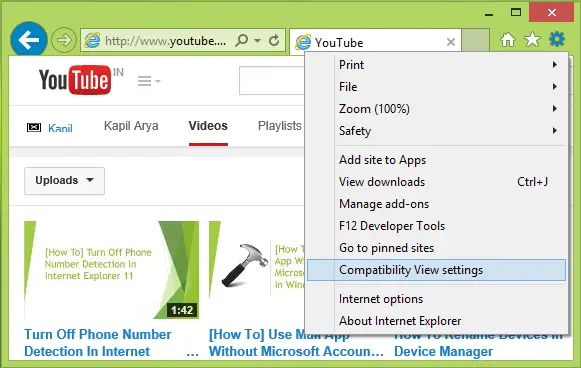 2. In the Compatibility View Settings window, add the sites you're having issues with showing flash content. Before clicking Close, make sure you have checked the options at the bottom: Display intranet sites in Compatibility View and Use Microsoft compatibility lists.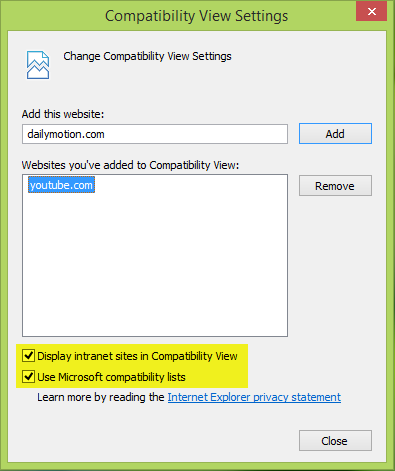 Restart the Internet Explorer and your problem should be fixed!
FIX 2
You can get rid of this issue by re-registering the flash.ocx file in the System32 folder. This file if not registered, may input to arise issues with flash. Well, open an administrative Command Prompt, enter following command and hit Enter key:
regsvr32 c:\windows\system32\macromed\flash\flash.ocx
As a result of the above command, it will re-register the flash.ocx file and you will see this confirmation box. Click OK.
Restart the machine, open Internet Explorer 11 and check.
You will find that the problem has been resolved.
Update by Admin: ActiveX Filtering can also prevent its working. You will get its setting on IE > Tools > Safety > ActiveX Filtering. Uncheck ActiveX Filtering and see if it helps. Please also read the comments below for additional suggestions.