Unless otherwise specified, most of the websites store some data on your computer so that they can track how you use the Adobe Flash Player. This data helps in keeping the scores on your Flash-based games, the location where you left off while watching a movie using Flash Player, and things like that. Data may also be stored about the other sites you have browsed.
Adobe Flash Settings
Windows 10/8/7 provides you with Flash Player Settings Manager so that you can control how Flash Player works and what all sites are allowed to set data on your computer. We have already touched upon this when we saw how Adobe's new Flash update now pushed  Automatic Updates along with 3rd party software.
Now let us try to understand what these settings mean from a security point of view.
Managing Local Flash Storage Settings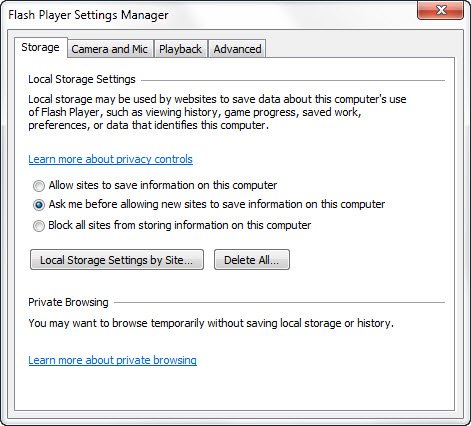 To open the Flash Player Settings Manager, open Control Panel and click on the Flash Player icon. The default tab is Storage tab, and it allows you to see all websites stored "Flash Cookies" on your computer. The same tab also allows you to stop websites from storing data on your computer for tracking purposes.
Under the Storage tab, you can see three options:
Allow all sites to save information on this computer
Ask me before allowing new sites to save information on this computer
Block all sites from storing information on this computer
The options are self-explanatory. However, before selecting one of the above options, it is suggested that you check out what all sites have already stored information on your website. To do this, click on Local Storage Settings By Site. This option in Flash Player Settings manager will show you a list of websites that are already storing information on your computer.
You can remove the ones you think you do not need and then, come back to select the second option (Ask me before allowing new sites to save information on the computer). To remove the websites under Local Storage Settings By Site, select the website and click on Remove. Once done, click on Close to return and select the second option.
Under the Camera tab, you can choose the Camera and Microphone settings. Select if you want Flash to Ask you when a site wants to use the camera or microphone or you want your Flash Player to block all sites from using them.
Peer Assisted Networking
Websites offering audio-video streaming can provide you better performance if the other users on the network share their bandwidth with you. This is known as peer-assisted networking. However, you might not want to share it if you have little bandwidth. In such cases, you can block websites from going for peer-assisted networking. The Playback tab on Flash Player Settings Manager allows you to configure this.
You have two options:
Ask me when a site wants to use peer-assisted networking
Block all sites from using peer-assisted networking
Like with Local Storage Settings, you might want to see what all sites are already using peer-assisted networking on the computer. Click on Peer Assisted Networking By Site to open the dialog that shows you the websites using this feature. You can then remove the websites from the dialog by selecting each website and clicking on Remove.
Click on Close and then select option 1 (Ask me when a site wants to use peer-assisted networking). This way you will be presented with a prompt every time a website wants to share your bandwidth. If you do not wish to share the bandwidth simply Block when prompted.
Under the Advanced tab, you can select your Update settings. You can also delete all local storage, saved choices, and settings. You can also deauthorize the Flash Player from playing previously played protected content in case you are planning to dispose off the computer.
This post will show you how to disable or uninstall Flash & Shockwave Player if you ever decide to.
Hope you found this post useful and learned something new here!
You might to also check out this post on managing Java settings.