The new improved Photos app in Windows 11/10 now lets you edit video as well as search for people, things, or places. Let us take a look at these new features.
Edit video using Photos app in Windows 11/10
Open Photos app and click on the Create button and then select Video Project. Select the videos and images that you want to include in your final project. After adding the videos or pictures, you will see a timeline like this-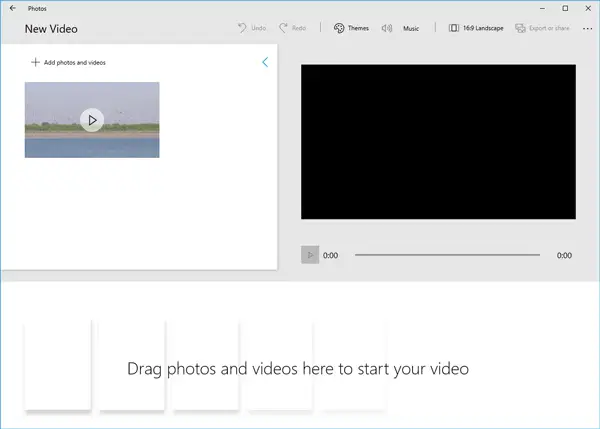 Adding image, video, audio or text to the timeline. Once you do this, will see the following options:
Trim: It will let you trim the media.
Filters: It will let you change the brightness and contrast to add a professional touch.
Text: You can add text intro using this option.
Motion: If you need zoom in/out, tilt up/down, etc. you can use this option.
3D Effects: You can add various 3d objects to your video with the help of this option.
It is also possible to add music to your video. You may find some music tracks in this app. However, they might not be royalty-free and so you may need to include your copyright free music in your video.
After editing or making the changes, you can export the video in three different sizes:
Quickest upload, best for email and small screens (960 x 540 pixel)
Best for sharing online (1280 x 720 pixel)
Longest upload, best for big screens (1920×1080 pixel)
To do so, you can click on the Export or share button and choose the size that you want.
Thus if you want very basic editing, you can opt for this tool. Previously, only Trim was available with this app. However, now you can do all the things mentioned above.
TIP: Learn how to add Slow Motion effect to your videos with Windows 10 Photos App.
Search for people, places, and things using Photos app
Let's assume that you have included 2000 photos in the Photos app and you want to pick out pictures related to only hill stations or your friend. Similar to some other advanced photo management software, you can do the same with Photos app as well. The Photos app may take even more time to add photos since it will categorize them into various places, things, people, and so on.
After importing all the photos, you can search for various keywords such as vehicle, baby, boat, hotel, sunset, dress, waterfall, building, etc.
You can also select a keyword by clicking the search bar.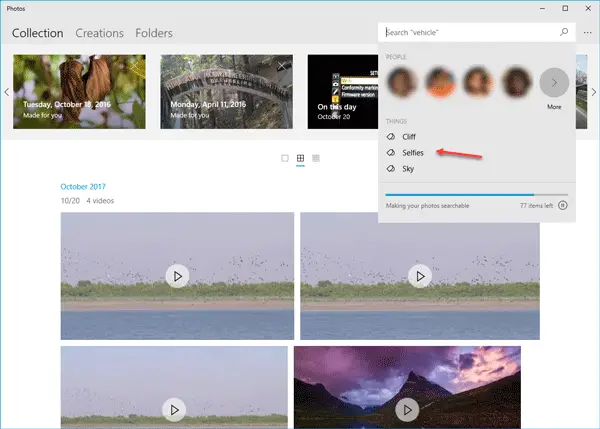 The drawback of this image recognition system is you must have a clean photograph. Otherwise, you will find trees if you search for  vegetables.
Hope you enjoy using the new features.
Read next: