Earlier, an image and video files were kept as separate files. Now, they can be contained in a single file, as – Living Image. Now Windows 11/10 supports this feature in its Photos App. Living Images are the images that add a bit of animation to the captured image. They aren't quite a video, but rather a photo that animates 1.5 seconds of motion before and after the still, somewhat similar to 'Moving Images GIFs'.
Living Image is an exciting new feature that brings improvement to the Photos App. So, let us see how to create a living image with Windows 11/10 Photos App.
Create Living Images with Windows Photos App
As mentioned earlier, the feature lets a user incorporate small capsules of a video just before or after a still picture and then mix some of that action with the still image that was captured at the point of the shutter click.
To begin, type 'Photos' in the search bar adjacent to Windows Start Menu to launch Windows Photos App. Alternatively, you could right-click on any image and select Open with > Photos.
Once the image opens in the Photos app, you will see a Draw link on the top right side.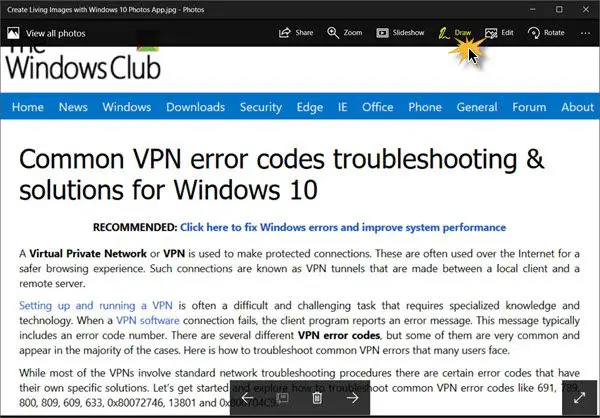 Click on Draw to display the list of drawing tools. You will find 3 tools in the list:
Ballpoint Pen
Pencil
Calligraphy Pen.

Select the desired tool as shown in the image below, and select a color too.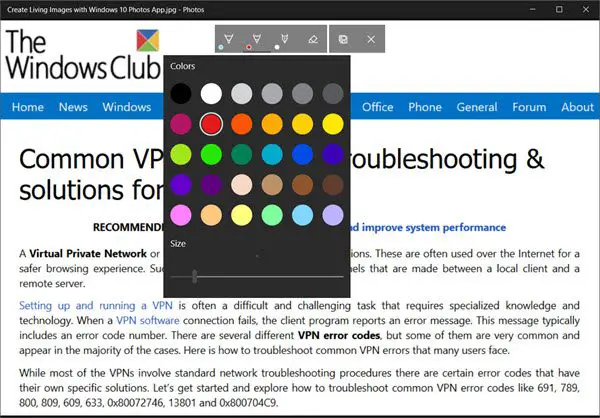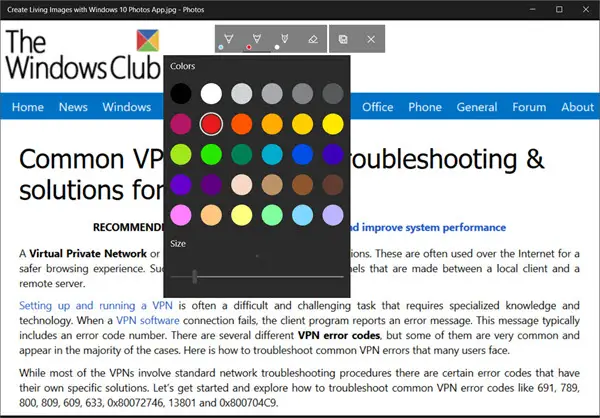 Having done this, go on to draw on the image. I have drawn just a random line in red color.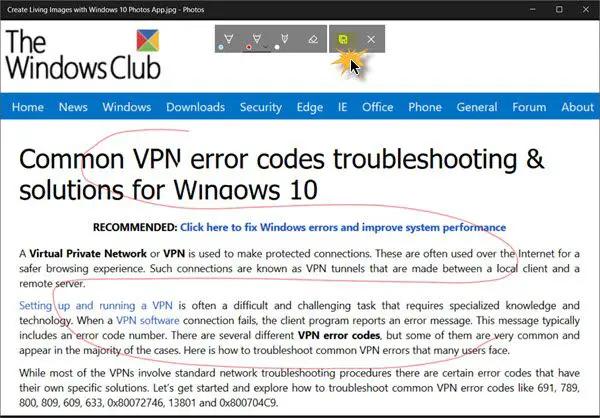 When done, hit the 'Save a copy' button. Please note that the original copy of the image will remain untouched. The changes will be made only to the existing image.
Finally, just hit the Play button which you will see on the bottom side, to see your living image in action. You will see the 'living image'!

You can export and share the Living Image as a Photo or a Video. To do so, click on the Share button and select the desired option. You will see a Getting file ready message, followed by a list of apps which you can use to share the file.
Via the 3-dotted More link, you can also save photos from the living image or make it show as a still image.
In all, Living Image is an exciting Windows camera setting that brings your photos to life by creating a moving image. Instead of freezing a moment in time with a still photo, you can now capture the moments just before and share them with your friends on social networking sites or edit to complete with movement and sound.
This post will show you how to use the Story Remix Editor in the Windows Photos app.