Slow-motion can make almost any video fun to watch with a completely distinct experience. Most devices today, no matter what OS they run, support slow-motion videos. Microsoft Windows 11/10 devices have been fine-tuned to offer this same experience via its built-in Photos App.
Although it is not a full-featured video editing app as Adobe Premier, the Photos app is quite helpful for completing simple and quick edits. All you need to do is verify if you have the latest version of the app installed.
Add Slow Motion effect to videos with Photos App
In Windows 10 and Windows 11, the Photos app has acquired the innate ability to add slow-motion effects to video files. You do not need to install third-party programs from the web. Also, you can preview the changes. The app creates a new copy of the video file without disturbing the contents of the original video file.
Let us cover the method to add slow-motion effects to video files in Windows 11/10 using the Photos app.
First, navigate to the file or the folder location containing the desired video file to which you would like to add the slow-motion effect.
Once there, right-click on the video file, click Open with, select Photos to open the video file with Photos app.
Once opened, click on an empty space outside the video to make some options visible.
Then, click Edit & Create and select 'Add slo-mo' option.
If the option is not visible to you under Edit & Create option, hit the three dots (…) to see the option.
Here, set the desired speed of the slow-motion effect by adjusting the slider as per your preference.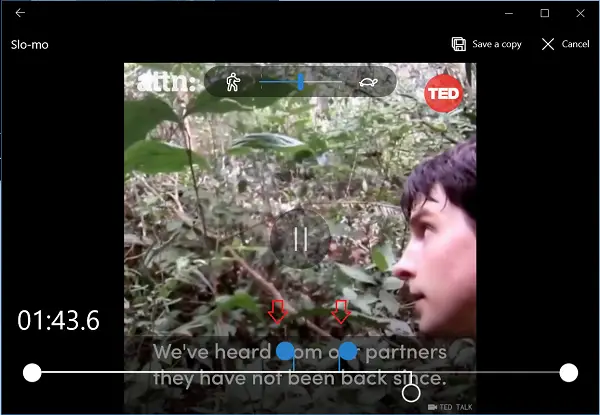 Thereafter, choose the stretch of the video file where you would like to apply the slow-motion effect via colored sliders.
When done, click Save a copy. This will create a newly edited file with the slow-motion effect in addition to the original file. Also, the edited copy of the original video file will be saved to the same location where the original video file is located.
To see the changes made, open the video file in your video player and see the slow-motion effect doing its job.
Trust this works for you!
Read next: Windows Photos app Tips and Tricks.