Microsoft Edge is one of the most secure web browsers. It is safe to use for carrying out money transactions. As such, you can use it to transact money via services like PayPal, Payoneer, or even traditional banking websites. That said, the browser can experience unexpected freezes, crashes, or shutdowns especially, in the middle of banking sessions. Interestingly enough, everything seems to work fine when the browser is in private mode. Take a look at some of the options that can help you get the problem fixed!
Microsoft Edge is not working on banking websites
The problem persists not just with Edge Chromium browser, but other browsers like Chrome and Firefox too – at times. You can try the following suggestions:
Delete browse cache
Reset Microsoft Edge
Use an alternative web browser
Let's proceed and see the steps in a bit of detail.
1] Delete the cache
Launch the Edge browser.
Go to 'Settings and more' option.
Click 'History' to expand the menu and select 'Clear browsing data'.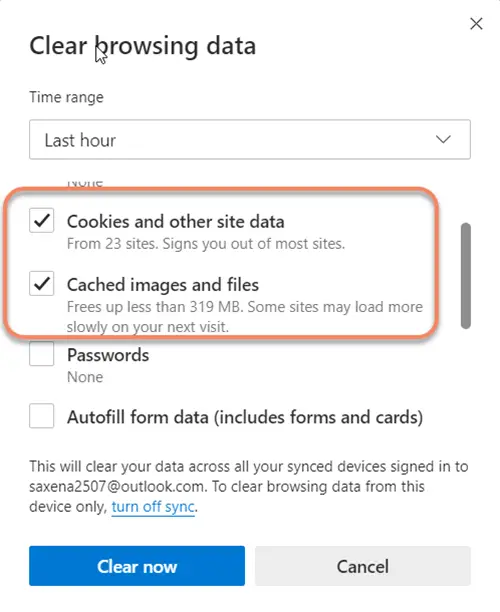 Next, from the window that opens up, check the boxes marked against the following options,
Cached images and files
Cookies and other site data
When done, hit the 'Clear Now' button.
2] Reset Microsoft Edge
Resetting Microsoft Edge can solve many problems because the browser would return to its default state. So, if the above method fails to work, we would recommend you to try this method.
Open Edge browser, click 'Settings and more' option.
In the new window that opens up, scroll down to the 'Reset Settings' option.
Click the option and then hit the 'Reset' button. Windows will reset your Edge browser settings, keeping your Favorites intact – but you may lose other Edge data.
3] Use an alternative web browser
Since some users are unable to use certain banking sites using Edge, we suggest using an alternative web browser such as Firefox or Chrome. Both are secure enough for banking websites, therefore, you should face no risks.
Related read: Microsoft Edge installation & update errors.