Windows has its own default Power Plans to save energy by turning off the display when there isn't any activity for a certain period. It also put your computer to sleep when you don't touch your keyboard or move your mouse for a set period of time. However, these may be good power saving options, but there are times our computer may be busy, even when we aren't actively using its keyboard or mouse. For example, when we are streaming some video, watching a movie, or burning a DVD on our PC, we wouldn't prefer shutting off the display. Some other examples may include downloading large files, taking hard drive backup, etc. in these cases, we don't even want the machine to go to sleep.
While if your Windows 11/10/8 has the Group Policy, you can always use it to Prevent all or specific users from shutting down or restarting Windows computer, Don't Sleep software will make things easier for you.
Prevent Windows from sleeping or shutting down
We can always change the Power Options so that the PC never goes into sleep or standby mode; these settings will remain the same until you change it again. "Don't Sleep" can help you by keeping your computer awake for those long-running tasks that need its full attention. This small but powerful application will keep your computer running as long as any small window is open. Using this freeware, you can prevent Windows shutdown.
The main overview of the program shows all. There is a 'Blocking' under 'Preferences' where you can block – Standby, Hybrid Sleep, Hibernation, Shutdown, Log off, and the appearance of the Screensaver.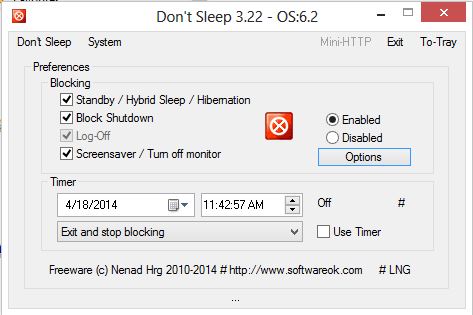 There is also a Timer option given where you can schedule the power options at a specific date and time. From the 'Option' tab, you can set a timer for other functions like. 'Program set up and Reactivate PC from standby'.
The 'System' tab of the program consists of the direct links to Task Manager, System, Power Config, Desktop, Monitor, System Fonts, Screensaver timeout, User accounts, System Configuration and System Information.
You can, anytime, exit and stop blocking, exit and shutdown, exit and aggressive shutdown, exit and standby or hibernation, and disable blocking. 
Don't Sleep comes in a 45KB zip file and needs no installation on your computer system. It uses a very low amount of system resources and is very simple to use even for novice computer users.
You can minimize the program to your System Tray and use it when required. To sum up, Don't Sleep is a great application to use when we don't want our computer system to go in sleep or hibernation mode.
Which is better, hibernate or sleep or shutdown?
There is no better or worse option when it comes to Hibernate, Sleep, and Shutdown. All of them are equally helpful at various times, and you can use them all for different purposes. You can check out this article to know whether you should Sleep, Hibernate, or Shutdown your computer at night.
Is it bad to leave your computer on Sleep mode all the time?
Sleep mode is handy when you are leaving your computer for a few moments and going for another work. If you are thinking to put your PC in Sleep mode at night, it is advisable to use the Shutdown option instead. It will save power, and your computer might get some rest from unnecessary background processes.
Don't Sleep software free download
You can download Don't Sleep for Windows here. Don't Sleep is a simple and portable software that doesn't require any installation. You can also transfer the app to your USB device and run it on your other computers.
Take a look at SessionGuard too!
You might want to also check out these links: