If some task is running on your computer and you do not want to put your PC in sleep mode, you can try out this free software called LeoMoon SessionGuard. It prevents the computer from sleeping and restarting without changing any settings. While you can always change the Power & Sleep settings, this tool offers easy options.
SessionGuard for Windows 10
According to the official website, it does 'everything' to stop your personal computer from sleeping and restarting. That is the primary function, but there are some more options and features. It can emulate mouse movement every few seconds. In other words, if you move your mouse frequently, your computer will stay awake. That simple formula is being used by this software to get the job done. This is the primary feature of SessionGurd and how it works on your Windows computer.
To start using SessionGuard, follow these steps-
Download from official website
Unzip the downloaded file, open the tool
Set up and start using.
You can download this software from the official website, but you do not need to install it because of the portability. After downloading, you can unzip the file, and double-click on LeoMoon SessionGuard.exe file to start it.
Stop your computer from sleeping or restarting
If you want to tweak the settings, you need to right-click on its icon in the system tray and select Settings.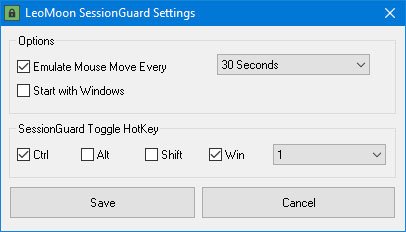 After that, you can enable or disable these three settings-
Change mouse move time (5 to 50 seconds)
Start with Windows
Keyboard shortcut.
The default keyboard shortcut to enable or disable this tool is Ctrl+Win+1. You can assign Alt and Shift keys or change the key as well.
If you like, you can download this software from the official download page. It is fully compatible with all Windows versions.
Don't Sleep and Caffeine are other free tools to prevent Windows Shutdown, Sleep, Hibernate, Restart.