In the genre of role-playing video games, Disco Elysium has amassed a sizable fan base. However, some players experience compatibility problems and are unable to play the game. We have discussed potential solutions to the problem in this post. This post is for you if Disco Elysium keeps crashing or freezing on your Windows computer.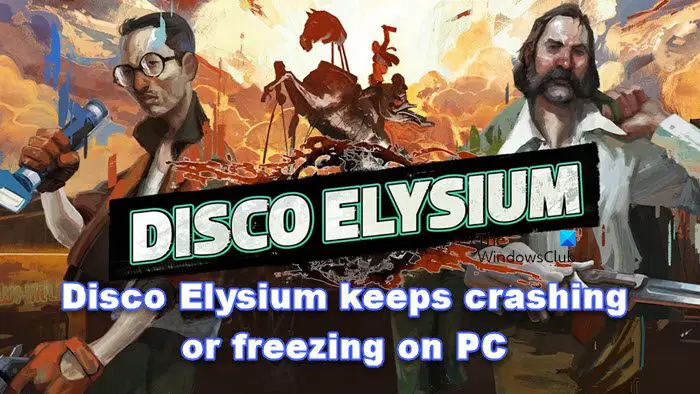 Disco Elysium keeps crashing or freezing on PC
If Disco Elysium keeps crashing or freezing, update your Windows 11/10 computer first check if your hardware meets the game's system requirements. Once done take a look at the solutions mentioned below:
Restart your PC
Disconnect connected device
Update the Graphics Driver
Disable unnecessary apps
Verify game integrity
Stop overclocking
Reinstall the game
Starting with the first solution.
1] Restart your PC
Make sure to restart your computer and the game before attempting any complex fixes. Restarting might help you resolve this problem because it might just be a temporary one. Therefore, restart your computer before launching the game to see whether the issue persists or not. If it fails, try the solutions mentioned below.
2] Disconnect connected devices
Your connected devices, particularly your gaming attachments, frequently operate with third-party software. The programs might not always be compatible with your game, which would make it impossible for it to function properly. If you have several devices connected to your computer, consider unplugging some of them to see if it solves your issue.
3] Update the Graphics Driver
If you have updated Graphics Driver then you can rest assured that most games will run smoothly on your system. However, if it is outdated then it can be the reason why you are having issues while playing the game, and it's necessary that you update it. Here's how to do the same:
Once the driver is updated, check if the issue persists.
4] Disable unnecessary apps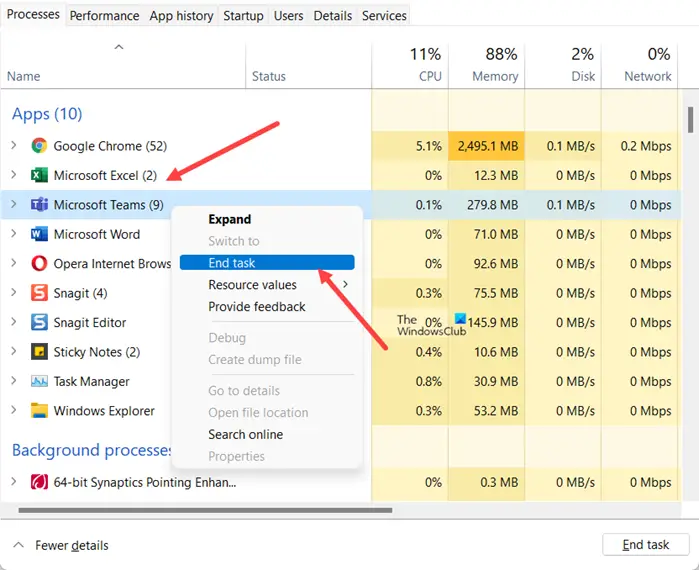 Problems with your game's performance will arise if it is unable to access the RAM. CPU and other resources it requires. Therefore, before playing games on a PC, it's always a good idea to close background apps that consume a lot of memory. You can follow the steps given below to disable unnecessary apps:
Click Ctrl+Shift+Esc to open Task Manger.
Look for the programs that may interfere with the game, that are consuming a lot of your resources, right-click on them and click on End Task.
Launch your game and check for the issue.
5] Verify game integrity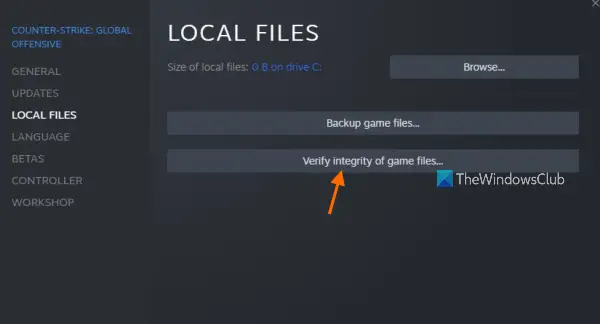 When game files are damaged or missing, the game may freeze or crash. You can follow the prescribed steps to fix the corrupted and missing game files to resolve the issue:
Open Steam, then go to the Library.
Right-click on the game and choose Properties.
Click the Verify integrity of game files button under the Local Files tab.
It can take some time, but after it's finished, launch your game and check for any problems. Ideally, you won't have the aforementioned problem, but if you do, look at the next solution.
6] Stop overclocking
The likelihood that the game is crashing as a result of overclocking is high. The best course of action, in this case, would be to turn off overclocking and restart the game. Hoping you won't have to deal with the same circumstance twice after doing so. .
8] Reinstall the game
As per the reports, game files or installation can get corrupted therefore it is recommended to delete the game and then reinstall it to solve the issues. The steps are given below:
Launch Steam and navigate to the Library.
Right-click on Disco Elysium- The Final cut and then select Manage options.
Now, select Uninstall button.
Reinstall the game and that's it enjoy it.
Read: Valorant Crashing Mid Game or on Startup 
System Requirements to run Disco Elysium
Following are the system requirements to run Disco Elysium.
Minimum
OS: Windows 7 (64-bit)
Processor: Intel Core 2 Duo
Memory: 2 GB RAM
Graphics: DirectX 11 compatible video card (integrated or dedicated with min 512MB memory)
DirectX: Version 11
Storage: 20 GB available space
Recommended
OS: Windows 7/8/10 (64-bit)
Processor: Intel Core i7 or AMD 1800 equivalent
Memory: 8 GB RAM
Graphics: NVIDIA Geforce 1060 or equivalent
DirectX: Version 11
Storage: 20 GB available space
If your computer matches the minimum requirement, the game will run on it but at a lower frame rate and graphics settings. To play the game at the highest settings, make sure to match the recommended requirements.
How do you fix Disco Elysium?
It depends on what kind of issue the game is facing. These issues include game crashes or freezes, dialog or text issues, game progression issues, audio issues, and the game not launching at all. Usually, a reinstall or reset of the game should be able to help you. If nothing works get in touch with the support team.
Is Disco Elysium 64-bit?
Yes, Disco Elysium is a 64-bit game. The game's system requirements on its official Steam page list that it requires a 64-bit processor and operating system to run. Therefore, to run Disco Elysium on your computer, you will need a 64-bit version processor-supported PC.
Read Next: Squad not launching, responding or working; Keeps crashing on PC.