If you want to turn on or off Device Encryption in Windows 10, you can follow this step by step guide. This functionality is generally available on most of the 2-in-1 devices and tablets running Windows 10.
Device encryption helps protect your data, and it's available on a wide range of Windows devices. If you turn on device encryption, the data on your device can only be accessed by people who've been authorized. If device encryption isn't available on your device, you may be able to turn on and use BitLocker instead.
Device encryption is available on supported devices running any Windows 10 edition. BitLocker is available on supported devices running Windows 10 Pro, Enterprise, or Education.
Although BitLocker is a security measure you have on your Windows 10 device, Device encryption is yet another feature that you should know about. If you use a portable Windows device, and you lose it, there is a big chance of data theft. To reduce the problem, you can take the help of Device encryption that allows the admin to include people who can access your data even when the device is stolen.
Data encryption requirements
To enable Data encryption in Windows 10, you must have-
Trusted Platform Module V2.0.
Modern StandBy support.
UEFI firmware.
The best way to check if your device meets all these requirements is by using the System Information panel. Here you can find the missing parts that you do not have to enable this security function.
Check for Device encryption in System Information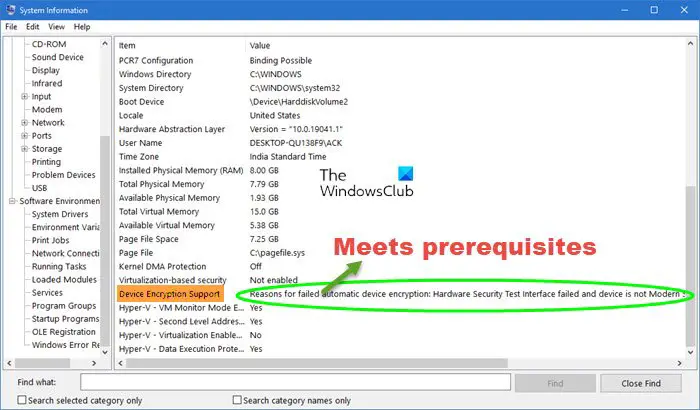 To get started, search for "system information" in the Taskbar search box. When the result appears, click on the Run as administrator option.
Following that, find out Device Encryption Support. If it says Meets prerequisites, you can enable the Device encryption.
Turn on Device Encryption in Windows 10
To turn on or off Device encryption in Windows 10, follow these steps-
Press Win+I to open Windows Settings.
Go to Update & Security.
Switch to Device encryption.
Click on the Turn on button.
Let's check out all these steps in detail.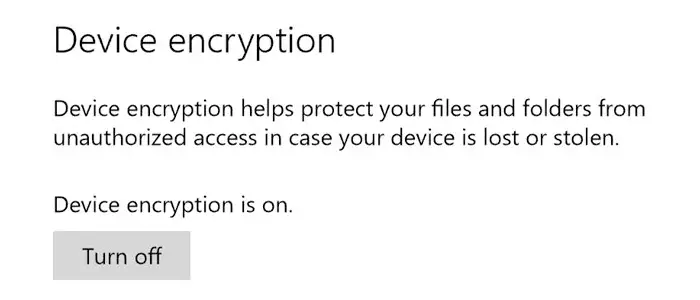 At first, you need to open the Windows Settings panel. For that, you can search for it in the Taskbar search box, or you can press the Win+I button together. After opening the Windows Settings, go to Update & Security.
Here you can find an option called Device encryption. If Device encryption doesn't appear, it isn't available for your system.
Now, on the right side, you should see an option named Turn on. Click on this button to start Device encryption on your device. Once it is done, it will start encrypting your current as well as all the future files.
Read next: Why does Microsoft store your Windows 10 Device Encryption Key to OneDrive?