There might come a day you no longer feel the need to have a Microsoft Account. If that is the case, then in this post, we will show you how to delete your Microsoft Account permanently.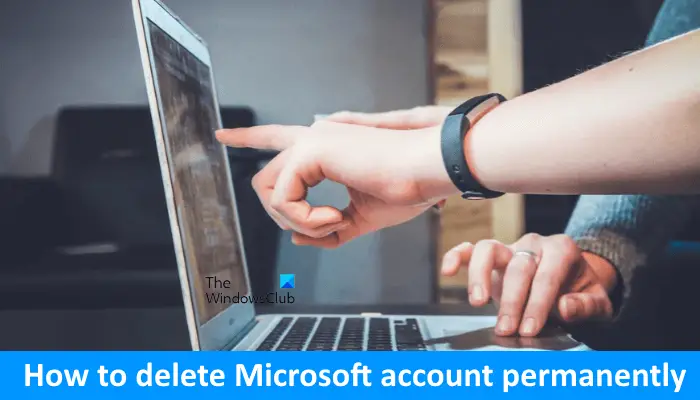 You want to delete your Microsoft account because you no longer need it, it is a duplicate Microsoft account, or for any other reason. Microsoft confirms the following two things before you proceed:
Is it really you who want to delete the Microsoft account? Or someone else is trying to delete it.
You are not leaving behind anything important that you will need later.
You also have to prove your identity before deleting your account. This is for security reasons. Microsft wants to confirm that it is you or someone else who wants to delete that particular Microsoft account.
How to delete Microsoft Account permanently
The first step into deleting your Microsoft account is to log out of your current account and create a Local Account on your Windows 10 PC. Log into that local account, then click on the Start button and launch the Settings app.
Read: Benefits of using Microsoft Account in Windows 11/10.
After that, click on the Accounts option and then click on the first option that reads, "Your Account." Select the Microsoft Account you plan on deleting. Click remove, then "Yes" to confirm.
Your Microsoft Account is now deleted from your Windows 10 computer, but that is not the end of it. Now you will be required to close the account via Microsoft's own website.
Before doing this, make sure to end all subscriptions associated with the software giant, along with removing any cash in the Wallet from the Windows Store. Back up any documents and files you might have on OneDrive, and save them on a separate space on your local hard drive.
Once finished, close your Microsoft Account for good by visiting this page on the Microsoft website.
You'll need to log in before you can go any further.
After gaining access, Microsoft will need to know if you are you say you are – so follow the instructions to make it past this area. It's easy; either have Microsoft send you a code via email or have the company do it via a text message.
This code would then be used to determine if you are the owner of the account.
Finally, once the account closure page comes up, check all boxes then click, "Mark account for closure."
What happens after deleting a Microsoft account?
After deleting your Microsoft account, you will also lose your subscriptions to Microsoft products and services. In addition, this action will also delete all the data associated with Microsoft products and services. This includes Outlook.com account, Hotmail account, MSN email account, OneDrive files, Xbox Live data, GamerTag, Skype ID and contacts, Account balance, Unused reward points, etc.
Bear in mind that it will take 60 days for Microsoft to fully close your account, so should you feel the need to change your mind, do it before the 60 days are up.
Can I delete my Microsoft account and create a new one?
Yes, you can delete your Microsoft account and create a new one. To delete a Microsoft account, you have to go through a process that we have explained in this article. Deleting the Microsoft account will also delete all your data associated with Microsoft products and services for that account.
Does removing a Microsoft account delete everything?
You can remove a Microsft account from your Windows 11/10 computer via the Settings app. Do note that, this action will only remove your Microsoft account from your system but does not delete your account data. Your account data will only be deleted if you delete your Microsoft account permanently.
Related reads: