To delete the Internet cache & Cookies, one normally uses the Disk Cleanup Utility, some 3rd-party junk cleaner or one can even do it via the Internet Explorer menu, as follows –  Settings > Safety Delete browsing history. Clicking on Delete Browsing History deletes temporary Internet files, Cookies, saved passwords and web form information.
Delete Temporary Internet Files & Cookies for particular domain in IE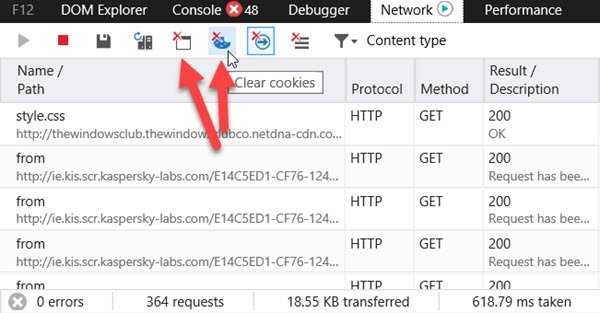 But what if you want to delete the Temporary Internet Files Cache and Cookies for a particular website only, natively without using any 3rd-party tool which may include this functionality? The easy answer to this question is to use the Developer Tools in Internet Explorer.
First, visit the website whose Cache you want to delete. Next, press F12 to open the Developer Tools in Internet Explorer. Having done that, you will see a panel open at the bottom of Internet Explorer. These are the Developer Tools.
The Developer Tools enables Web site developers to quickly debug Microsoft JScript, investigate a behavior specific to Windows Internet Explorer, or iterate rapidly to prototype a new design or try solutions to a problem on the fly.
Select Network Tab from the left navigation. You have these options on the Developer Tools horizontal menu bar.
You will see the two buttons that let you clear cache or cookies for that particular domain.
Hover your mouse over them and pick the right one.
If you are a Chrome, Edge or Firefox user, see this post: Clear Cache & Cookies for a specific website.
Expired Cookies Cleaner will help you remove Expired Cookies in Internet Explorer.