Internet Cookies are not a new term for today's computing generation. It is an interaction between a web browser and a server holding a web page in which the server sends a Cookie to the browser, and the browser sends it back when requesting another page. Websites store cookies on your system so that your browsing can be enhanced in various ways for a better surfing experience. Today we're going to talk about how cookies are treated inside the Microsoft Edge (Chromium) browser.

By default, Edge treats the cookies in the same fashion as the other browsers do. However, there is a way using which you can configure how this browser must handle cookies. You can manually select how cookies are treated in Edge by navigating to the following path via its Address bar:
edge://settings/content/cookies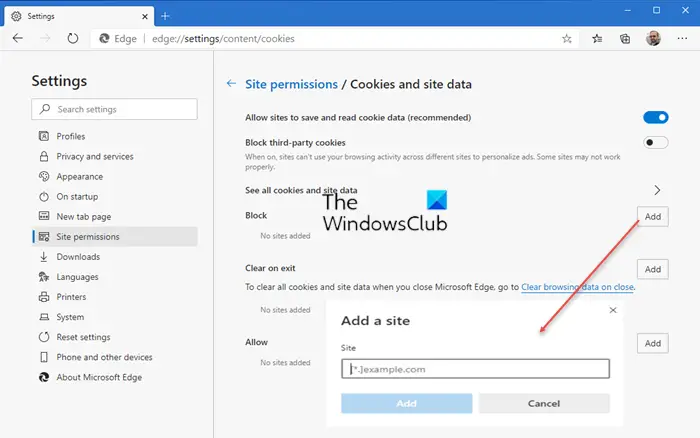 This post will show you how to allow or block Cookies in the Edge browser.
In case, if you're controlling a number of Windows 11/10 machines in an organization, you can set a policy to allow or prevent cookies on all machines at once. Here is what have to do on the central machine:
Configure how Microsoft Edge treats Cookies
NOTE: Local Group Policy Editor is available in Windows Pro and Enterprise editions only.
1. Press Windows Key + R combination, type put gpedit.msc in Run dialog box and hit Enter to open the Local Group Policy Editor.
2. In the left pane of Local Group Policy Editor window, navigate here:
Computer Configuration > Administrative Templates > Windows Components > Microsoft Edge

3. Moving on, look for Setting named Configure cookies. It must be Not Configured by default.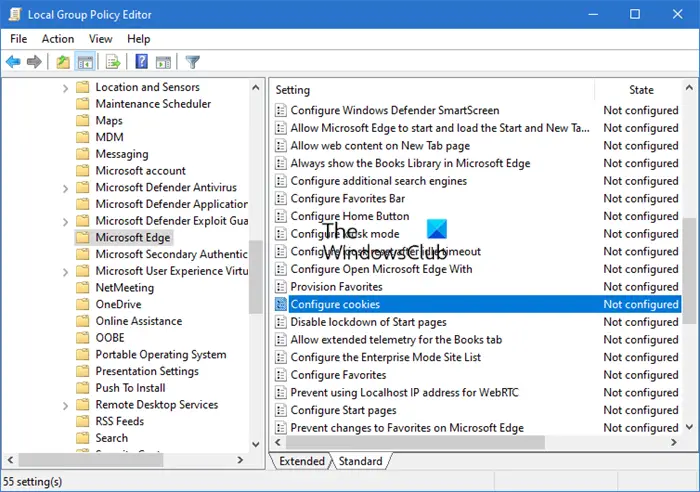 This setting lets you configure how to work with cookies.

If you enable this setting, you must also decide whether to:
Allow all cookies (default): Allows all cookies from all websites.
Block all cookies: Blocks all cookies from all websites.
Block only 3rd-party cookies: Blocks only cookies from 3rd-party websites.

If you disable or don't configure this setting, all cookies are allowed from all sites.
Double click on it to open this window: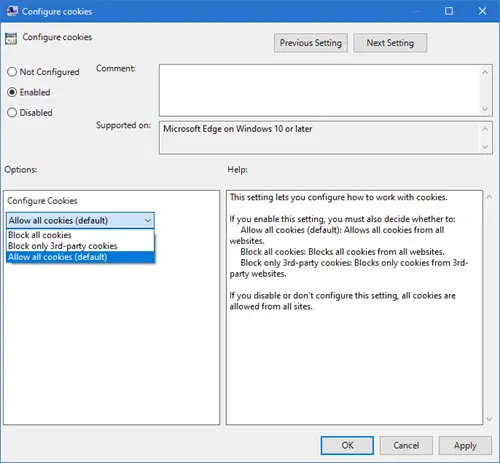 4. Finally, in the above-shown window, select Enabled and then select your desired option in the Configure Cookie Setting section. You can either block all cookies or block only 3rd-party cookies.
Click Apply followed by OK. Close Local Group Policy Editor now and reboot the machine to make changes effective.
If your Windows does not GPEDIT, then open REGEDIT and navigate to the following Registry Key:
\SOFTWARE\Policies\Microsoft\Edge
Value Name: DefaultCookiesSetting
1 = Let all sites create cookies
2 = Don't let any site create cookies
4 = Keep cookies for the duration of the session
You can get more information about this here on Microsoft.
That's it!