We have already seen what an Internet Cookie is and the different types of Internet Cookies. While Cookies are required for the proper rendering of web pages, there are some cookies, which you may want to block for security reasons or privacy concerns. In this post, we will see how you can enable Cookies or block or disable Cookies. We will also see how to block 3rd Party, Session & Persistent Cookies if you want too. The browsers covered here are the popular ones namely Microsoft Edge, Google Chrome, Mozilla Firefox, Opera and Internet Explorer.
TIP: This post will show you how to allow or block Cookies in the Edge browser.
Disable, Enable Cookies in Chrome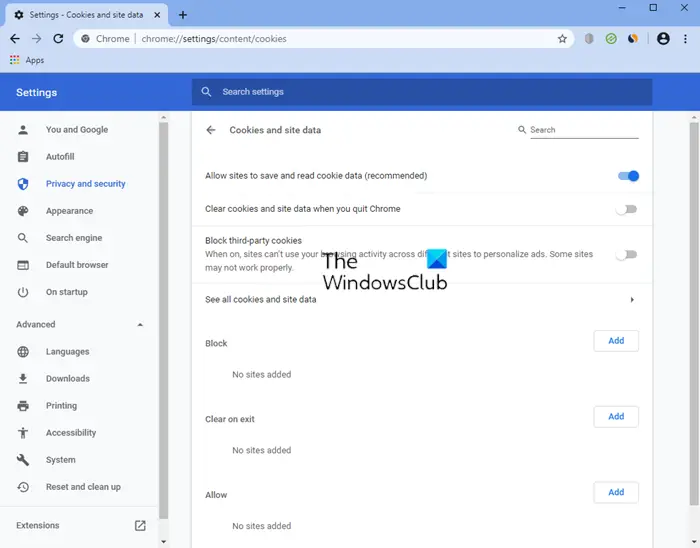 To disable or enable Cookies on Chrome, click the Tools button > Settings. Towards the end of this page, you will see Show Advanced Settings link. Click on it.
Under Privacy and security, click on the Site Settings link.
Here, under Permissions > Cookies and site data you can select the options you feel are best suited for you.
Disable, Enable Cookies in Firefox
In Firefox, open Settings > Options > Privacy and Security tab.
Under Cookies and Site data you can find the settings required. You can now select the Cookies options you want.
Disable, Enable Cookies in Opera
In Opera, open Settings > Advanced > Privacy & Security > Site settings > Cookies and Site Data
Here, you will see the options to manage your Cookie settings and choose which kind of Cookies you wish to allow or disallow on your Windows computer.
Disable, Enable Cookies in Internet Explorer
Open Internet Explorer and click the Tools button. Next, click Internet Options and select the Privacy tab. Under Settings, move the slider to the top to block all cookies or to the bottom to allow all cookies, and then click Apply.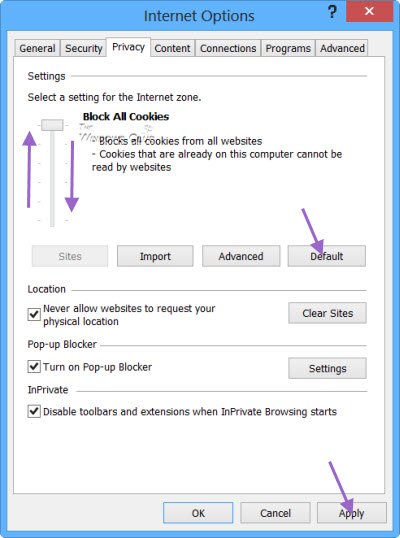 As you move the slider up or down, you will see a description of the types of cookies that will be blocked or allowed by Internet Explorer at that privacy level.
Starting from the top you will see the following options:
Block all Cookies from all websites. Block all Cookies from websites that do not have a compact privacy policy
Block all cookies from websites that do not have a compact privacy policy. Block cookies that save information that can be used to contact you without your explicit consent
Block third-party cookies that do not have a compact privacy policy. Block third-party cookies that save information that can be used to contact you without your explicit consent. Blocks firstly-partly cookies that save information that can be used to contact you without your implicit consent.
Block third-party cookies that do not have a compact privacy policy. Block third-party cookies that save information that can be used to contact you without your explicit consent. Restricts firstly-partly cookies that save information that can be used to contact you without your implicit consent. This is the default setting.
Block third-party cookies that do not have a compact privacy policy. Restricts third-party cookies that save information that can be used to contact you without your implicit consent.
Saves cookies from any website. Cookies that are already on this computer can be read by the websites that created them.
Select the level of security you want. For most, the Default option is the best.
Block or disable Third-party, Tracking & Session cookies
Using these options, you can set your browser to block or allow Cookies on your Windows PC and even choose to block or disable Third-party, Tracking & Session cookies.
TIP: Expired Cookies Cleaner will help you remove Expired Cookies.