Have you ever gone through a situation where you sent an email to someone, but you immediately regretted it? You wish you could unsend and resend it with the corrections or to the correct person. While no email service provider offers this option, with Criptext encrypted email service, you can unsend an email and much more.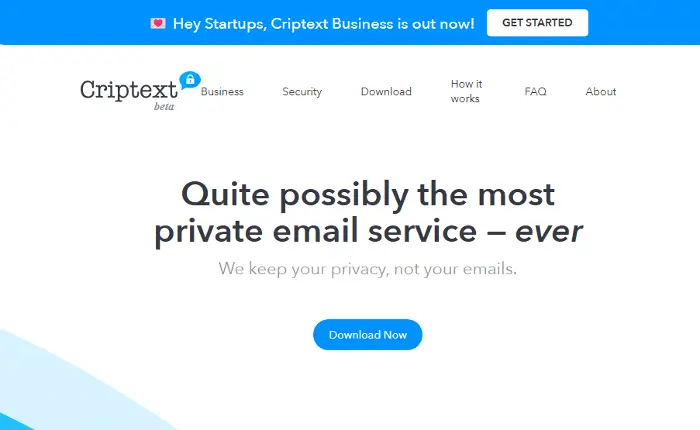 While there are many other email encryption services out there, Cryptext offers a plethora of features for free. In this post, we will cover what Criptext is, how it works, and why is it among the best email encryption services.
What does it mean when an email is encrypted?
When an email message is encoded to protect the content so that no one except the recipient can read it, it is called email encryption. In this case, the encryption service scrambles the original message into a secured format, making it unreadable. So, if the email contains any sensitive information and you send it to someone, you can be assured that the content is protected from unauthorized access.
Criptext encrypted email service
Whether it was for personal reasons or business, emails have been immensely helpful. However, no one could ever imagine someone accessing their messages without permission.
Then came the email encryption services offering security and privacy to your messages. Here, we will discuss Criptext, which was previously available only as an extension. While it's still available as a Chrome extension, over the years, it transitioned into a full-fledged service and is now available to consumers as a program. It's available for desktops (Windows/Linux/Mac) and mobile phones (Android/iOS). Here's an in-depth review of this free, secure email service.
What is Criptext and its features?
If you are looking for a trusted encrypted email service to safeguard your email messages, while you get access to other powerful features, Criptext could be your answer. Criptext is an encrypted email service that guarantees security, privacy, and control over your email communications. This free and open-source software ensures your emails are not exposed to the whole world, thus, keeping peepers out of your email messages.
Best of all, this service has no access to your emails and so, it doesn't store them in their servers.
Some of its key features include:
End-to-end encryption – Criptext locks all your emails using a special key that's stored only on your device. This ensures that only you and the recipient can read the emails you send.
Option to unsend emails – Criptext allows you to retract an email within an hour from the time it was sent.
Offers real-time email tracking – This feature notifies you once the email is read by the recipient.
Open source – Being an open-source program, its source code is visible to the entire privacy community, thus, offering transparency.
Signal protocol – The open-source Signal Protocol library used by Criptext, safeguards your privacy and security while you use the service.
No cloud storage – Moreover, there's no concept of cloud storage here, as this free secure email service does not save your emails on its servers or collect email data. The emails are stored only on your device, thus, offering you total control of your data at all times.
Allows you to create a backup of the mailbox – You can create a backup of your mailbox either on the device itself or store it in the cloud. The best part is, that even the backup is encrypted with a unique key keeping your data secure.
Also, unlike other email service providers, Criptext does not manage your keys making sure of complete security and privacy of your data.
Read: How to encrypt Emails in Microsoft Outlook app and Outlook.com
How secure is Criptext for your email?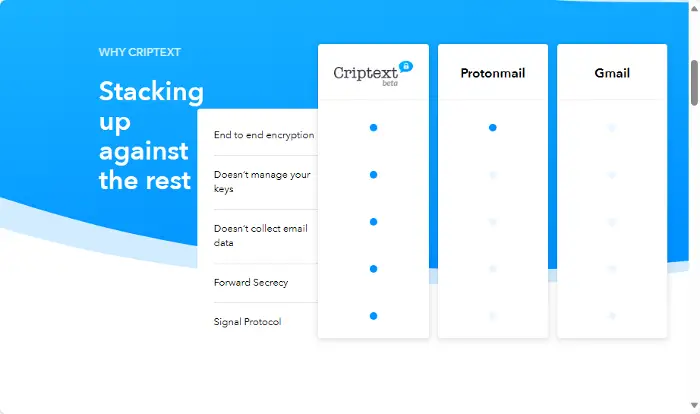 What's interesting is, that Criptext does not use PGP (Pretty Good Privacy) unlike many other email encryption services. Instead, it uses Signal Protocol (open-source encryption) that offers enhanced privacy for its users. This ensures that while your data is protected from unauthorized access, it also blocks your emails and attachments from third parties.
Moreover, since every email is encrypted with a unique key, even if someone has access to the key, he would not get access to the entire inbox.
Besides, you can access Criptext encrypted email service from multiple devices. Every device is assigned its own set of unique keys; therefore, by default, every email is encrypted multiple times. This means the emails are encrypted once per each recipient's device.
Best of all, your emails and personal keys are stored exclusively on your device. As soon as Criptext delivers an email, it deletes all your data from its servers leaving no trail behind.
How does Criptext work?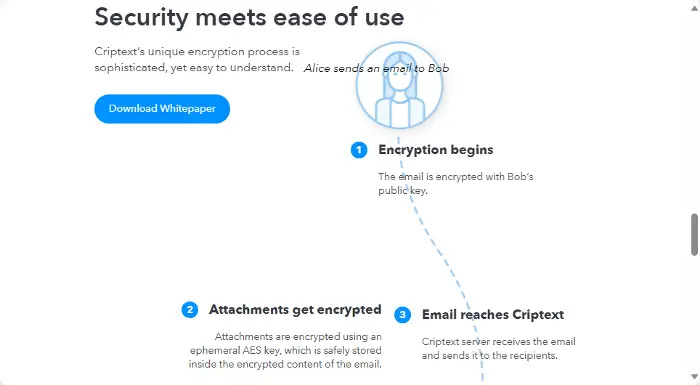 The entire encryption process is advanced but easy to understand. Here's an example of how it works:
Firstly, the email is encrypted with your public key.
Any attachments in the email are encrypted using a short AES key.
As soon as the Criptext server receives the email, it sends it to the recipients.
The email is then enciphered using your unique key which is saved solely on his device.
Read: Free Email Encryption Add-ins for Outlook
How to use the Criptext encrypted email service?
Visit the download page for Criptext to download and install the software on your Windows, Mac, or Linux desktop. But if you want it on your Android/iOS mobile, you must download the app from Google Play or App Store. It is completely FREE!
A few more things to know about Criptext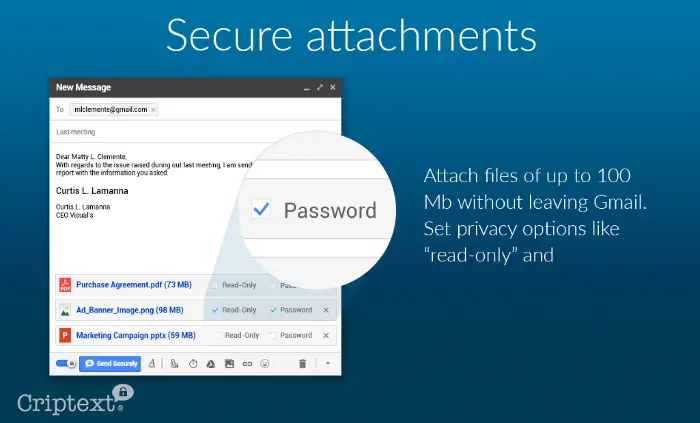 Some of the important aspects that you should know:
No storage quota, as all emails are stored on your devices. Hence, it depends on the storage limit of your device.
Criptext allows you to send 250 emails in a row, after which you must wait for a minute to send each following email. The restriction is removed after 2 hours.
While there are no limits to the number of attachments, the size is limited to 25MB per email.
What is an encrypted email service?
Encrypted email services are designed to protect your messages from unauthorized access, for example, Gmail, by authenticating the email. This means, rearranging the original sent message which is then converted to a format that cannot be read or decoded easily. Email encryption is especially important if your email contains sensitive information.
What tool is used to encrypt emails?
Some different tools or services offer email encryption, for example, Mailvelope, Mailfence, etc. Available as a browser extension for Chrome and Firefox, this program helps you encrypt your emails without installing any tools for each one of them. At the same time, some tools are independent software that encrypts your emails before you send them via the email provider.