Some users are reporting that they receive a Something went wrong, Couldn't download Windows 11/10, please check your network settings and try again message with error code 0x80072ee7, when they tried to upgrade their Windows PC to Windows 10 or Windows 11 Feature Update, using the Windows Update Assistant Tool. If you too have faced this issue, here are a few things you could try.
Couldn't download Windows 11/10, Error 0x80072ee7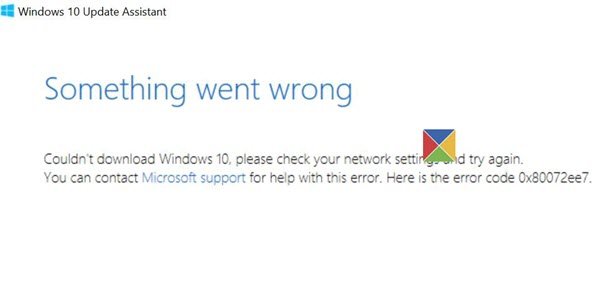 Though you may have received the error while using the Upgrade Assistant, this error can typically arise when you are using Windows Update or updating your Windows Store apps too.
1] Try again
The first thing you want to do is to click on the Try again button. Chances are that the tool will be able to carry out the updating process successfully this time.
2] Use administrator account
Make sure you are logged into your administrator account when you run the tool and disable your antivirus software before you begin.
3] Clear Windows Update cache
If that does not help, clear the contents of the SoftwareDistribution folder and try again.
4] Run Windows Update Troubleshooter
If you still face issues, run the Windows Update Troubleshooter.
5] Use an alternative method to update
Use Media Creation Tool or download the Windows ISO, create an installation media instead and try to update your computer.
There are some generic troubleshooting steps mentioned here on our site as well as here in Microsoft's KB883821 for Microsoft Update. See if they apply to your scenario and operating system.
All the best.