Cortana, Microsoft's smart assistant is available both on PC and Xbox One. It offers various voice commands, but basic, you can use to manage Windows 10 PC and Xbox. As it works over voice, you need to Headset or Kinect to communicate. Many a time, Cortana fails to hear. The problem could be because of misconfigured hardware or because some settings just flipped the microphone off. The case becomes even more complicated when you are using Kinect. In this guide we are offering various tips to fix your problem where Cortana can't hear you on your on PC or XBox One.
Cortana can't hear me on PC or XBox One
Cortana works differently on PC and Xbox One. In case it has completely stopped hearing you, let's troubleshoot and figure out the issues with these troubleshooting steps.
Cortana cannot hear you on Windows 10 PC
Make sure that youhave properly enabled and set up Cortana. If you have, then in all probability it could be an issue with Microphone. If you are using an external microphone, make sure its plugged into the right port. Next, you can type set up a microphone in Cortana box, and then follow the steps.
Windows 10 also offers privacy settings for Microphone. So the problem appeared right after an update, you may want to check on the Privacy settings to give apps permission to access the microphone.
You can also carry out a hardware check.
You may not have a microphone. In the search box on the taskbar, type Manage audio devices and select the result. Go to the Recording tab of the box that appears. If you have a microphone, you'll see it listed here.
You may want to also check out the following links:
Cortana cannot hear you on Xbox One
Cortana is not available for all markets and languages. So, if you were calling out Cortana before your Xbox using Kinect or Microphone, it won't work. So, go to Settings > System > Cortana Settings, and see if it gives you any language warning. If yes, then you need to change the language to English US, and it should work fine
Here you can further check if your Microphone is on by following the privacy settings from Cortana.
If this is not the case, we will have to check further.
Hard Reset Xbox One
This happened to me a few days ago. I wasn't able to use Party Chat because the mic was shown missing, and well, of course, Cortana wasn't able to hear me anyways. I tried replugging, but it did not work. So I did a hard reset i.e. kept the power button of Xbox pressed until I heard a beep, and Xbox was turned off completely. When I turned it on again, it was able to detect both Kinect's†microphone and camera. This also sorted out my Cortana problem.
If you use a headset with Cortana
Not everyone owns a Kinect, and most of the games actually don't use it. So if you are using Cortana with your headset connected with Xbox One, you need to make few simple checks.
Check if your connection to Headsets is proper. The best way to check if to start a party chat alone, and see if you get some warning.
Sometimes the mute button is accidentally turned on. Double check for it.
Certain controllers may need an Xbox One Stereo Headset Adapter to attach their headset
Is your headset connected to multiple devices? Keep it connected with just one.
The last check is the when you have two or more headsets connected at the same time and arenít sure which one has voice control. The "home" controller, which is the one connected to the profile you see in the top-left corner of the Home screen, is the controller with voice control.
Troubleshoot Kinect for Cortana hearing issues
If you are using Kinect with Xbox One, it offers a hands-free experience for many voice commands. Many a time issues are very simple, and if you have already done with the hard reset option I suggested above, let's move on to rest of them.
Is your Kinect sensor on?
Xbox allows you to turn off Kinect even though it's connected. Many a time gamers are not very comfortable with a camera watching them, so if it turned off, this is why Cortana is not able to hear you.
Press the Xbox button to open the guide > Settings > All Settings > Kinect & devices.
Select Kinect, and check if its on.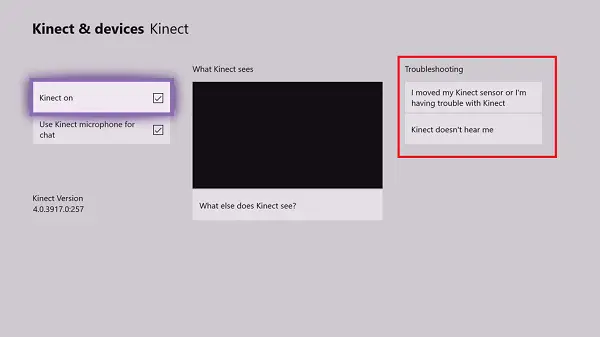 Calibrate the Kinect microphone
If you remember the first time you had set up your Kinect, it calibrated its sensor to make sure it can hear you clearly. You might have to do it again. Before doing, make sure to have a quiet room, with speakers at volume more than normal.†To calibrate the Kinect microphone, follow these steps:
Press the Xbox Guide button to open the guide > Settings > All Settings > Select Kinect & devices > Select Kinect.
Select Kinect doesn't hear me > On the Let's check your audio screen > select Start audio check.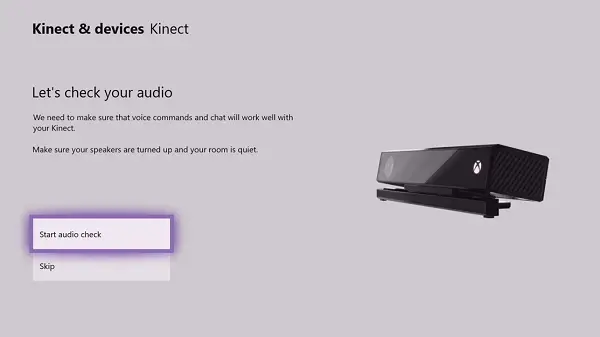 This setup process will heck for background noise, and then play audio from the speaker of your TV or Home Theater, and then run the audio check again. It helps Kinect sensor to determine how far the speakers are from the display, and then it†it calibrates the microphone.