The BIN File format is a rather old file format that has a lot of applications including disc images. The ISO has taken its place in modern software – but there might be some places where you can still encounter BIN files.
'BIN' stands for binary and these files are compressed binary packages. BIN files contain raw sector-by-sector copies of the entire disc. BIN files do not actually contain files and folders, but it is a copy of raw data. BIN files can be used to regenerate the entire source disc, and they can preserve information like bootable information, volume-attributes, and other system-specific details. To view the contents of a BIN file, you need to burn it to a disk or mount it virtually.
BIN format has also been widely used to store raw image data, and you might be looking to convert it into a more usable JPEG/JPG format. In this post, we've covered some of the BIN to ISO and BIN to JPG converters available – both online and offline.
BIN to ISO Converter
1] WinBin2Iso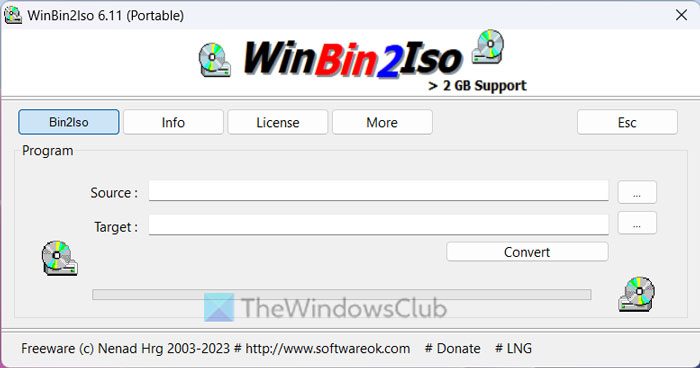 WinBin2Iso is a simple and small utility written for Windows to convert your BIN files to ISO images. The program sizes around 35 KBs and does not require any installation and setup. It is a portable tool and also Memory and CPU efficient. The major advantage of using this tool over its online counterparts is that it can be easily used for larger file sizes. It eliminates the need to upload the file, convert it and then download it back. WinBin2Iso is available for all the versions of Windows ranging from Windows 10 to Windows XP. Click here to download WinBin2Iso.
2] AnyBurn
AnyBurn is another free BIN to ISO converter available for Windows. Apart from its conversion features, it also offers some other features related to burning data to discs and creating music CDs. AnyBurn is completely free to use for both personal and commercial use and supports Windows 10. It can also help you in creating bootable USBs and CDs from BIN files. Click here to download AnyBurn.
Read: Convert IMG to ISO.
BIN to JPG Converter
1] Online-Convert
Online-Convert is a collection of online conversion tools that supports conversion between a lot of formats. And it does supports BIN to JPG conversion. Moreover, the web-app does not require any login or signup. You can just upload your images and directly download the converted one. Apart from basic quality control, Online-Convert offers a variety of basic editing features like resizing color enhancement and image cropping. Click here to go to Online-Convert.
2] Convertio
Since image files are assumed to be smaller in size, we can use online converters to change the format. Convertio is one of the free online image converters that support conversion from BIN format to JPG. Not just JPG, Convertio supports a lot of other image formats as well. It is completely free and has an upper limit of 100 MBs on image size. You can upload your BIN files from your computer or directly share them from your Dropbox/Google Drive account. Click here to go to Convertio.
These were some of the best tools that we found on the internet. Additionally, if you are looking to convert your Images to BIN files, you can check out this amazing online converter here. If you use any other online or offline service, do not forget to mention them in the comments down below.
How do I convert a BIN file to JPG?
To convert a BIN file to JPG, you need to use a third-party application since there is no in-built option to get it done. You do not need to download apps since you can use web tools to make it happen. For your information, Online-Convert and Convertio are two of the best web apps that you can use to convert a BIN file to JPG.
How to convert BIN file to ISO file?
If you have a BIN file and you want to convert it to ISO format, you can use WinBin2Iso. It is a free application that you can use on Windows 11 as well as Windows 10. Even if you do not want to go through any installation process, you can download the portable version as well. After downloading and opening, click the Source button and choose the BIN file. Then, select a target path where you want to save the file and click the Convert button.
Similar posts that may interest you:
Convert BAT to EXE | Convert VBS to EXE | Convert PNG to JPG | Convert .reg file to .bat, .vbs, .au3 | Convert Image files to PDF | Convert PPT to MP4, WMV | Convert Images to OCR | Convert Mac Pages file to Word | Convert Apple Numbers file to Excel | Convert any file to different file format | Convert files, folders to ISO.