We have seen how Microsoft is evolving Windows 11/10 with all the major releases since its launch. Today we are going to see how Microsoft is working very hard, especially for its Surface Devices. You may have come across or may have heard about Windows Ink Experience, it's a new name for Pen and touch devices working with the OS.
Pen and Windows Ink Settings in Windows 11/10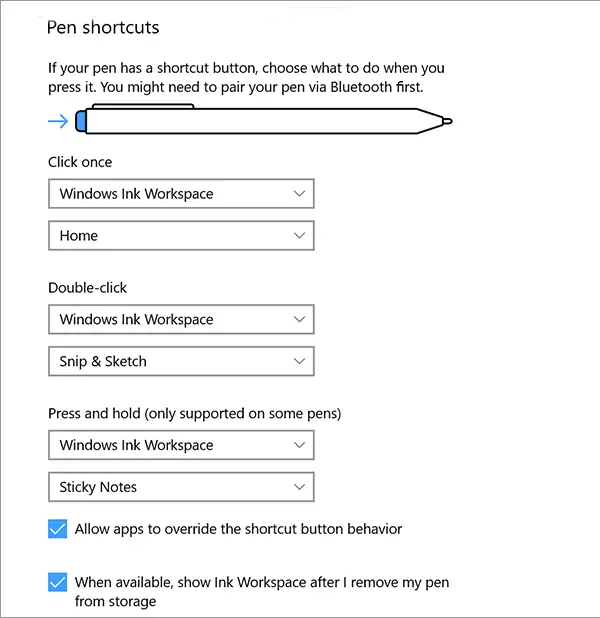 To open Pen and Windows Ink settings, go to:
Open Settings, click on Devices.
On the left side see for Pen & Windows Ink Tab. Click on it.
You would see that the whole page to be divided into different sections which will include settings for Pen and Windows Ink Workspace.
Pen
In the Pen section, you may see the settings on what task should the Pen performs when connected, which hand you are using to hold the pen, etc.  If a pen is not connected then you may find a different scenario when Pen & Windows Ink settings are opened up.
To pair a pen with your PC, select Start > Settings > Devices > Bluetooth & other devices. Hold down the shortcut button on your pen for seven seconds to turn on pairing mode, then choose the pen from the list of devices and select Pair.
When paired, Windows assumes that you are a right-handed person and works accordingly. Its because when a pen is used for opening the context menus, the menu opens on the opposite side of the hand being used. Its because if you are right-handed and the menu opens on the right side of the tip then you might not be able to see it.
The settings for Pen also includes the options for Visual Effects and Cursor that appears while using the Pen. Yes, you can disable them any time you want. The cursor is shown as a dot on the position where the tip of Pen is hovering. Another setting that will definitely come handy to you is "Ignore touch input when I'm using my pen". This setting will ignore your hand gestures and touch when a pen is connected or being used.
At last, there is one more setting that you might want to use. It will allow you to write anything using Pen and it will be converted into text. It is named as "Show the handwriting panel when in not tablet mode and there's no keyboard attached". When enabled. it will show you a keyboard icon in the notification area.
Windows Ink Experience
Windows Ink Experience is just like the app drawer or start menu which gathers all the applications you can use with the help of a stylus or a digital Pen. To access Windows Experience you need to enable Windows Ink Workspace.
Enable Windows Ink Workspace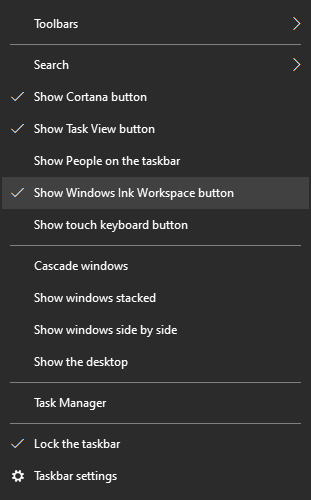 Right-click on the taskbar.
Click on the Windows Ink Workspace button.
A new button should appear on the right end of the taskbar.
The workspace used to include applications like Sticky notes, Sketchpad, Screensketch, and recent applications.
But with an update to Windows 10, it has changed. Right now you get two options which include Windows Whiteboard and Fullscreen snip.
You may have figured out that these applications in Windows Ink Workspace are the ones that can work with a Pen and can do wonders.
If you have a Surface device then you may have already understood the wonders I'm talking about.
Let us know about your experience of using Pen with your Windows device.
How do I calibrate my Surface Pen Windows 11?
Sometimes, your Pen does not work properly on your Surface device. This can be caused due to the corrupted diver. Apart from this, calibrating the Pen can also help. To calibrate your Surface Pen on Windows 11, search Calibrate and then tap on Settings. Now, check that the monitor shown on the screen matches the monitor you want to calibrate. After that, follow the on-screen instructions to calibrate your Pen.
How do I get the Pen menu on Windows 11?
You can easily bring the Pen menu on your screen on Windows 11. If you have a Pen, tap it on the screen. After that, the Pen menu will appear at the corner of the Taskbar.
I hope this helps.