The Microsoft Whiteboard app allows you to share your ideas naturally on digital canvas of a Surface Hub. The canvas expands along with your creations so that you never run out of space. However, to use it you need to enable Whiteboard via Admin Portal. Also, there's a newer version of Whiteboard available that will eventually look to replace the existing Whiteboard app on Surface Hub. The latter can be found pinned to the Welcome screen.
Surface Hub customers can choose to stay on the current Whiteboard app or install the new version alongside the existing app. This post gives you a peek at how to enable the newer version of Microsoft Office Whiteboard for Windows 10.
First things first, if you are planning to use Microsoft Whiteboard on Windows 10 then, you'll need to have an Office 365 or Microsoft Account. Why? All the whiteboard sessions are stored in the cloud. So, it is essential to have either a Microsoft account or Office 365 account.
Enable Microsoft Whiteboard for Office 365
If you are not aware, Microsoft Whiteboard comes automatically enabled for applicable Office 365 tenants. The users can download the app for their preferred platform (Windows 10 and iOS users) and sign in unless they've chosen to disable the service.
To enable or disable Whiteboard, do the following:
Go to the Office 365 Admin Center ( the center lets you manage all aspects of Office 365, including setup, configuration, etc). There, open the Admin Center home page and navigate to Settings.
Next, move to Services & add-ins.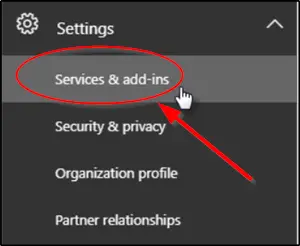 Upon landing on the Service & add-ins page, scroll down, and look for Whiteboard option. When visible, select it.
Now, on the Whiteboard panel, toggle Turn Whiteboard on or off for your entire organization to On.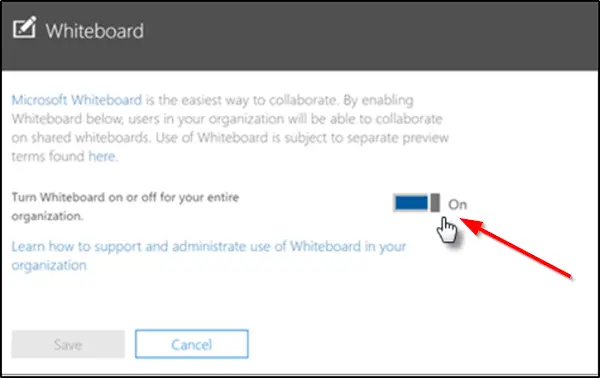 Click Save.
The Microsoft Whiteboard app has one shortcoming. Since it can be enabled through the Admin portal, it means you cannot use the app for Office 365 Personal and Home.
That apart, the app offers infinite canvas where imagination has room to grow and share your ideas naturally. It is also optimized for pen, touch, and keyboard inputs.
If I can recall correctly, Whiteboard first came to Surface Pro devices and was then rolled out for Windows 10. However, now,  it has hit the general availability for both iOS and web versions.
For additional information, visit office.com.
Related read: How to enable Microsoft Whiteboard to Whiteboard collaboration in Surface Hub.