If after running Windows Update, you find that your Windows 11/10 is stuck on the Preparing to configure Windows screen for a very long time, then this post will help you resolve the issue. There is a lot that goes on in the background during an update process. That is why Windows 11/10 Updates take a long time to complete. It can be at 35% or 85% or even 100%. The exact error message is:
Preparing to configure Windows, Don't turn off your computer.
Windows stuck on Preparing to configure Windows screen
The best thing to do is to wait for a couple of hours and see if that helps. If it does not, then the following methods will help you fix this issue:
Use System Restore.
Boot Windows in Safe Mode
Reset Windows 11/10.
The error occurs when Windows Update fails to configure in short correctly download and apply the update. When it fails, it will revert all the changes. That's the primary reason we asked if you can wait for a couple of hours, else you can always reboot and use safe mode.
This screen usually occurs in roughly two scenarios. The first is when the Windows 10 operating system is installing any updates or when the user profile takes time to load or encounters an error.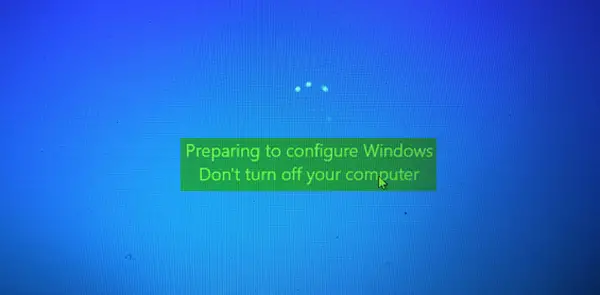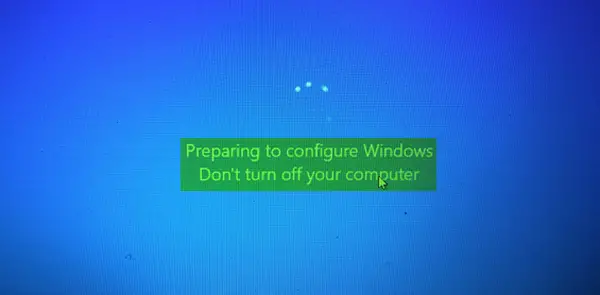 When a computer is stuck on this screen for a long time, you have to forcefully power down your computer. Then try to troubleshoot the issue with the recommended solutions.
1] Use System Restore
If you cannot boot to the desktop, boot into Advanced Startup Options; you can select System Restore and proceed with the steps.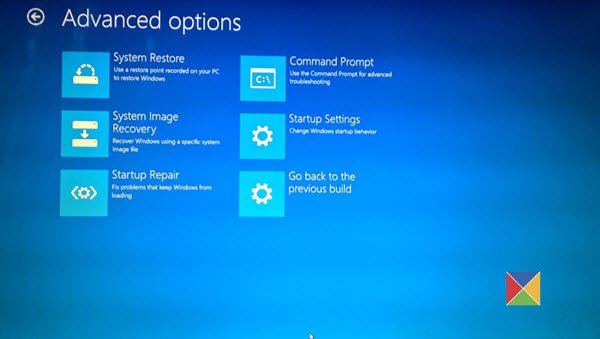 If you can boot to the desktop or Safe Mode then follow the steps here:
Type sysdm.cpl in the Start search box and hit Enter. Select the tab labeled as System Protection and then choose the System Restore.
Follow the on-screen instructions to restore your computer.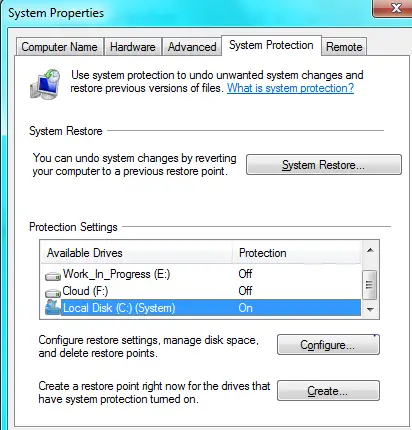 Now Reboot your computer and check if this method was able to resolve your issue.
2] Boot Windows 10 in Safe Mode
If you have enabled the F8 key in Windows 10, then when you start your system, you may continuously press the F8 key to boot in Safe Mode. Once you are in Safe Mode, you will have access to your Start Menu, as well as Mouse and Keyboard, and you will also be able to access your files. You also get access to other built-in Windows tools, like Command Prompt, PowerShell, Computer Manager, Device Manager, Event Log Viewer, etc.
If you have not enabled the F8 key, then the only way to boot Windows 10 to Safe Mode in this scenario is via the Advanced Startup Options menu discussed above. Once on this menu, select Troubleshoot > Advanced Options > Startup Settings > Restart > Press No 4 key.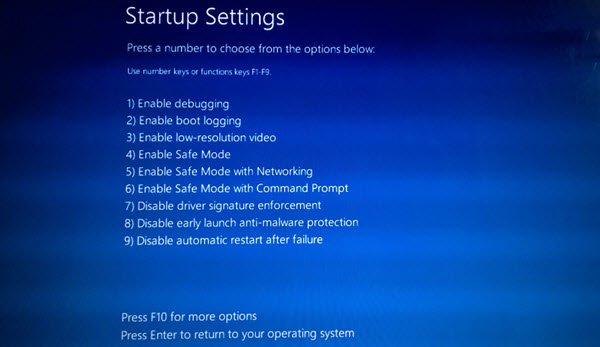 Pressing the '4' key will restart your PC in Safe Mode. To reboot in Safe Mode with Networking, press '5' key. To reboot in Safe Mode with Command Prompt, press the '6' key.
Once in Safe Mode, you can use any of the built-in system tools to troubleshoot or restore your system to a good working point. You could run System File Checker, DISM, uninstall the recent Windows Updates and clear the SoftwareDistribution folder, reboot in normal mode and then see.
3] Reset Windows 10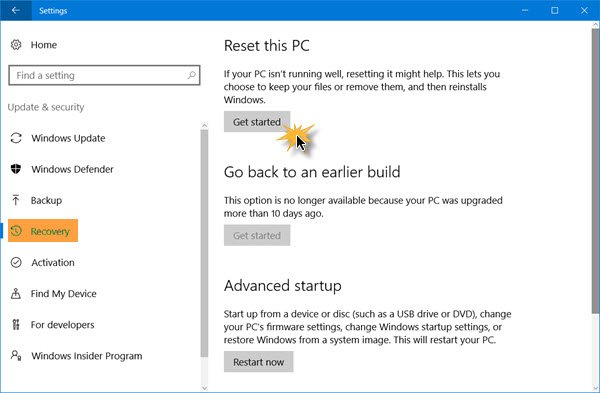 The Reset Windows 10 option can be using either of the possibilities of Advanced Startup Options or booting into the Safe Mode. If you are in Advanced Startup Options, hit on Reset my PC. Next, follow the on-screen instructions.
All the best. 
More suggestions here: What to do if Windows 10 is stuck on loading some screen.