By now, we suspect you've heard of Google Chromecast, a device that makes it possible for users to stream their favorite apps from a computer, phone, or any other supported device to a Television or smartphone. The problem is, things may not work as intended all of the time, and that could give rise to error – Source not supported.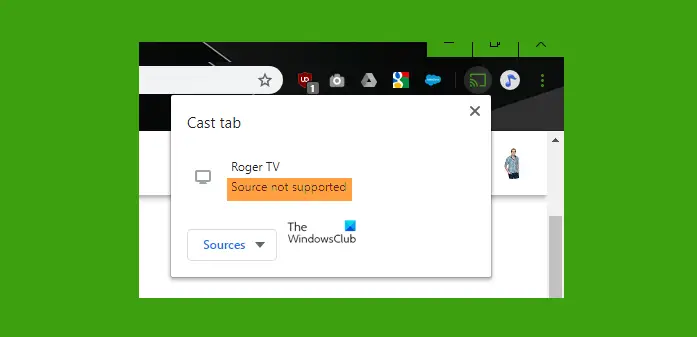 Why does my Chromecast say Source not supported?
The error message tends to appear whenever the device you're trying to cast is not being recognized by the Chromecast device. In most cases, there's an issue with the Google Chrome web browser itself, but that is not always the truth.
Fix Source not supported error in Chromecast
Based on the contents of the error message, it is clear that the Chromecast dongle does not recognize the device you are attempting to cast. There are many reasons why this could happen, which is why this article is designed to explain multiple workarounds in a bid to cover all bases.
Update Google Chrome
Turn on Mirroring Service in Chrome
Update Chromecast
Disable your VPN or AdBlock extension from Chrome
Temporarily Turn off Real-Time Protection
1] Update Google Chrome
The first thing you should do here if you're streaming from a computer is to update Google Chrome to the latest version if one is available. Now, not everyone knows how to update their Google Chrome web browser, so if you're sitting in that category, then please take the time out to read, How to update Chrome browser to learn all that you need.
2] Turn on Mirroring Service in Chrome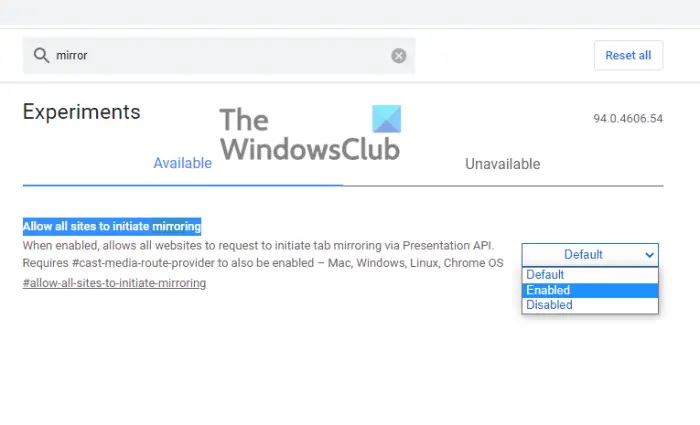 We should point out before we begin that the Mirroring Service feature is currently experimental in Chrome, so if you have no problems enabling such features, then let us move along.
OK, it is possible that after a browser update, specific settings may get altered where the mirroring service is automatically disabled if it was enabled before. Obviously, we must reenable it to get things moving in the right direction.
To do this, fire up Google Chrome promptly, then type chrome://flags in the address bar and hit the Enter key on your keyboard. You should now be looking at a list of flags. Just go to the search box and type mirroring service. From the search results, look for Allow all sites to initiate mirroring and set it to Enable from the right section.
Restart your web browser to see if the Source not supported error is not dead and gone.
3] Update Chromecast
Did you know users can update Chromecast? Unfortunately, this must be done from your smartphone, but we suspect most people own one of those.
Now, in order to update your Chromecast device to the latest firmware, you must open the Google Play Store or the Apple App Store and download the Google Home app if you haven't already. Next, open the app and be sure the device is on and connected to the same Wi-Fi network as your smartphone.
From within the app, tap on the device Chromecast is connected to. Once that is done, tap on the Gear icon at the top, then select the three-dotted icon located at the top-right corner of the screen.
From the new menu that appears, tap on Reboot and watch as the Chromecast device automatically shuts down and restarts. After it has done this, the device will then work to find new updates and install them automatically without your input.
4] Disable your VPN or AdBlock extension from Chrome
Third-party extensions can, in some cases, cause problems that may stop Google Chromecast from working as it should. With that in mind, the best course of action here is to disable VPN and AdBlock and other browser extensions temporarily.
Once you've disabled the possible culprits, go on ahead and check if your Chromecast device is working correctly.
4] Temporarily Turn off Real-Time Protection
Knowing how to turn off Real-Time Protection, where Microsoft Defender is concerned, is very important for this particular situation as you can try this and see if that helps.