Modern jobs these days are mostly desk-bound that are characterized by sitting for long hours with your eyes hooked to the computer screen. Perhaps spending a significant amount of time sitting at the desk to meet tight deadlines can encourage a sedentary lifestyle. In the long run, spending much time seated in a closed space and staring at a computer screen all day can take a serious toll on your health.
Desk-bound jobs with little or totally no physical activity may conceivably increase your risk of obesity, heart ailments, arthritis, and diabetes. anxiety and early death. In simple words, a desk-bound job with a sedentary lifestyle is the epitome of bad health. If your job involves slouching in your chair and staring at a computer screen regularly, we recommend you make a few healthy changes to your otherwise sedentary work routine.
That being said, the major drawback with a desk job is that the level of physical fitness is mostly up to an individual. One needs to be constantly motivated to take regular breaks from working for a long period of time and sporty take part in order to overhaul your inactive habits.
With too many deadlines to meet at work in a stressful environment, a simple reminder a day can help you take regular breaks during office time. Fortunately, there are some useful browser extensions that will constantly remind you to take regularly moving breaks, change positions, drink water, and many more during your hectic work schedule.
Read: Health issues, every over 40 computer users should be aware of.
Chrome extension to stay healthy & fit
Here are some Health Chrome extensions for a healthy browsing experience. They will correct your posture, give stretch reminders, and more!
1] Calm for Chrome
Calm for Chrome is a productivity application intended to help internet-addicted individuals from mindlessly checking websites. The extension invites you to take a deep breath to get off an addiction from procrastinating over websites like YouTube, Facebook, Twitter, etc, and instead, encourages you to take a healthier break. It lets you add addictive websites to the blocked site so that whenever you open blacklisted websites, the extension will make you more mindful of what you are doing by taking over the screen and inviting you to take a deep breath.
The science of deep breathing exercises aids to realize your unnecessary browsing and helps gain productivity during office hours. The extension also offers other mindfulness activities via the calm website that you can browse instead of procrastinating over addictive websites during breaks thus increasing productivity at work. Unlike other website blockers, this extension doesn't block any website instead it only makes you aware of what you are doing. Get this extension here.
2] Take a Break Reminder
Take a Break Reminder is a productivity extension that smartly reminds you to take a break from work by displaying a break reminder on the screen and encourages you to take healthy breaks. The extension is simple and uses the count-down timer to display the break reminder. To enable this feature all you have to do is enter your work time and pause time.in the settings. One good thing about this application is that it notifies you when a break ends. It is worth noting that the extension doesn't count when your system is switched off and resets every time you restart your computer. Get this extension here.
3] Stretch Reminder
Stretch Reminder is a useful extension that improves your work day by encouraging you to take healthier breaks.  This extension is essential for working professionals whose work involves sitting for a long time period. The extension is fully customizable which lets you set the stretching time interval according to your work hours. This smart reminder pops up to remind you to stop your current work and stand up for stretching every few minutes. Get this extension here.
4] Micro Breaks
Micro Breaks is a productivity extension for individuals who sit for long hours in front of the computer. It gently reminds you to take regular breaks that help you boost productivity. The break reminders can be easily customized according to your work time and display a notification with an active green icon to remind you to stop working and take healthy breaks. Regularly. Get this extension here.
Read: Best Chrome extensions to install.
5] PostureMinder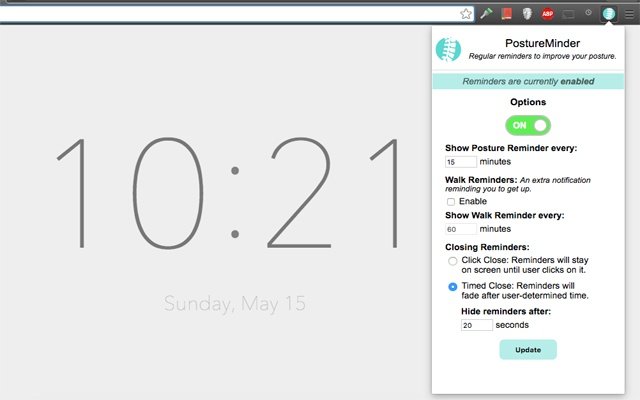 Posture Minder is a free productivity extension for chrome that alerts you regularly to improve your postures. Sitting with proper Posture plays a significant role in maintaining overall health and This simple extension reminds you to sit erect during work hours by displaying pop-up notifications at specified intervals of time. Moreover, it enables you to set walk reminders that remind you to get up and walk during office hours. Additionally, the extension pauses the reminder if your system is either idle or locked and restarts the reminder all over again when you are back. The extension can be easily customized to set the duration of the reminder and also turn off the reminder to avoid interruptions. Get this extension here.
Do you use any such Chrome extension?
Read next: Apps to help you take a break from computer screens.