If you are one of the many who has reserved a copy of Windows 10, you should probably check if Microsoft has already started downloading Windows 10 on your existing Windows 7 or Windows 8.1 machine. This is a major deployment event in Microsoft's history as the company plans to convert existing 1 billion Windows devices running Windows 7 / 8.1 to run their most latest Windows 10 OS.
Microsoft is pre-loading the Windows 10 upgrade files on users' PCs who have reserved them using the Get Windows 10 application. If you have reserved a Windows 10 copy on your PC there is a chance that your system has already downloaded the necessary Windows 10 upgrade files and is all set for installation.
Check if Windows 10 has started installing
The Windows 10 update would be rolled out in waves by Microsoft, meaning the rollout shall begin to select users and not everyone would be getting the upgrade right away. The first batch who receive the updates is Windows Insiders followed by users with Windows 7 SP1 and 8.1 with valid version and those who have reserved a copy of Windows 10.
Here is an easy way to check if your current PC has been pre-loaded with Windows 10 upgrade files:
On your current PC, use the Folder Options and set to show all hidden items. You can do it by clicking Start button, typing "Folder options" in search box and by hitting the enter key.
Once the Folder Options dialog is open, click the View tab, and scroll down to select Show hidden files, folders, and drives under "Hidden files and folders".
If you are using a Windows 8.1 machine you can open the file explorer and from the Ribbon select View > Options > Change folder & search options and from the Folder Options dialog choose the "Show hidden files, folders, and drives" radio button just like in the above step.
Now open your local C: drive in File Explorer where you should see a folder named $Windows.~BT. The folder with the name $Windows.~BT is where all Windows 10 files are being stored temporarily until the actual update happens. The size of these files vary from system to system depending on 32-bit or 64-bit Windows. The upgrade file size is around 4 GB and it varies depending on your system and driver configuration and other factors.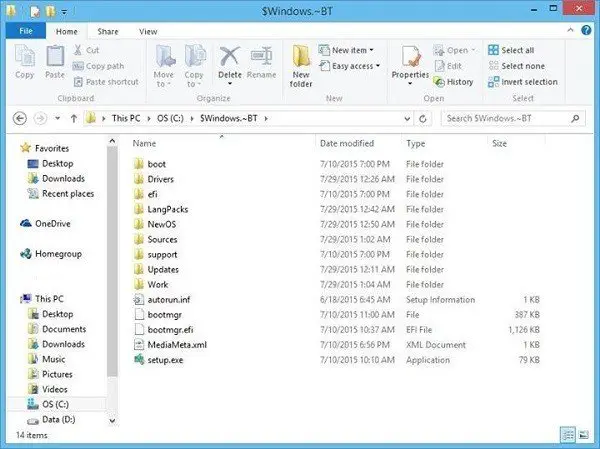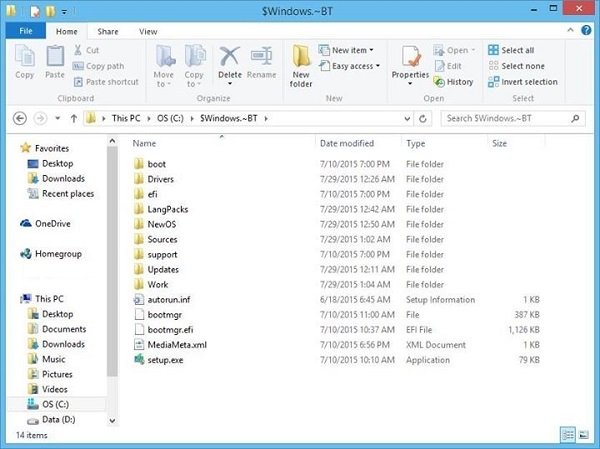 (Image Source: Rajesh Patel)
Even if you see the new Windows 10 folders, do not attempt to run any of these files in the folder. Running these files will not start Windows 10 installation as it cannot be done manually this way.
The presence of the Windows 10 Upgrade folder is just an indication that you are the next in the queue to get the latest Windows 10 OS. Windows 10 will download in the background, but will not start the installation, without your consent.