We know that the Windows operating system contains some files and yet other system files and folders which are hidden by default. These are hidden so that the end-user does not by chance end up deleting or modifying their contents as they are required by the system to function properly. But there may be times, when you may need to show these hidden files and folders.
To show these hidden files and folders, type File Explorer Options in Windows 11/10 or Folder Options in Windows 8/7, in start search and hit Enter to open the window. Under the View tab, check the Hidden files, folders and drives check box. If you need to also show the system-protected hidden files and folders too, uncheck the Hide protected operating system files  option.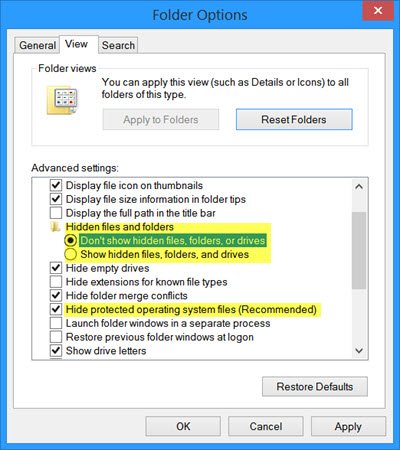 Click Apply and exit. The hidden files and folders will now be visible.
Show hidden files and folders option missing
If you find that in your Windows, when you open your File Explorer Options earlier called Folder Options, via Windows Explorer > Organize > Folder & Search Option > Folder Options > View > Advanced Settings, the Show Hidden Files, Folders and Drives option is missing, then here is a Registry hack you can try, to enable it.
Create a system restore point first. Then type regedit in Windows start search box and hit Enter. Navigate to the following key:
HKEY_LOCAL_MACHINE\SOFTWARE\Microsoft\Windows\CurrentVersion\Explorer\Advanced\Folder\Hidden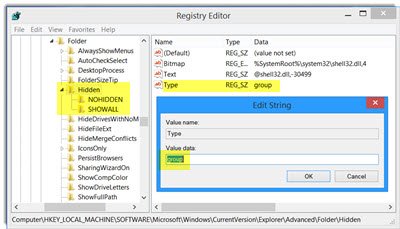 In the right pane, right-click on Type and select Modify. Here Change Value Data to "group" without the inverted commas.
Click OK > Exit.
I hope this helps.
If this doesn't help, then Windows 11/10/8.1 users may download and apply this registry fix. Alternatively, Windows 7, Windows Vista users could use our freeware FixWin to fix this issue. You will find the fix under its Explorer section.