I was trying to log in to my bank website and the password was not matching. I was sure I am typing the correct password, so I tried a couple of times and the account got locked for the day. Little did I know that the Capslock key was on but the indicator was off so I didn't realize that it was on. Has this ever happened to you?
When the Capslock key indicator stops working, we won't know if it is on or off until we type. It is trouble indeed, especially when we are typing a password where we see just the asterisk sign instead of the letters. It is also annoying for the content writers like me. So, in this post today, we will check what could be the possible reasons for your Capslock key indicator not working and how can we fix this.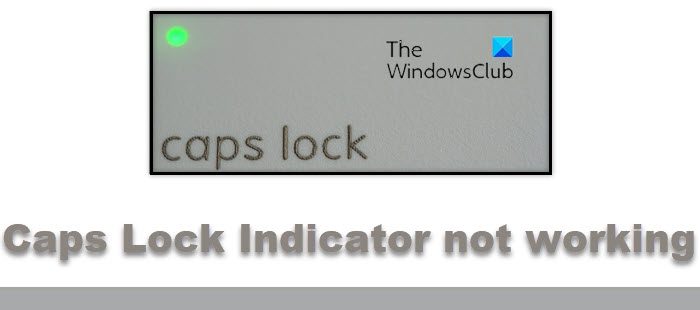 Caps Lock Indicator not working in Windows 11/10
The Caps Lock key on our keyboard has a small LED light indicator that tells us whether the Caps lock is on or off. If the indicator stops working it is really difficult to figure out if it's on or off. It can happen for several reasons including some wanted recent updates, hardware issues, outdated keyboard drivers, or a glitch in your keyboard settings. Let's see how we can fix this.
Turn on the On-Screen keyboard
Turn on the notification
Update the keyboard drivers
Check for Windows Optional Driver Updates
Download a third-party Caps Lock Indicator app
1] Use the On-Screen keyboard
The indicator on the Caps Lock key is a small LED light and it could be the problem with your keyboard or maybe the LED light itself is faulty that the indicator has stopped working. To check this, you can connect an external keyboard to your laptop and see if the indicator is working. If it is, the problem is certainly with your laptop keyboard. In this case, you can either get it checked and repaired from a store, can use an external keyboard or the virtual on-screen keyboard app on your machine.

Type On-Screen in the Windows Search option and open the app or press Win+Ctrl+O. You can scale it down and keep it in a corner of your screen and when you press the Caps Lock key on your keyboard, the key on this virtual keyboard will be highlighted and you will know when your Caps Lock key is on or off.
2] Turn on the notification sound
Don't worry if the indicator is not working, we can turn on the notification sound from the Settings. I know hearing that notification sound every time we press the Caps Lock or Num Lock key is a little annoying but we can bear it.
Press Win+I on your keyboard to open the Settings.
Go to Accessibility > Keyboard
Go to the Toggle Keys tab and turn on the button.
Now you will hear a notification every time you turn on or off your Caps Lock key.
3] Update the keyboard drivers
If you are not okay with the annoying notification sounds of the Caps Lock key, let's try another way. Check if the keyboard drivers need an update.
Press Win+R to open the Run dialog box and type Control Panel.
Go to the Keyboard > Hardwar > Properties.
If the Update Driver button is highlighted, it means your keyboard drivers need an update. Click on the tab and then click Ok.
If the Caps Lock issue is due to the drivers, this will fix it.
Alternatively, find out the make of your keyboard, visit the manufacturer's site to download the driver, and install its latest version.
Read: How to fix Caps Lock reversed in Windows
4] Check for Windows Updates
If this didn't solve your problem, the issue could be due to some due Windows Updates. Check if there is any pending update due for your machine.
Press Win+I to open the Settings.
Go to Windows Update and see if is showing any pending updates.
Keeping your PC updated is very important for its smooth functioning.
Make sure you install Optional Driver updates too for your keyboard.
5] Download a third-party Caps Lock Indicator app
There are many such small utilities (Caps Lock Indicators) available over the web that work as an indicator on your PC. You can download and install it on your PC.
Related: Enable or Disable Caps Lock on Windows 11/10
Why is my Caps Lock light not turning on?
There could be a problem with the LED light or the keyboard driver on your PC. You can also check for other reasons like outdated OS or some unwanted optional update on your PC. Check for the fixes above.
Read: How to use the Shift key to enable or disable Caps Lock in Windows
How to open the On-Screen Keyboard App?
You can open the On-Screen keyboard by simply pressing Win+Ctrl+O on your keyboard or alternatively you can search for On-Screen in the Start Search option.