Not only does all-Caps text looks annoying, but the accidental turning on of the Caps Lock is also annoying. It happens now and then, only to realize it later on. Now it may so happen that someone has changed the setting of the Caps lock such that it can be toggled using the Shift key. If you are facing the same issue, then we will show how you can revert the setting and use the Caps lock to turn it on or off.
How to use the Shift key to enable or disable Caps Lock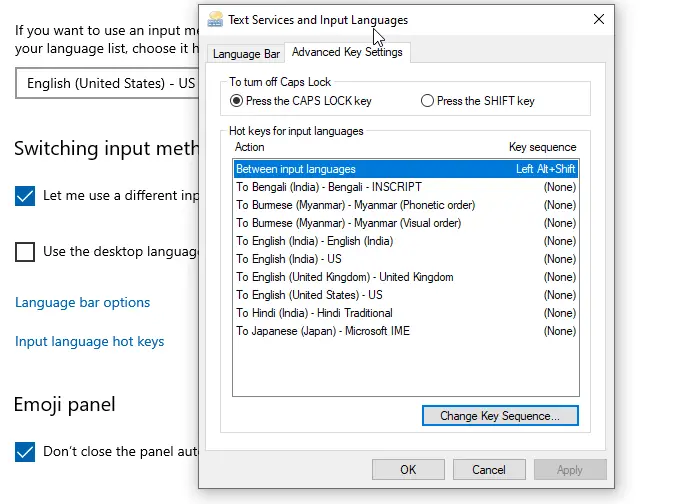 If your Shift key disables or enables Caps Lock, then here's how you can use the Shift key to enable or disable Caps Lock in Windows:
Open Windows Settings
Navigate to Devices  > Typing
Scroll to find Advanced keyboard settings link at the bottom. Click to open
Look for Input language hotkeys, and click to open it
It will reveal the Text Services and Input Languages window. Switch to Advanced Key Settings
Under "To Turn off Caps Lock," you have two options

Press the Caps Lock Key
Press the SHIFT key

Select the first option, click on the Apply button, and then the Ok button to change the setting.
Having done that, you should test out if the Caps lock can toggle itself on or off.
Enable Sound for Caps Lock Toggle
Usually, the indicator light should help, but then you cannot see it when typing as you always look at the screen. I remember in the early days when I started using the computer; it used to beep. Not anymore – but it can be enabled. Here is how to enable the sound feature.
Windows 11
First, right-click the Start button on the Taskbar and choose Settings from the list of options displayed therein. Alternatively, you can use Win+I keyboard shortcut to go to the settings window directly.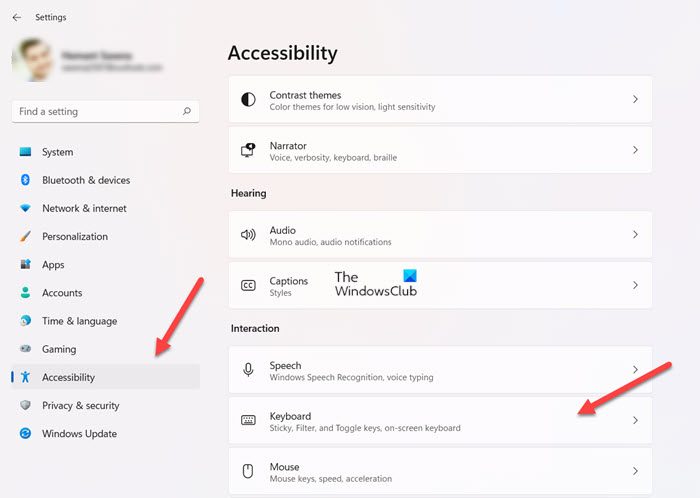 Next, select Accessibility from the side panel on the left and expand the Keyboard tile on the right.
Now, when directed to a new screen, look for Sticky, Filter and Toggle keys heading.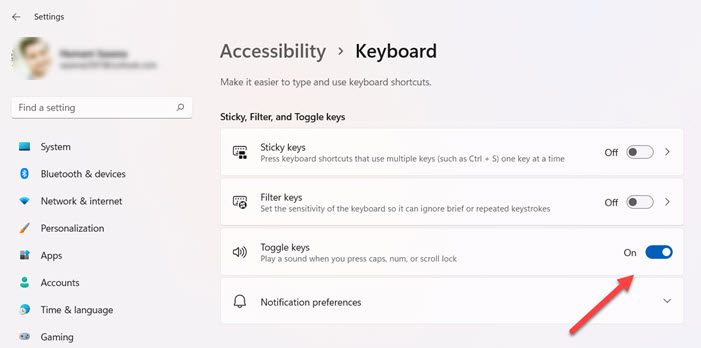 Under it, locate Toggle keys option and slide the toggle next to it to the On position.
Hereafter, whenever you press Caps, Scroll or Num lock keys, your system will emit a sound.
Read: How to fix Caps Lock reversed in Windows
Windows 10

Type Toggle keys in the Start menu
You should see a listing that says, "Hear toggle keys as you type."
Click on it to open Keyboard Settings which is available in Ease of Access
Toggle on the option Play a sound whenever you press Caps Lock, Num Lock, or Scroll Lock.
Now when you press the Caps lock, you should hear a different beep every time you press it. One is with a sharp tone, which means Caps lock is turned on. While the second is a flat tone, which means Caps lock is off.
Enable the sound setting on multiple computers using Registry
If you want to enable the sound setting on multiple computers, you can change it by using the following Registry values.
Disable Toggle Keys Sound
[HKEY_CURRENT_USER\Control Panel\Accessibility\ToggleKeys]
"Flags"="58"
Enable Toggle Keys Sound

[HKEY_CURRENT_USER\Control Panel\Accessibility\ToggleKeys]
"Flags"="63"
I hope the post was easy to follow, and you were able to use the Caps lock to turn it on or off instead of using the Shift key.
What is Accessibility settings in Windows?
Accessibility support in Windows helps users get accustomed to different features and settings they may have trouble accessing normally. That way, users can get a little more functionality out of their OS. For example, if you are sensitive to light or just work long hours in front of a screen, you can use the new Dark themes and Contrast themes in Windows 11 to reduce screen brightness and increase contrast.
What are the Toggle keys on the computer keyboard?
A toggle key is a key that enables or disables a function at the user's request. Alternatively, it can be used to switch between two functions. Examples of toggle keys are the caps lock key, number lock key and scroll lock key.