In these days of working from home, after Movies and TV Shows, PC games are the only way for certain entertainment. Since many of us don't have high-end machines, we end up playing pre-installed games. But, what happens when our most beloved and most played game Microsoft Solitaire stops working? Today we will learn how to fix "Can't start Microsoft Solitaire Collection" error in Windows 11/10.
Since the launch of Windows 3.0, Solitaire collection has always been there for users in boredom. When Windows 8 was launched, it was a great disappointment that it didn't come with any of the games. But the love of fans brought it back with new GUI and colorful interface. Now we know that it is a very old game, the newer version works with a freeze here and there.
Microsoft Solitaire Collection won't open
We know how much you love this game and we are here how to solve the error and resume your fun. If you are unable to or can't open the Microsoft Solitaire collection in Windows 11/10, then this post offers some methods to fix the problem.
Run Windows Store Apps Troubleshooter
Update Microsoft Store apps
Reset Microsoft Solitaire Collection
Reset Windows Store Cache
Uninstall and Reinstall Microsoft Solitaire Collection
Keep in mind that these are tried and tested methods but you need to restart the system after completion of each and every method.
1] Run Windows Store App Troubleshooter
Yes, I know that this is the most basic method and you might have also tried it before. But, it is very effective too.
Open the Settings app and click on Update & Security.
On the left panel, click on Troubleshoot.
Scroll down, click on Windows Store apps and then click on Run the troubleshooter.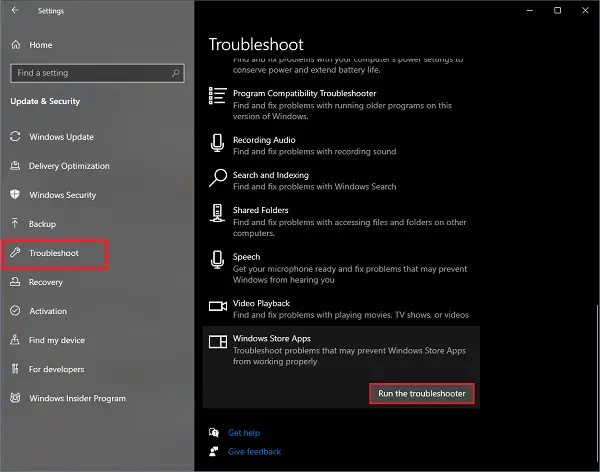 The Windows Store App Troubleshooter will start working and detect the problems. Once the problem is detected, follow the instructions. Once the procedure is completed you are good to go, your application is working again.
2] Update Microsoft Store apps
Most of the times the errors are because the application is outdated. The outdated applications tend to throw errors to make you install new updates. Updates are necessary because of various reasons.
Open start menu, type Microsoft Store and open the application.
On top right corner look for three dots. Click on it and select Downloads and updates.
Now click on Get updates. It will start searching for the newly available updates for all the installed applications.
If the updates are available, it will start installing them one by one. Once the update is installed try opening the application again, it should start working now.
Related: Microsoft Solitaire Collection not connecting to Internet.
3] Reset Microsoft Solitaire Collection
Resetting the application will remove all the saved scores and will make the application work as the newly installed application. It will also erase all the user settings.
Open the Settings app and click on Apps.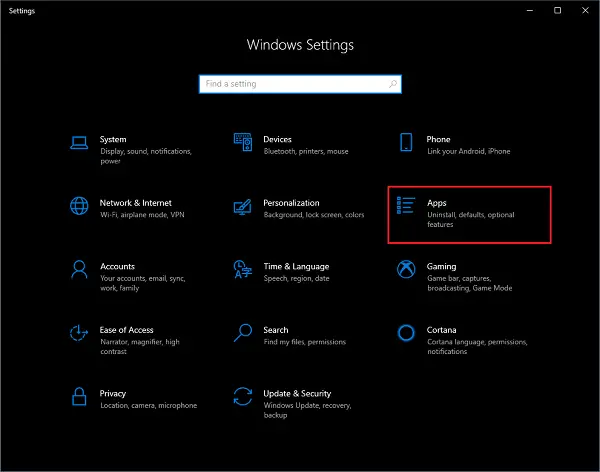 Now in the list of installed applications, search for Microsoft Solitaire Collection.
Select it and click on Advanced options.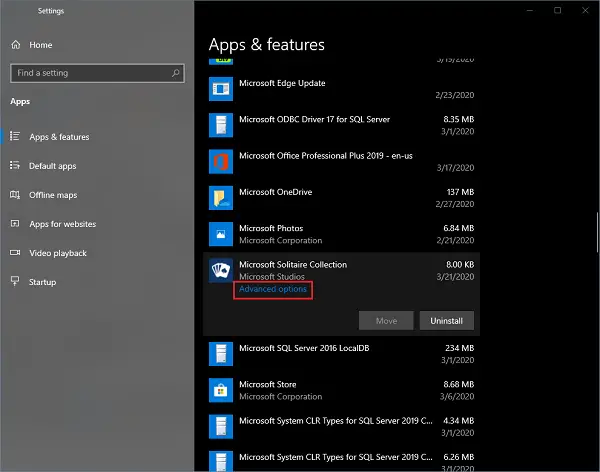 Scroll down and click on Reset. It will prompt a message regarding clearing all the app data. Click on Reset again.
Wait for some time and you will get a fresh and new Microsoft Solitaire Collection installed.
4] Reset Windows Store Cache
It is true that sometimes we have to clean the Windows Store cache to make sure new updates are working. Cleaning cache not only makes the application work as new but also makes sure that all the applied settings are also working successfully.
When the cache is full or contains invalid files, the applications either stop working or behave abnormally.
Open start menu and type wsreset.
Select the option and click on Run as administrator.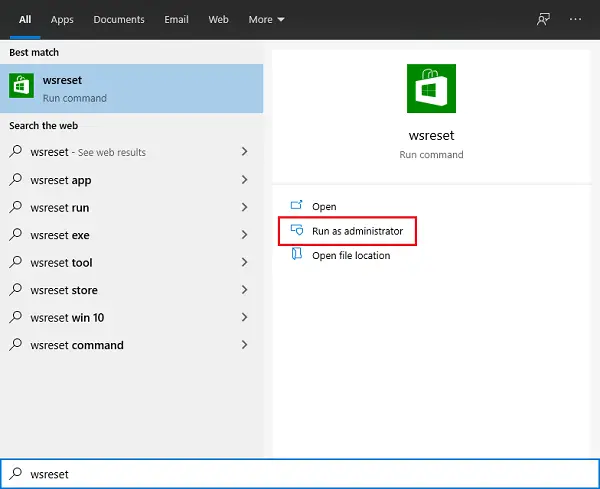 Wait for some time for the command to execute. Restart the system and you are good to go.
Clearing cache may also make you start the application as a new one but your saved scores will not go anywhere.
5] Uninstall and Reinstall Microsoft Solitaire Collection
Uninstalling Solitaire and reinstalling the game is the most used method by people all over the world.
Open Start menu and search for Microsoft Solitaire Collection.
Right-click on the application and click on Uninstall. Wait for some time as it takes some time to uninstall the application.
Now open the Microsoft Store app and search for Microsoft Solitaire Collection.
Click on Install and wait for some moments so that it gets downloaded and installed.
Now try opening the application again, it should be working now.
You can try any of the methods or all the methods. Let us know in the comment section below which of the method worked for you.