The camera on Windows 11/10 usually works by default, but if your integrated Camera or Webcam does not work in Windows 11/10, then this troubleshooting guide will help you resolve the issue. To resolve it, we will look at the following options:
Check Privacy settings.
Check on Antivirus
Update Camera driver.
Reinstall Camera.
Check the Device Manager.
Camera not working in Windows 11/10
Just before we start, always make sure to check if the camera is plugged into the system. It's applicable only when you have an external camera.
1] Check Privacy settings
In Windows 11, open Settings > Privacy & features > Camera and toggle On Camera access.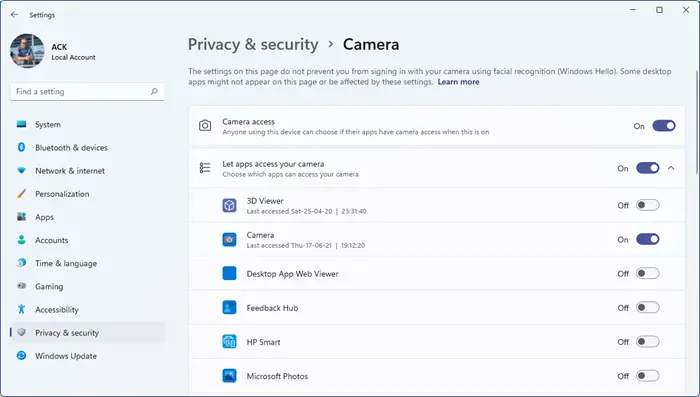 You can also control access for individual apps here.
Windows 10 has also improved and offers granular control when it comes to Privacy. Things are such that unless you give permission exclusively, nothing can access your camera. Windows 10 Feature updates disabled camera access and some of the apps have lost the default access to the camera.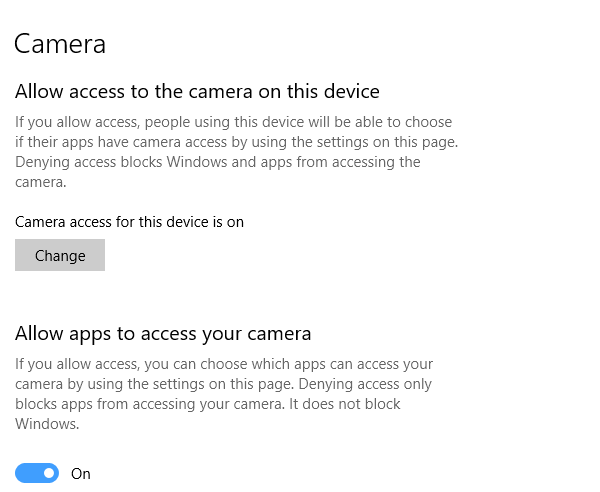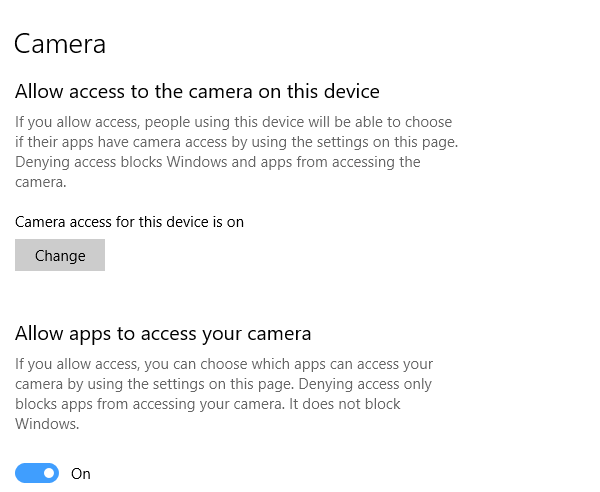 Go to Settings  > Privacy > Camera.
Turn on. Allow apps to access your camera.
If the option is grayed out, click on the button with option Change. It will change the status of camera access to on.
Then toggle on the allow apps for the camera.
In Enterprise or Corporate networks, administrators disable camera access through policies. If that's the case for your computer, ask the admin to enable the settings for you. Post this; you may have to give access to individual apps so they can use the camera.
Related: Webcam keeps turning off and on again.
2] Check your antivirus software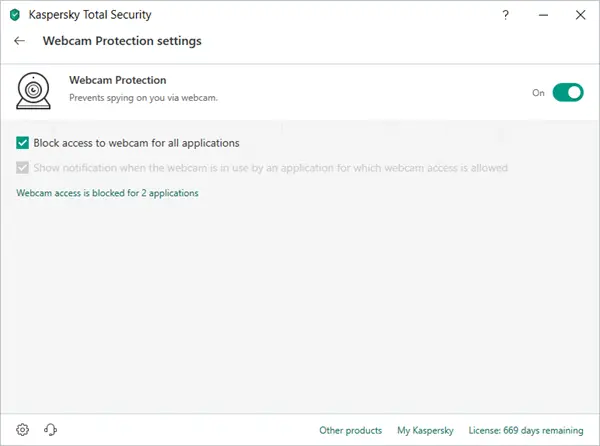 Some security suites for Windows computers, block access of the camera. Check in settings of the software which can unblock it.
Read: Camera missing or not showing in Device Manager.
3] Check for an outdated webcam driver or outdated webcam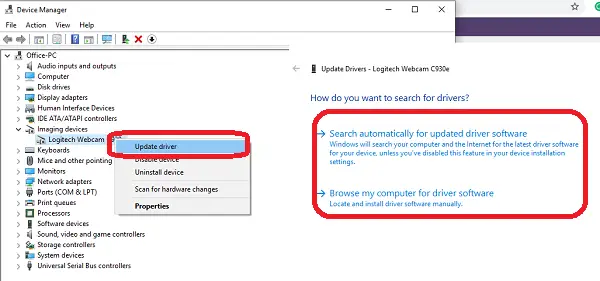 Usually, after a Windows feature update, the drivers become incompatible. You might have to update the camera driver either through the software or using Windows Update.
Press WIN+X+M to open Device Manager.
Under Imaging devices, find your camera listing.
Right-click, and then choose to update driver.
You can let Windows 10 use the update system to find the latest driver. If you have already downloaded it, you can manually select it.
It is possible that your Webcam is very old, and it may not work with Windows 10 anymore. The best way to find out is going through Properties of the camera in the Device Manager. If in the driver details button, there is a file with name stream.sys, then you need to replace your webcam with the new webcam.
4] Rollback webcam driver
Here is another common scenario. An updated driver might not be compatible with your Windows 10. The only way to fix it is by installing an older version. Usually, if you had just updated Windows, you would get a rollback option, else you will need to download an older version and install it.
Open Webcam properties in Device Manager, and switch to Driver Tab.
Click on the  Roll Back Driver, and then choose Yes.
After the rollback is complete, restart your computer, and then try opening the Camera app again.
If the rollback option wasn't available, follow the next step.
Related: Webcam keeps freezing or crashing.
5] Remove & add webcam again
Open Device Manager > Webcam > Properties. Switch to Driver tab, and click on the uninstall button.
Choose to uninstall the driver software, and then click OK.
Post this, select Scan for Hardware changes available with the Device Manager Action menu.
It should detect the camera, and then you can let Windows install the driver, or you can do it yourself.
Read: How to test Webcam? Is it working?
In case you open the Device Manager and do not see your camera listed, use the Scan for hardware changes option. It is possible that when you plugged in the camera, it failed to detect, and hence it's not in the system.
Lenovo users may need to reinstall the EasyCamera driver. You may see its entry in the Control Panel. You can download the latest driver setup file from their website.
If you have a Surface Pro or Book, check out these Surface Camera troubleshooting tips.