If you need to attend many online meetings and classes, you need to make sure everything is working when it comes to Webcam. The last-minute surprises where either the video is not working or the hardware is not working are annoying. The best way to not face these issues is by testing the webcam. This post looks at various methods which you can use to test webcam in Windows.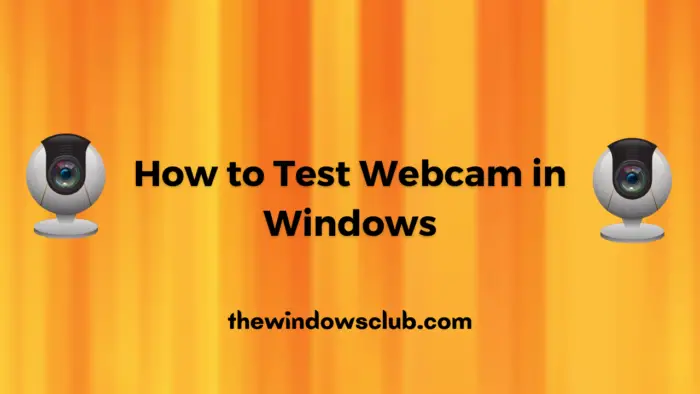 How to Test Webcam in Windows to see if it is working?
Depending on how and where you want to use it, follow these methods to ensure the webcam is working as expected.
Test Webcam using a Software
Test Webcam using an Online Tool
Test Webcam using Windows Camera
Make sure you are able to test in suggested ways. Also, when you are done testing the camera with one, close it before you go and test it with another app. Otherwise, you will get a device already in use error.
1] Test Webcam using a Software
There is no dedicated software, but the best way is to use the software you are planning to use the webcam. Here are few examples:
Microsoft Teams:  Click on the three-dots on the top of Teams top bar, and then select Settings. Switch to the Devices section, and here you can Scroll to find the Camera section. It should give you a live preview of the default camera, but if you want to switch, you can do it from here. You can also configure the Microphone, Speaker, and other devices from here.
Skype: Locate the three-dot menu to open the settings page. Click on the Audio and Video section. Here you can see the quick preview, choose a background, configure Microphone, and option to change them.
Zoom: Once logged in, click on the Settings icon. Switch to the VIdeo section, and select the webcam. You can then set the ratio, HD quality. You can also get into the Advanced settings and choose hardware acceleration and video rendering options. Next, you can switch to the Audio section and configure the Microphone if you need to use the webcam's microphone.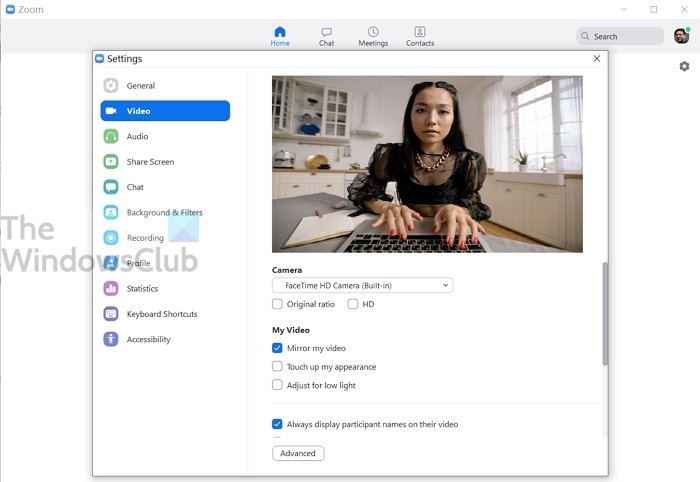 Similarly, you can test your Webcam with any software you need to use. The settings section is the place where you need to check
2] Test Webcam using an Online Tool
While tons of websites can do that, here we tried webcamtests.com to test the camera. This online website can check camera resolution, colors, frame rate,  microphone check, speaker check, video standard, take photos, view in full-screen mode, and so on.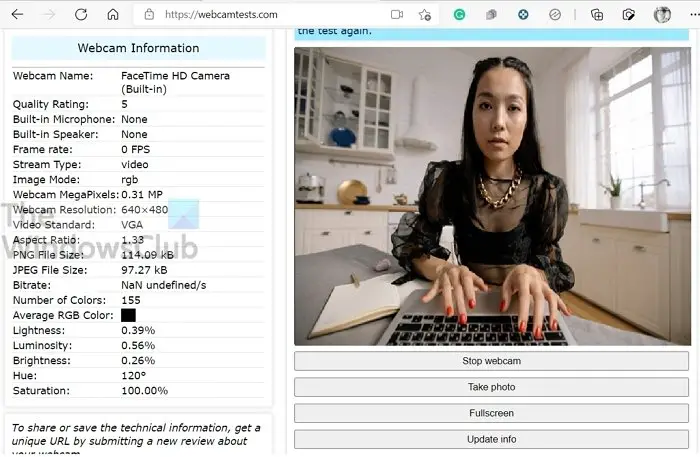 Note: The browser will ask to grant permission so that website can access the camera and perform the test.
3] Test Webcam using Windows Camera
The straightforward way to check if the camera works is to use the Camera app in Windows. Press the Start button, and then type the camera. Click on it once it appears in the list.
Once you have given it appropriate permission, you should see the feed, i.e., yourself, which means the camera is working as expected.
You may have some other questions, which I will try and answer now.
How Do I Activate My Webcam?
If by Activate you mean access, then it's easy. Press the Start button, and click on the Camera app. It should then show what is in front of the camera. If you are using MacBook, then look for the Applications folder.
How Do I Know If I Have a Camera on my Computer?
Look for camera-looking hardware on the middle of the screen on your laptop, or if you have an eternal webcam, it should be placed on the monitor. If it is already there, you can go to Device Manager and scan for hardware changes. If the webcam is plugged in properly, then it will appear under Camera.
What If My Laptop Camera Is Not Working?
Several possible issues can cause a webcam to stop working. Troubleshooting the potential causes can help you get it running again.
How Do I Test My Computer Camera and Microphone?
The best way to test using the Camera App is to check if there is an issue and make sure it works on other applications, test with the app's settings.
How Do I Flip My Webcam on Windows?
Look for a flip icon in the software which allows you to switch the camera. Some laptops and tablets come with two cameras, one facing the user while others are pointing outside. It comes in handy when someone else wants to get into the conversation without switching places.
How Do I Test My External Webcam on Windows?
You can use the Camera app or any software or online website. It can be an internal or external camera; it doesn't matter as the test will work in the same way. However, if you already have an internal camera and you are plugging an external camera, make sure to switch before your test.