There are many who would use their laptop camera for an online meeting or live streaming or maybe just call their loved ones for a celebration, and if that camera stops working, there is much trouble. If Surface Pro 4 or Surface Book rear/front facing Camera is not working and not visible in Device Manager, then here is how you can fix the problem. We will be suggesting you set of tips if your Surface or Windows 10 OS does not detect the Camera even though it's right there.
Surface Pro Camera not working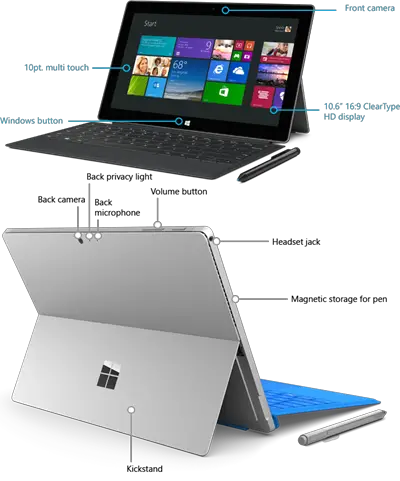 1] Update Camera app from Microsoft Store
It is possible that an update to the Camera app can restore. Open the Camera app by following the link, or just search for Windows Camera in the Microsoft Store, and see if there is an update. If yes, update it right away, and check if the issue was resolved for you.
2] Rollback or Update Camera drivers
Every hardware needs a driver so it can work properly. It is possible that you either need to rollback to the old driver where it was working for you, or update to the latest version. First, try to rollback, and then update if that doesn't work.
Open Device Manager using WIN+X+M shortcut, and click on the arrow next to Imaging devices.
Right-click on Microsoft Camera Front or Microsoft Camera Rear.

Go to Properties, and see if you have an option to Rollback. If yes, then rollback, and see if the camera works for you.
If not, click on the Update Driver Software, this will kick-start Windows Update to find new drivers for Windows Camera. You will get an option to Search automatically for updated driver software.
You might want to restart your Windows 10 PC and then use a camera software to see if works for you.
3] Run Hardware and Devices troubleshooter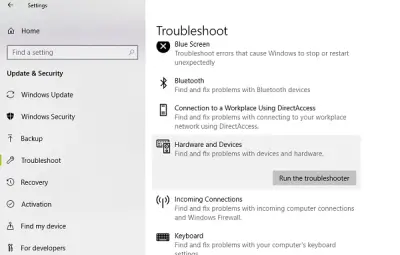 If the issue persists, we suggest that you run the Hardware and devices troubleshooter. Go to Settings > Update and Security > Troubleshoot > Hardware and Devices > click on Run The troubleshooter.
4] Disable/Enable Camera from UEFI
UEFI is an upgraded version of BIOS which works on the hardware level. It allows you to enable and disable hardware. Boot into UEFI, and then disable the camera.
Boot into Windows 10 again. Restart your PC, and boot into UEFI again, and then enable it. This will force Windows 10 to detect for new hardware, and reinstall drivers as well.
Hopefully, one of these solutions will help you figure out why your Surface Pro Camera not working, and then make it work if the solution works for you.