Bluetooth has simplified our lives and kept our desks free of tangled cords. Still, it can be pretty inconvenient when your Bluetooth gadgets randomly disconnect from your Windows PC, whether wireless headphones, keyboards, mice, or any other device. Users have complained that Bluetooth devices randomly disconnect from their computers, causing frustration and trouble. This is a typical problem many users have and is not difficult to resolve. In this article, which will help you troubleshoot and fix the problem so you can experience seamless Bluetooth connectivity.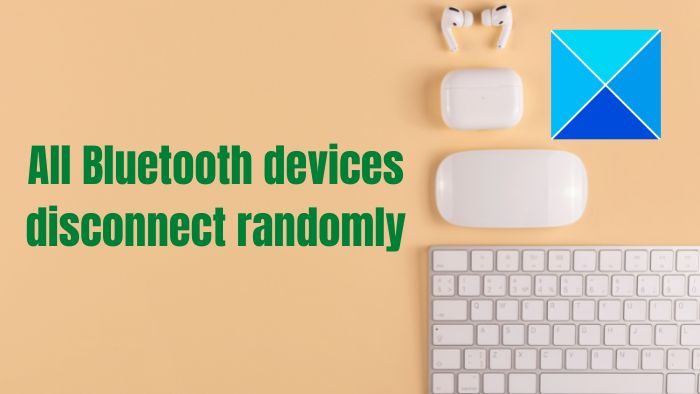 If you are encountering the problem of all Bluetooth devices randomly disconnecting from your PC, there are numerous measures you may take to troubleshoot and resolve the issue. This article describes removing all connected devices, checking for wireless interference, changing Bluetooth power settings, running the Bluetooth troubleshooter, restarting Bluetooth services, and reinstalling Bluetooth drivers.
Bluetooth keeps disconnecting randomly in Windows 11
If your Bluetooth device, like headphones, etc. keep disconnecting randomly in Windows 11/10, here are some proven suggestions to help you resolve the issue:
Remove all Connected Devices
Check for Wireless Interference
Modify Bluetooth Power Settings
Run Bluetooth Troubleshooter
Restart Bluetooth Services
Reinstall Bluetooth Drivers
You will need an admin account to execute some of these suggestions.
1] Remove all connected devices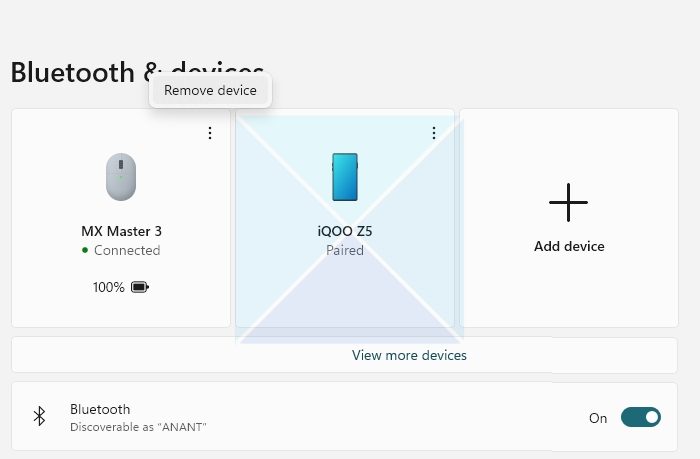 When you have several Bluetooth devices connected to your PC, it is conceivable that one of them is experiencing problems, resulting in Windows disconnecting devices at random. To resolve this, try removing your paired Bluetooth devices individually to see if disconnecting a specific device solves your problem. Follow these steps to remove a paired Bluetooth device from your computer:
First, use the Windows + I buttons on your keyboard to open the Settings panel. Alternatively, type Settings into the Start Search Box and select the first listed result.
From the left navigation pane, go to Bluetooth and Devices and click View more devices.
Select Remove Device by clicking the three-dotted icon next to the device's name.
To delete multiple connected devices, repeat the preceding steps for each device.
Fix: Bluetooth connection problems in Windows
2] Check for wireless interference
Interference from other wireless devices, such as microwaves or Wi-Fi routers, is one of the most prevalent reasons for Bluetooth problems. These devices use frequencies comparable to Bluetooth; when they are nearby, they can cause disturbance and impair the Bluetooth signal. This can lead to problems, including poor connectivity, interrupted connections, and even complete disconnections.
To resolve issues caused by interfering devices, try moving your Bluetooth devices away from the interfering device first. If it doesn't work, try changing the channel or frequency on which the interfering device is operating.
Fix: Bluetooth Mouse disconnects randomly or not working
3] Modify Bluetooth power settings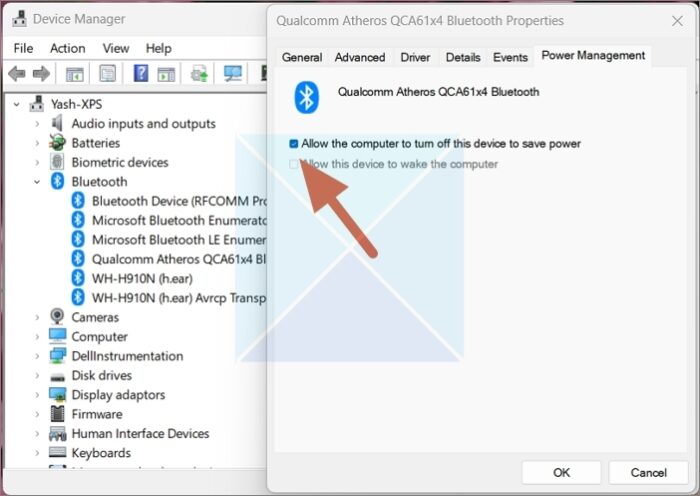 If your problem occurs while your computer is idle and the Bluetooth disconnects, it is very likely due to Windows putting the Bluetooth driver to sleep when your computer is idle. To resolve this, you could wish to prevent Windows from turning off the Bluetooth device to preserve power. Here's how you can go about it:
Right-click the Start icon in the taskbar to pull up a drop-down menu. From here, choose the Device Manager option.
Now, expand the section for Bluetooth, and find and right-click on your Bluetooth adapter, e.g., Qualcomm Atheros ACA61x4 Bluetooth, in our case.
Select Properties from the drop-down and navigate to the Power Management tab. Here, uncheck the option for Allow the Computer to Turn Off This Device to Save Power and click on OK.
Disabling this option will keep your Bluetooth turned on and will not automatically disable it unless you desire to. This could address our difficulties.
Fix: Xbox Controller Bluetooth keeps disconnecting
4] Run Bluetooth troubleshooter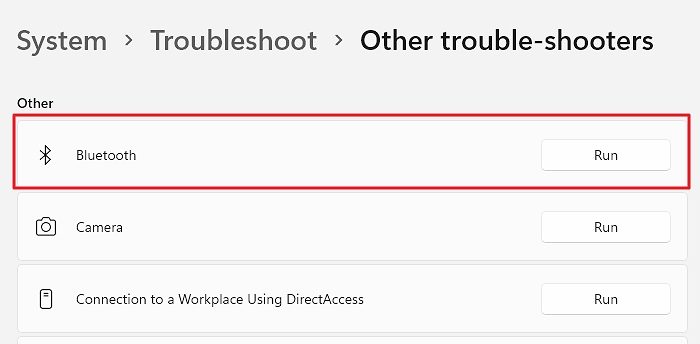 The Windows Bluetooth troubleshooter is among the best solutions to fixing Bluetooth connection problems. The troubleshooter can help you identify and fix a variety of issues quickly. Here's how you can use the Bluetooth Troubleshooter to find and fix problems with Bluetooth connections.
Head over to Settings by searching for the same using the Start Search menu and choosing the main result.
Next, go to the System area, scroll down, and pick Troubleshoot.
Here, find and click Other Troubleshooters.
Click on the Run button next to Bluetooth under Others.
Windows will now detect any potential faults, check for them, and immediately fix any discovered ones.
Read: How to stop Bluetooth from automatically turning off in Windows
5] Restart Bluetooth support services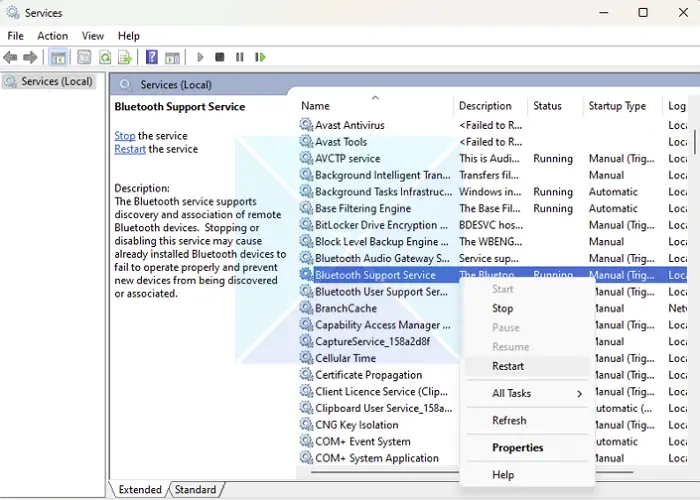 The Bluetooth Support Service in Windows is a background service that runs on your computer and oversees your Bluetooth connections with other Bluetooth devices. Restarting the Bluetooth Support Services on your PC may assist you in troubleshooting. To restart Bluetooth Support services on a Windows machine, follow these steps:
Press the Windows + R keys on your keyboard to launch the Run Dialog
Type services.msc and press Enter to launch the Services Manager.
Next, scroll down in the list of services and locate the Bluetooth Support Service service.
Finally, right-click on the selected service and choose Restart.
Please remember that when you click the restart option, all your connected devices may be temporarily unplugged from your PC.
6] Reinstall Bluetooth drivers
Finally, if none of the solutions described above has worked for you, reinstalling the Bluetooth drivers on your computer may be the last option for you to try. You can download the driver from the OEM website or use a third-party driver application to install the driver.
Following these steps should allow you to detect and address the problem and experience flawless Bluetooth connectivity on your PC. If the problem remains after you've tried all these methods, it could be a hardware issue, so you should contact the manufacturer for technical support.
What disturbs Bluetooth connection?
Several factors can disturb a Bluetooth connection, including:
Interference from other wireless devices
Physical barriers
Distance between the devices
The number of devices connected to the same Bluetooth network
Bluetooth version mismatch
Incorrect pairing, authentication, encryption, and security settings
Outdated driver or firmware.
How can I improve the range of my Bluetooth connection?
If you're having trouble with your Bluetooth connection, you can try a few things to improve the range. One option is bringing the devices you're trying to connect closer. This can help to eliminate any interference and make the connection stronger. Another option is to use a Bluetooth extender or repeater. These devices are designed to boost the signal and can help to improve the connection. Lastly, you can consider upgrading to a device with a higher-powered Bluetooth radio. This can also help to improve the range of your connection.