In this post, we will list the best free vocal remover software available online. A vocal remover software is a tool that removes vocals from a song and extracts instrumentals so that you may create your own remixes and karaoke tracks. These web-based software use the power of AI to separate the vocals and provide you with the best possible results. Once the vocals are isolated, you can use the instrumentals to create your own song versions or practice playing your instruments over the vocals.
Best free Online Vocal Removers for PC
If you want to remove vocals or audio from a song to create your own remixes and karaoke tracks, use these web-based vocal remover tools. They can extract vocals and instrumentals from a song and provide you with the best quality output in multiple formats:
VocalRemover.org
Vocal Remover by MyEdit
Vocali.se
Online Vocal Remover by Notta
Let us see these in detail.
1] VocalRemover.org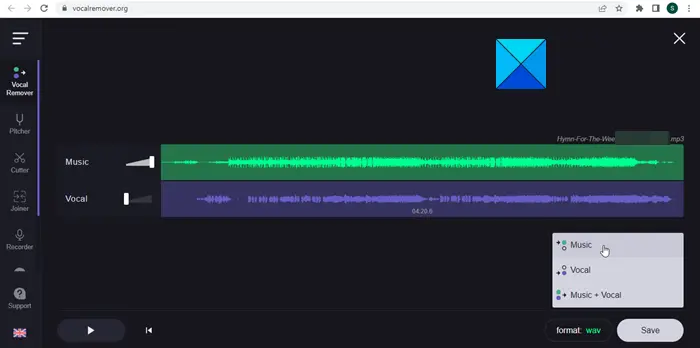 VocalRemover is an easy-to-use free online vocal remover software. It uses Artificial Intelligence to separate the song into 2 tracks – one with isolated vocals and another one without any vocals. All you have to do is visit VocalRemover.org, upload your song, and allow the software to work in the background. It takes a few seconds to process the file and displays two different music streams, Music and Vocal. You can play/pause the streams by adjusting the volume slider. Once you're done, you may download the output (just the vocals, just the instrumental, or both of them) in MP3 or WAV format. Although VocalRemover produces quality output, be aware that the output file may substantially increase in size compared to the original file.
2] Vocal Remover by MyEdit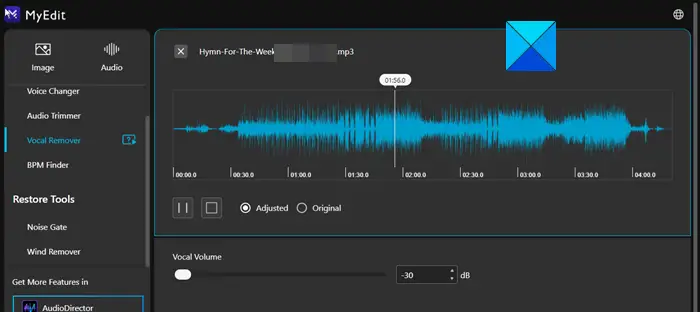 MyEdit is a comprehensive audio editing suite that offers a wide range of online tools, such as wind remover, background noise remover, vocal remover, etc. MyEdit's Vocal Remover is a completely free, AI-based tool that removes vocals to create instrumental versions of your favorite songs. Since the tool is browser-based, you may use it to quickly extract vocals without having to download and install anything on your system. You can visit Vocal Remover and upload the song audio in MP3, WAV, FLAC, or M4A format. The file should be less than 100 MB in size and 10 minutes in duration. Once the song is uploaded, Vocal Remover's AI engine accurately extracts vocals from it to give you high-quality results. You may finetune the results by adjusting the amount of vocal removal (-30 dB completely removes the vocal). After this, you may download the output in MP3 or WAV format.
3] Vocali.se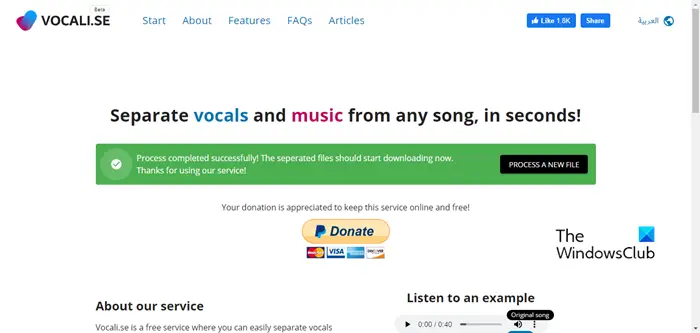 Vocali.se is another web-based free vocal remover software. It lets you separate vocals and music from any song that's less than 20 MB in size and 10 minutes in duration. You may visit Vocali.se and upload the song in MP3, WAV, M4A, OGG, or FLAC audio file format. Then you may wait for a few seconds till the service's pre-trained AI model separates vocals from music. Once the file is processed, a zip file will automatically download on your system. When you unarchive the zip, you will find the music and the vocal files in MP3 format. Since there's no output preview option, you can only hear the results once the output is downloaded.
Also Read: How to fix Echo in Headphones in Windows.
4] Online Vocal Remover by Notta
Online Vocal Remover by Notta uses the latest audio isolator algorithms and technologies based on the AI model to extract vocals with high accuracy. This service is available free for unlimited use. You may visit Notta's Online Vocal Remover and upload the song from your iTunes library or local media in all popular audio formats, such as MP3, WAV, FLAC, AAC, AIFF, M4A, and more. The tool will take a few seconds to separate instrumentals and vocals. It also removes the noise in the background to return the clearest vocals. You may play the results and download them all in one go in a high-quality MP3 output format. Notta's secure service automatically deletes your original audio files from its servers after 24 hours of processing.
Hope you find this useful.
How do I remove vocals in audacity?
Audacity offers a Nyquist plugin effect to remove vocals from a song. Launch Audacity and upload the song via File > Import > Audio. The song will be displayed in Audacity Editor in a waveform. Click on Select > All to select the entire song. Then click on Effect > Vocal Reduction and Isolation. Select Remove Vocals in the Action dropdown and click on the OK button. Wait for a few seconds and then click on the Play icon to listen to the edit.
Read Next: How to Change BPM or Tempo of a Song in Windows.