Offline or online, there is always a threat of data being stolen. As the online transactions and dependencies have increased, you should have software in place that can safeguard your data. In this post, we will share a list of the best free anti-hacker software for Windows 11/10.
Free Anti-hacker software for Windows 11/10
Understand one thing – there is no such thing as anti-hacking software. However, the use of these free software can help protect your computer from hackers, and so can be loosely called anti-hacker software:
Windows Security and OneDrive
Ghostpress
Anti-Hacker

Detekt: O

pen source 

anti-surveillance software

Network Security Tools.
1] Windows Security & OneDrive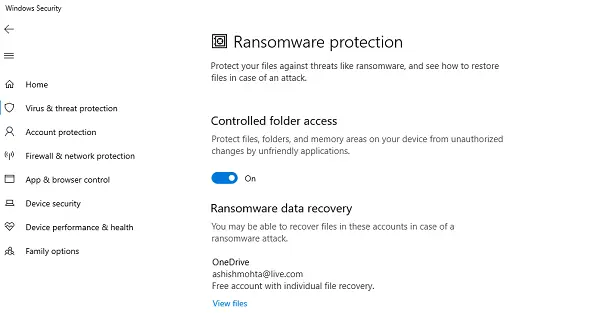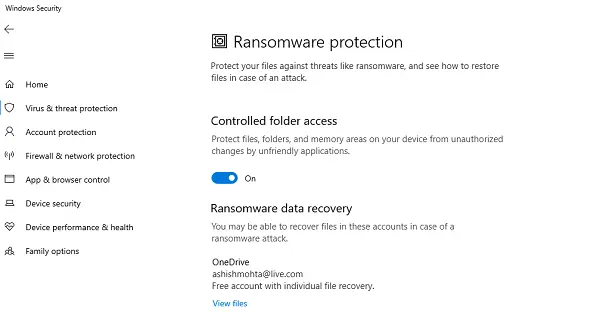 The in-house security software from Windows offers excellent features, so you don't need a third-party Antivirus or security solution. It provides:
2] Ghostpress
Keylogging is an old technique used by software to catch all your keystrokes and then arrange them to figure out the username, password, credit card details, and so on. Because of this, a lot of online websites, including Banks offer virtual keyboard to bypass such software.
Ghostpress is one of the free anti-keylogger software which hides and manipulates all your keystrokes on a love level so that software cannot get the correct data. It includes a security measure that prevents any attacks. To make sure the software is not killed in the background, it offers Process protection so that no one besides the administrator can stop the Ghostpress process.
You can choose to protect one particular window or enable system-wide protection. It also offers delay protection to spoof typing style.
Read: Tips to keep Hackers out of your Windows computer.
3] Anti-Hacker Software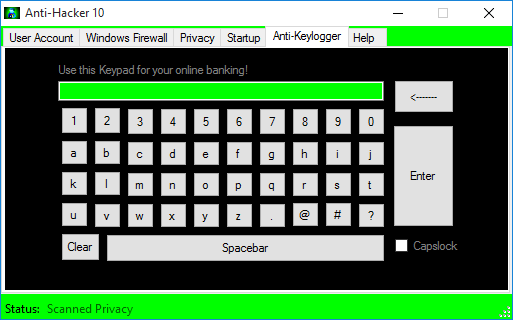 Anti-Hacker automatically disables 'Run as Administrator' in lower user accounts to minimize security threats. It can also set up User Account Control to its highest settings. It will make sure there is no unauthorized access to anything but at the cost of a lot of UAC prompts. The software also offers a virtual keyboard, Firewall checks, and more.
4] Detekt: O
pen source 
anti-surveillance software
Detekt scans your Windows computer for traces of FinFisher and Hacking Team RCS and commercial surveillance spyware. Spyware is a computer application that usually runs unidentified and collects data from your computer and sends it to the source. Detekt is an anti-hacker software performs a deep scan of the system files to figure out rouge applications.
Read: How do I know if my Computer has been Hacked.
5] Network Security Tools
If you are Network admin, then we have two recommendations to figure out security loopholes in the system. It is very crucial if you manage a network of computers.
Aircrack-ng provides tools for evaluating Wi-Fi network security.
It can capture packets and export data for further analysis.
It can replay attacks, fake access points, etc. via packet injection. Useful to evaluate the security of your network.
Checks WiFi cards and driver capabilities (capture and injection)
Crack WEP and WPA PSK (WPA 1 and 2) which will give you enough idea on how secure are the routers.
If you want to visualize the data from Aircrack better, then we recommend you to install Airodump-ng Scan Visualizer (by Pentester Academy). It allows to filter, sort, and visualize Airodump-NG scan data. The scanner uses the CSV file generated by Airodump-ng with the -w option. It can work locally or as a hosted service.
Nmap is a network exploration tool
This network monitoring tool can scan ports and other checkpoints. It bundles diff utility, packet generation and analysis instrument, and more. Network admins use it for network discovery and security auditing.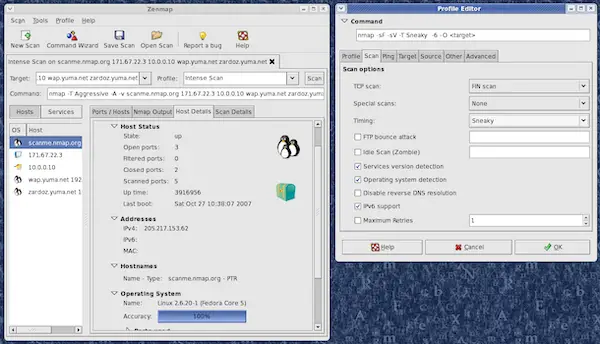 Find out which hosts are available on the network
Discover services (application name and version) those hosts are offering
Host Operating systems (and OS versions)
Type of packet filters/firewalls are in use, and more
Nmap is a powerful utility which is designed to scan large networks. In an Enterprise, the number of servers is high, and they also have systems divided according to the business need. It comes in handy for such an extensive network. However, you can use it for single hosts as well.
Both the tools are freeware, open-source, and work cross-platform.
TIP: Packet sniffing tools can be effectively used to diagnose network problems and resolve the issues.
Worried about your activities being monitored by someone else? You may want to disable your webcam or turn off your microphone.