In this post, we will see how to disable your webcam or the integrated camera in Windows 11/10/8/7 using the Device Manager. Most laptops today come with a built-in integrated web camera, which is useful when it comes to having video chats with friends, associates or relatives. But there are many who never use a webcam. It is fine if you let it be as it is.
These days, using Remote Access Technology (RAT), hackers can compromise your system and watch you, monitor your activities and even record your actions, using your own webcam!  So, if you are one, who never uses the webcam and who fears being watched or monitored, using it, you may want to consider disabling it. You can of course always enable it again anytime in the future, should the need arise.
How to enable or disable the camera in Windows 11
The Camera function in Windows enables you to make a video call, attend an online conference or address a meeting using the apps like Zoom, Teams, and more. Depending on your preferences, you can enable or disable Camera in Windows to allow or disallow such services to have access to it.
Open Windows 11 Settings.
Go to Bluetooth & devices.
Choose the Cameras page on the right side.
Under the Connected cameras section, select the camera.
Hit the Enable or Disable button.
Settings in Windows 11 have been redesigned. It now has a dedicated Cameras page you can use to enable or disable webcams and network cameras. This guide will walk you through the process quickly.
Use the Win+I keyboard shortcut to instantly open the Settings app or hit the Win+X together to open the quick links menu and select the Settings entry.
Then, navigate to Bluetooth and Devices.
Switch to the Cameras page on the right. There, under the Connected Cameras section, choose the camera you want to be enabled or disabled.
Hit the Enable button to enable the Camera.
How do I enable my disabled webcam in Windows 11?
Follow the same steps as described above i.e, navigate to Bluetooth & Devices > Cameras > Connected Cameras. Then, choose the Camera you would like to disable and hit the Disable button.
Disable Webcam in Windows 11/10
Windows 11 and Windows 10 can also follow this method.
We have seen how you can turn off the Microphone, now let us see how to disable the webcam on your Windows device.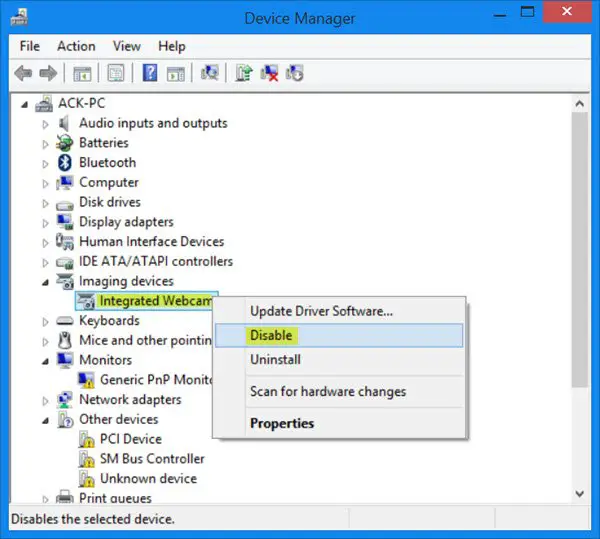 In Windows 11/10, to disable the webcam, right-click on the start button to open the WinX Menu. Select Device Manager.
Once your Device Manager window opens, expand Imaging devices. You will see Integrated webcam. If your web camera is not integrated, you may see some different entry.
Right-click on it and from the context menu which opens, select Disable. You may be asked for confirmation. Select Yes.
This will disable your webcam. You may need to restart your Windows computer.
To enable it again, you have to select Enable.
You can also disable Camera using Group Policy or Registry Editor.
Turn off/on Webcam
There is a freeware called WebCam On-Off to turn off or turn on your webcam with a click. Create a hotkey shortcut for it, if you wish!
You can download this freeware tool here.
TIP: See this post if Webcam keeps freezing or crashing.
Shortcut key to disable Webcam
If you wish to create a shortcut to enable or disable any device on the fly, you can use the DevCon utility. It is a command-line tool that acts as an alternative to Device Manager, using which, you can enable, disable, restart, update, remove, and query individual devices or groups of devices.
Why can't I access my camera on Windows?
Some apps that are designed for Windows, don't have access to the camera, by default. To enable so, you'll have to change the default setting. Following it, if you find that the Camera access for this device entry is disabled, hit the Change button and turn on Camera access for this device.
Related read: How to disable, turn off, or mute the Microphone.
If you are worried about Windows PC being monitored by someone else, have a look at Detekt, a free anti-surveillance spyware scanner for Windows. Also, find out which app is using the web camera. Who Stalks My Cam software will help you prevent Webcam Hacking attacks.