Playing an FLV file could be a problem for some Windows users. If you are one of them, here is the solution for you. Here are some of the best free FLV player apps for Windows 11/10 so that you can play your favorite video that is in .flv format.
As the in-built media player of Windows 11/10 doesn't support the FLV format, you need to install a compatible video player to play such files on your PC. For that purpose, there are some handy video player apps for Windows 11/10 PC, including VLC Media Player, Clipchamp, and others. If you need more flexibility and video-playing capability, you should go through all the apps mentioned in this article.
Best FLV player apps for Windows 11/10
Some of the best free FLV player apps for Windows 11/10 are:
VLC Media Player
GOM Player
PotPlayer
KMPlayer
Clipchamp
To learn more about these apps, continue reading.
1] VLC Media Player
VLC Media Player doesn't need any introduction because of its popularity due to having so many features, options, and personalization settings since the initial days. Whether you want to play an FLV file or watch a movie in MKV format, you can certainly use this feature-rich media player application to get the job done. It is a multipurpose media player tool that can convert file extensions, trim videos, etc., apart from playing your clippings. If you like, you can download it from videolan.org.
2] GOM Player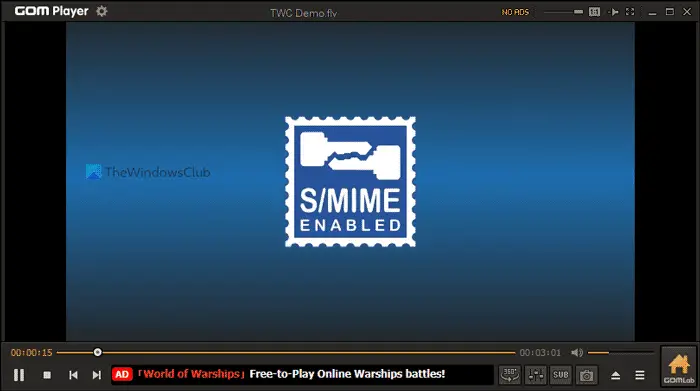 GOM Player allows users to play FLV, MKV, MP4, AVI, MOV, etc., files with ease. No matter whether you have a small clip or an entire movie, you can certainly play the FLV file on your Windows computer without any issue. Even if you have a 360-degree video, you can play the file on your Windows computer without any lag or hang. Regarding customization, you can switch to a different theme, take a screenshot of your favorite frame, etc. If you like, you can download it from gomlab.com.
3] PotPlayer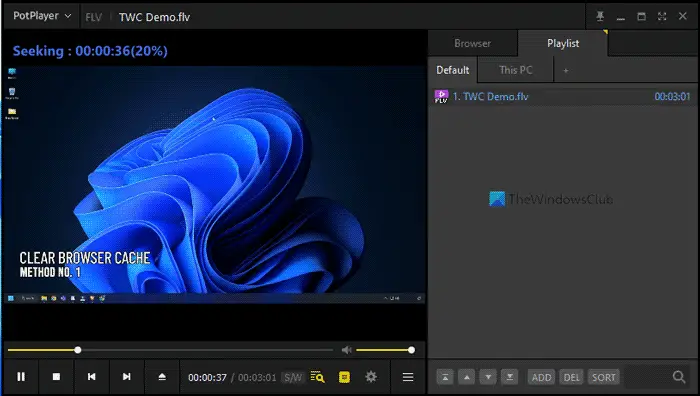 PotPlayer is already pretty popular since it comes with two very important options – 360-degree video and 3D video support. While most of the other apps often struggle with either option, PotPlayer can play a 360-degree or 3D video with ease. Like VLC Media Player, PotPlayer also includes many options to manage, tweak, and change various settings as per your requirements. You can open the Preferences panel and navigate to a specific section to expand all the options. If you like, you can download PotPlayer from potplayer.daum.net.
4] KMPlayer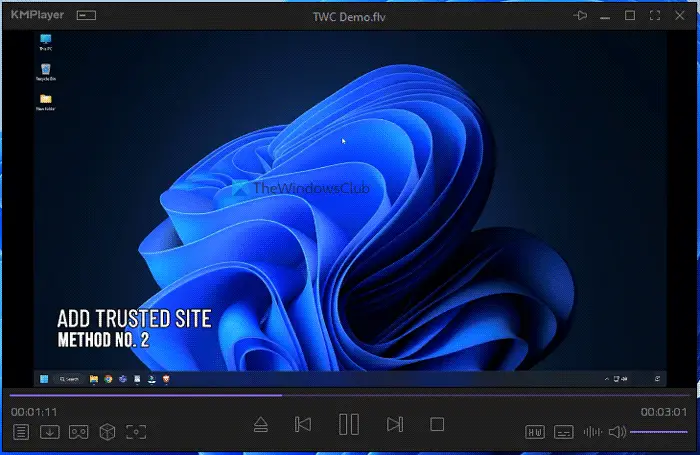 If you have a Windows 11 computer and you often struggle with playing an FLV file, you can certainly take a look at the KMPlayer. When it comes to options to customize the application, you can rely on this media player. Whether you want to play an FLV file offline or stream a video online, KMPlayer is there for you. Like other mentioned apps, you can find a dedicated panel to customize the app according to your liking. One very important thing you must know is that you need to download the 64-bit version if you want to use it on Windows 11. Otherwise, you may struggle to play the FLV file on your 64-bit version of Windows. If you like, you can download it from kmplayer.com.
5] Clipchamp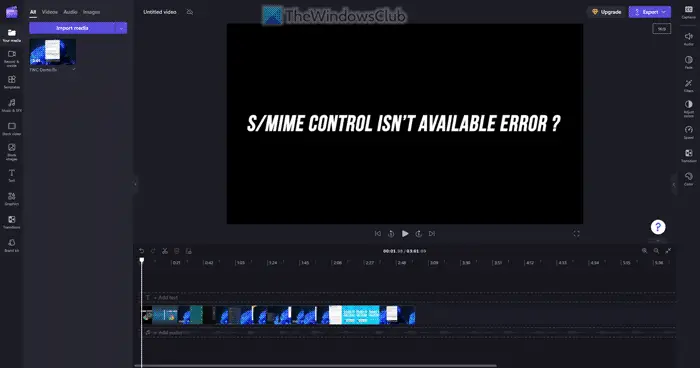 Microsoft recently started including Clipchamp in Windows 11, one of the best things they have done. Although other in-built media players do not play FLV files, you can play them using Clipchamp. Although it is a video editor, you can easily play FLV files without any problem with the help of this application. However, it takes a few moments to load the file because it prepares it for editing. As it is now a preinstalled application, there is no need to install it manually. It is also available in the Microsoft Store.
Read: Best free MP4 Player apps for Windows
What Windows app plays FLV files?
If you use Windows 10, there is no in-built app to play FLV files. However, if you use the latest version or build of Windows 11, you can make use of Clipchamp. Otherwise, there are other apps such as VLC Media Player, GOM Player, PotPlayer, etc.
Read: Best FLAC Players to listen to FLAC music files on Windows.