GOM Media Player is loaded with extraordinary features and provides high-quality output for any size and type of file. It can also play damaged or incompletely downloaded, corrupt or copied AVI files on your Windows PC. It can run each and every video and audio media formats, including phone-video formats, digital video and cameras as well as online streaming media directly from the data service provider.
GOM Media Player for Windows  PC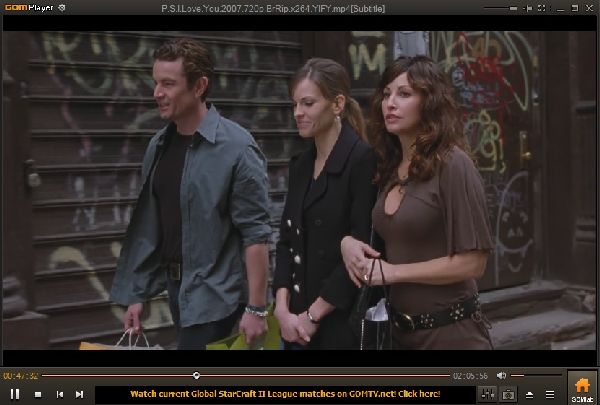 GOM is an alternate player for Windows Media Player which smoothly and supports both 32-bit as well as 64-bit operating systems. Its  strength includes the ability to play some broken media files and also helps to find missing codes using the inbuilt codec finder service.
Features of GOM Player

Uninterrupted playback of any video format, even on a slow system
Full independence from all kinds of external decoders
Multiple modes of display or screen (monitor,TV, projector)
Complete DVD playback
Playing of damaged video files perfectly
Rewinding by means of the frame
Controlling of the overall regeneration frequency
Repetition of the functions and skipping of frames
Bookmarks option (memorizing

thetime

of your favorite scenes and its one-click transition)
Working in the selected media
Adjusting the image quality and aspects (contrast, brightness, clarity, saturation)
Implementation of special effects:fading, smoothing, color sequence, software conversion, softening, noise inclusion
Elimination of the box effects
Full Support for your choice of playlists (readM3U, ASX, PLS)
Working and correct synchronization of the subtitles
Hot keys along with enhanced support for all multimedia keyboards
Automatic picture scaling
Automatic shutdown of the system after play
Playing of content which is online directly from the phone network
Quick as well as intuitive interface due to skins support
Advance users can tap the hidden potential of GOM Media Player, like they can customise hotkeys according to their need, can sync settings across multiple handheld devices on Android or iOS platform using GOM Remote app via Wi-Fi or high-speed cellular data connection.
GOM Media Player playback options include Play, Pause, Stop, Skip, forward, and Playback. These are placed in the bottom left corner, whereas the control panel that manages all the multimedia content is placed on the upper left corner. A small ticker is placed in the center for the users, so that user can link/open any other GOM product or video file easily.
You can download the latest version of the GOM Media Player from its home page. NOTE : The product is ad-supported. But more importantly, the link has been removed as the download link on the homepage leads to download sites, which are known to bundle and push crapware.
You may want to check out some of these free media player alternatives.