GOM Media Player is loaded with extraordinary features and provides high-quality output for any size and type of file. It can also play damaged or incompletely downloaded, corrupt, or copied AVI files on your Windows PC. It can run each and every video and audio media format, including phone-video formats, digital video, and cameras as well as online streaming media directly from the data service provider. This app works on Windows 11, Windows 10, and earlier versions of Windows.
GOM Media Player for Windows  PC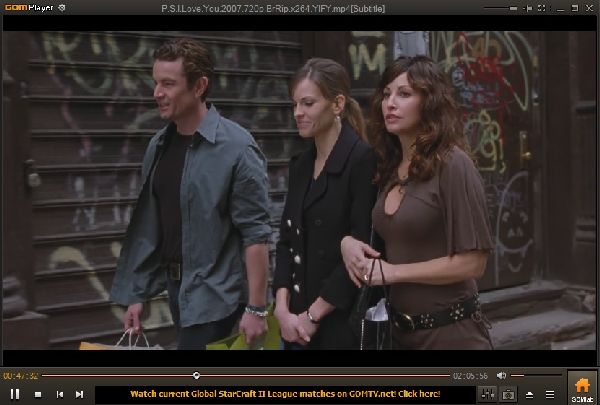 GOM is an alternate player for Windows Media Player which smoothly and supports both 32-bit as well as 64-bit operating systems. Its strength includes the ability to play some broken media files and also helps to find missing codes using the inbuilt codec finder service.
GOM uses low CPU utilization while giving you the best possible image and subtitle quality and plays incomplete files without buffering. You can play any media files with GOM's built-in codec and Codec Finder service.
Highlights:
Codec Finder: GOM Media Player includes many codecs (XviD, DivX, FLV1, AC3, OGG, MP4, H263, and more) so you won't need to install them separate codecs for most videos. For those videos that require a separate codec, GOM Player will find one and direct you to a place where you can download an open-source version of the codec.
Play Broken AVI Files: AVI files can't be played if the index is broken, or if the file isn't completely downloaded. This is because the index is located at the end of the file. GOM Player's patented technology enables users to view files with broken indexes or that are still being downloaded.
Powerful Subtitle Support: GOM Media Player supports SMI, SRT, RT, SUB(with IDX) files for subtitle. You can specify margin, location, size, resolution, font, and others. You can also enable shadow, view ASF files with subtitle, karaoke subtitle mode.
Convenient Playlist: If you run a video file and there is already a file with a similar name in the directory, it will be automatically added to your playlist. GOM Media Player has a similar playlist format as M3U, PLS, ASX, and you can also include and edit different media formats on that playlist as well.
Wide support: Along with different media formats such as AVI, MPG, MPEG, and DAT, GOM Player also supports streaming Windows media format (WMV, ASF, ASX). You can also watch DVD-quality videos with 5.1 channel audio output.
Screen Capture: It allows you to take a screenshot of your video directly from GOM Player. Using the Burst Capture feature, you can take continuous screenshots of up to 999 shots.
Features of GOM Player

Uninterrupted playback of any video format, even on a slow system
Full independence from all kinds of external decoders
Multiple modes of display or screen (monitor, TV, projector)
Complete DVD playback
Playing damaged video files perfectly
Rewinding by means of the frame
Controlling of the overall regeneration frequency
Repetition of the functions and skipping of frames

Bookmarks option (memorizing the time of your favorite scenes and its one-click transition)

Working in the selected media
Adjusting the image quality and aspects (contrast, brightness, clarity, saturation)
Implementation of special effects such as fading, smoothing, color sequence, software conversion, softening, noise inclusion
Elimination of the box effects
Full Support for your choice of playlists (readM3U, ASX, PLS)
Working and correcting synchronization of the subtitles
Hotkeys along with enhanced support for all multimedia keyboards
Automatic picture scaling
Automatic shutdown of the system after play
Playing of content which is online directly from the phone network
Quick as well as intuitive interface due to skins support
Advanced users can tap the hidden potential of GOM Media Player like they can customize hotkeys according to their need, can sync settings across multiple handheld devices on Android or iOS platform using GOM Remote app via Wi-Fi or high-speed cellular data connection.
GOM Media Player playback options include Play, Pause, Stop, Skip, forward, and Playback. These are placed in the bottom left corner, whereas the control panel that manages all the multimedia content is placed in the upper left corner. A small sticker is placed in the center for the users so that user can link/open any other GOM product or video file easily.
You can download the latest version of the GOM Media Player from its home page at gomlab.com.
You may want to check out some of these free media player alternatives.
How can I play video without a codec?
You cannot play a video unless you have the codec. If you cannot install a codec, then you need to use a video player which supports that codec file. Most of the video files are supported by the default media player, but if you cannot play a video, then you can try using VLC Media Player.
How do I convert unsupported video files?
There are tons of video players that can not only play but also convert a video into a different video format. Video players such as VLC, JS Video Convertor, Handbrake are some of the software that can convert. The time for converting will depend on the hardware configuration and the size of the video.